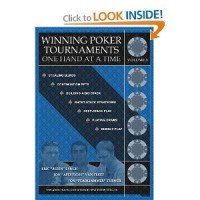 Winning Poker Tournaments One Hand at a Time Volume I
Author: Eric 'Rizen' Lynch, Jon 'Pearljammer' Turner, Jon 'Apestyles' Van Fleet
Year: Jun 2008
Print house: Dimat Enterprises, Inc.
Buy
Reading this book is like attending a master class in tournament poker. You'll see the way cutting-edge pros use their wisdom and incredibly extensive experience to analyze almost every poker situation imaginable. Deep-stacked or short-stacked, against single or multiple opponents, you'll learn the skills that will make you a winner, including:
- When and how to play aggressively or tightly
- When to make moves
- When to make continuation bets and when to hold back
- How to induce and pick off bluffs
- How to accumulate chips without constantly risking your tournament life.
Poker is a fun game, but it's even more fun when you win.