3D Slots: The Best Free 3D Slot Machine Games to Play
Charles Marsh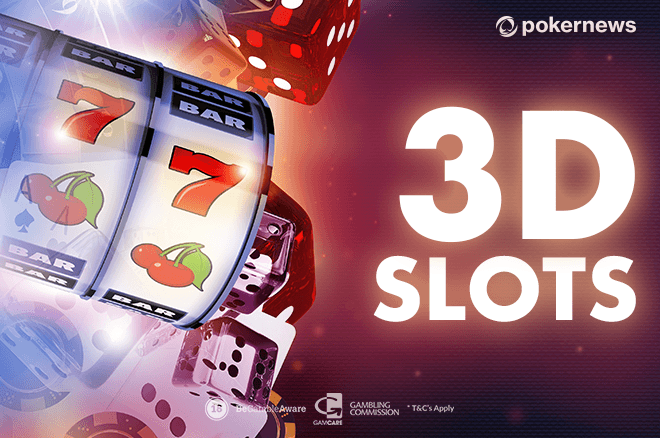 We all know that Casino Slots are tonnes of fun to play. And one of the reasons for that is all these inventive developers who have pushed the medium to its limits.
In what way? By taking the humble seaside-arcade fruit machine and making it into one of tens of thousands of games that all have their own setting, storyline, and way of working.
When you play free 3D Slots, you'll see they are the most innovative of all Casino games.
And it's no surprise because they use cutting-edge graphics to make you feel like the characters in the game are running around on, or out of the screen of your device.
It's a truly cinematic playing experience. I can assure that, whatever the game out of the enormous choice on VideoSlots you choose, you'll be transported to another dimension by the meaningful story and crystal-clear visuals.
Here are the best free 3D Slot machine games currently available to play online.
I'd love to hear what you think of the games, so give them a try, and let us know if you enjoyed them as much as we have.
Enchanted
Set in a fairy-tale kingdom, Enchanted has fairies, wizards and all the characters you'll have loved from your childhood. All of them in a game that will keep you coming back, with its excellent 3D graphics and flowing mechanics.
Tonk the elf, Rufus the ogre, and Feera the fairy, as well as the Gandalf-like Elrid the wizard, rule over the forest, with Elrid paying out a huge 5,000 credits when he appears across a whole payline.
This is a beautiful free 3D Slot machine game to play.
EggOMatic
EggOMatic is one of the best-looking Slots out there. Yet, that really shouldn't come as a surprise when you consider it's been developed by NetEnt, a software house known for pushing the envelope graphically with its games.
In this particular Slot, you are in a robot-powered egg factory, where production isn't hitting its usual targets. Your job, should you choose to accept it, is to get those eggs out on the reels, so that the Wild Rooster, if he appears on the reel, can crack open the eggs to reveal your prize.
This is a five-reel, 20-payline Slot that has traditional underpinnings, but the sheer off-the-wall story marks it out as a cut above the rest when it comes to 3D Casino Slots.
Pinocchio
You're probably familiar with the tale of the wooden puppet in Gepetto's workshop in Italy, who wants to be a real boy, but whose nose grows longer if he lies. This Casino Slot takes that story into the 21st century, with masterful graphical presentation and a modern twist on the classic fairy tale.
The symbols that reveal the greatest-value prizes are a wooden airplane, a cuckoo clock, a poster for The Great Stromboli, and the wooden and 'real-life' versions of Pinocchio. When Pinocchio becomes a real boy, you enter the Real Boy Mode. This is the wild round, where each symbol of the main character becomes wild. Pick up another five Pinocchio symbols, and he returns to being a wooden boy.
Gepetto's workshop is the main setting, but as is common with the very best new free 3D slots online, there are alternative locations to keep the game fresh and interesting. These, in Pinocchio the Slot, are a classroom, where a book acts as the scatter symbol, and the circus, where a caravan does the same. Pinocchio might take some artistic liberties with the story, but this is a must-play for reasons of its entertainment value.
Finn and the Swirly Spin
Finn is a leprechaun sitting at the end of the rainbow in an alternative, cartoon, Ireland. The game features a whole host of involving bonus mini-games in various locations, with the aim being to find that pot of gold.
It's an entertaining game, thanks to hilarious visuals, including Finn. He helps you from the side of the screen, and holds the secret to the brand new mechanics the game has. Rather than static reels, this game has a rotating stone play area, where symbols move inwards. This means that there are always multiple chances to win prizes expanding Finn's appeal to include both experienced and new 3D Slots players.
Tiger's Claw
There are 720 ways to win this excellent game, which has some pretty unconventional reel setups too - that 3-4-5-4-3 formation will take some getting used to, but is potentially very rewarding to you.
If you find the golden Tiger's Claw, then 240 free spins are yours. And that's not something to be sniffed at, bringing you huge numbers of chances to scoop top prizes, with a 95.16 percent RTP.
Safari Sam
Safari Sam likes to think he rules the plains of Africa, and that he is the gamekeeper who knows everything that goes on. But in this entertaining game, you'll see that's not always the case! The local girl who keeps on surprising him as he watches the scene next to the reels is a pretty good indicator that he's not really got it all together.
This is a fast-moving Slot, with collapsing symbol stacks, plus random multipliers that are hidden everywhere. The 3D Casino Slot is five reels and 30 paylines, and it's destined to make you feel great each time you play it, with a fine combination of enduring gameplay and comedy that really works on the screen.
Good Girl or Bad Girl
A cheeky and racy Slot from Betsoft, this game features a battle between the angel and the devil on either shoulder - the good girl and bad girl, in this case. Your choices in the game, whether to veer to the light or dark side, will determine the prizes you win.
There are plenty of those prizes on offer, with an RTP that hovers around the 97 percent mark. It's a fantastic figure for any Casino Slot, let alone one as much fun to play as Good Girl or Bad Girl, one of the many free 3D Slots with no download and no registration that we can recommend heartily. It is available at VideoSlots.com.
Finding a trustworthy room to play online poker can be a monumental burden. That's all the more true if you're just looking for a place to play poker for free. We've listed five of the best play-money poker sites to enjoy and help hone your skills.