Jacks or Better? The Thrilling World of Video Poker at bet365 Casino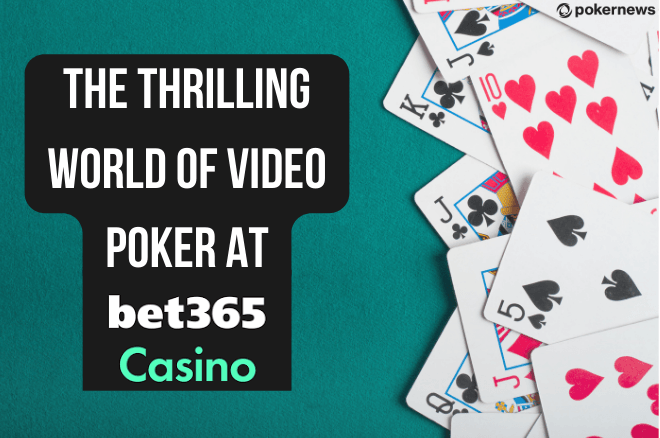 In the fast-paced, ever-changing world of casino gaming, video poker stands out as a timeless classic.
Available in land casinos and online casinos alike, this captivating poker/slot mix brings together strategy, luck, skill, and excitement in a thrilling combination.
In this article, we'll provide a guide to the exhilarating world of video poker at bet365 Casino - a place where the age-old allure of video poker meets cutting-edge tech.
We'll explore a selection of the dozens of video poker games available at bet365 Casino, from the iconic Jacks or Better to sunny Caribbean Stud Poker, and we might even throw in a bonus along the way!
Let's jump into the action.
Play Jacks or Better at bet365 Casino
The original and most famous of all video poker games, Jacks or Better, is available at bet365 Casino from leading developer Playtech.
So-called, because the lowest winning variant is a pair of Jacks, this high RTP video poker game, can see returns of up to 99.54% for players when played with an optimum strategy.
Keeping things nice and simple with just the one line (set of cards) to worry about, Jacks or Better is the ideal starting point for newbies looking to get a piece of the video poker fun.
Set against a classic, attractive blue felt background, players can receive wins from 1x to 4000x their stake by hitting the coveted Royal Flush - a rare monster payout that triggers enormous wins.
For a high-RTP game that's a brilliant introduction to the video poker format, you can't look further than Jacks or Better.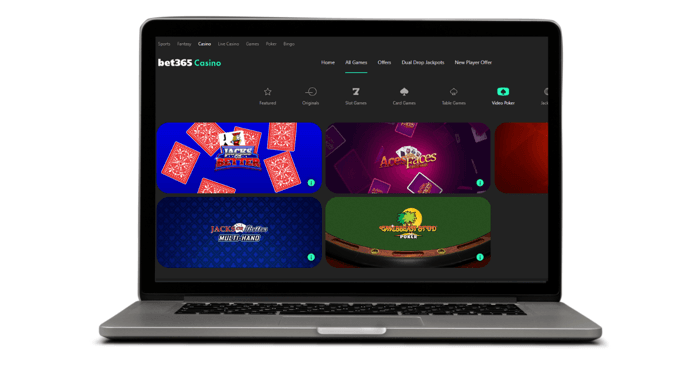 Play Deuces Wild Multi-Hand at bet365 Casino
A more advanced variant of video poker for players who enjoy non-stop action, Deuces Wild Multi-Hand is another Playtech video poker game ready to play at bet365 Casino.
With the option to play for up to 25 hands at one time, this incredible video poker game will see players have the chance for dozens of wins with every deal of the cards.
Naturally, given the title Deuces Wild, two's are highly powerful in this game, with only a Natural Royal Flush paying out higher than landing quad deuces.
Offering the chance to gamble and double up, this 98.91% RTP video poker game will certainly reward players who can master its myriad hands.
Play Caribbean Stud Poker at bet365 Casino
A unique video poker variant, Caribbean Stud Poker, available at bet365 Casino, is a progressive jackpot video poker game where punters take on a computer-generated dealer.
Offering progressive jackpots ranging into the tens of thousands, receiving a decent combination hand can see you pocket everything from 50x your side bet from a Flush to 100% of the progressive jackpot for a Royal Flush.
With all the traditional pay lines or winning hands of traditional poker, Caribbean Stud Poker is a great entry point in the video poker world for those fans of Five-card Draw.
Bearing a close resemblance to lots of other popular poker games, in a casino setting it's hard to go wrong with Caribbean Stud Poker if you're looking for a spot of fun.
Other Video Poker Games at bet365 Casino
Although we've listed off three of our PokerNews favorites in this article, there are tons more video poker games waiting to be discovered at bet365 Casino.
Moreover, there is live casino poker available in bet365 Casino's excellent live dealer lobbies, with Bet on Poker and Casino Stud Poker just two of the tables available.
You can sign up at bet365 Casino using the link below, where new players can take advantage of a generous welcome bonus to get them started.
We hope you enjoy your video poker play!
The promotion presented on this page was available at the time of writing. With some Casino promotions changing on daily basis, we suggest you to check on the site if it still available. Also, please do not forget to read the terms and conditions in full before you accept a bonus.
Casino Content Executive