Craps for Dummies: How to Play Craps Online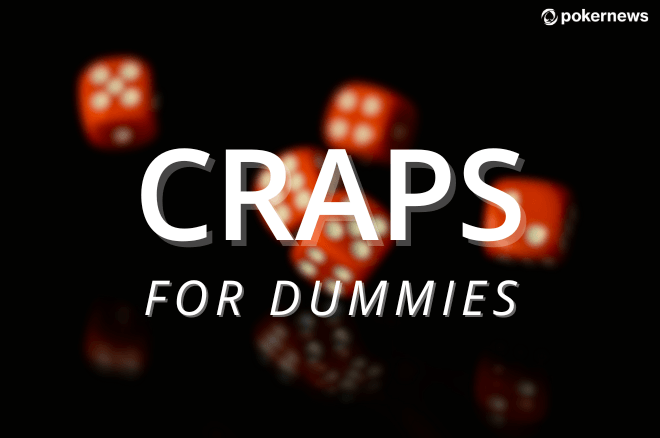 Craps rolls are one of the most interesting events on the casino floor. But how do you play the game of craps?
With this craps beginners guide we can:
Help beginners understand how to get started with craps, including the rules.
Tell you how you can play craps online.
How to Play Craps for Beginners
So craps played in a casino is an interesting and exciting table game, and this also goes for the online versions. But many people skip it as they see it as a complicated game to learn, compared to games like blackjack or roulette. This isn't quite true and whilst there are a few concepts to learn, it's actually a great game to play, especially online.
This section will break down the rules of craps so you can start playing immediately. This includes Natural, Crapping Out, Point outcomes and the betting rules. Read on to find out more about this fantastic table game!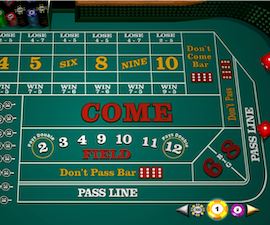 ---
Craps Rules – Learn All the Rules of Craps
Craps betting round starts with a come-out roll. This is the first roll of the dice or the first one after the previous betting round has finished. The player who throws the dice is called 'the shooter'.
They (or you in this case) take two dice and throw them on the craps table - or press the 'roll' button if we are talking about online craps.
Once the number rolled is on your screen, there are three possible outcomes:
Natural
Craps
Point
What is a Natural in Craps?
Here's when things get really good. A 'Natural' means that the result of your roll is a 7 or an 11. When this happens, you win and get to roll the dice again.
What is Craps or Crapping out?
You roll a 2 (also known as Snake Eyes because the two dice with 1's displayed resemble a snake's beady eyes), 3, or 12. Here's when you lose.
But the round is not over, and you get to roll again.
What is the Point in Craps?
This is when you roll a 4, 5, 6, 8, 9, or 10. In a live casino, a dealer would mark your Point (the rolled number) on the table. In online craps games, there is a small button that appears once the Point is established. It's white and says 'On'.
What you need to do now is to roll the dice once more and hope you'll hit the same number again. It doesn't have to be the same combination of dice as you had before. As long as it's the same sum – you win.
Do you know why the sequence for a 'Point' roll misses a seven? The number 7 is not a very lucky one in this case since if you roll a 7, you 'seven out' – you lose and end the betting round.
Ok so we know about the different rolls. Once you learn this part by heart, you can move on to the betting options. That's the fun part because that's the one that can make you win a lot.
---
Craps Table Layout Explained
Betting in craps starts with understanding the craps table, so let's take a look at one: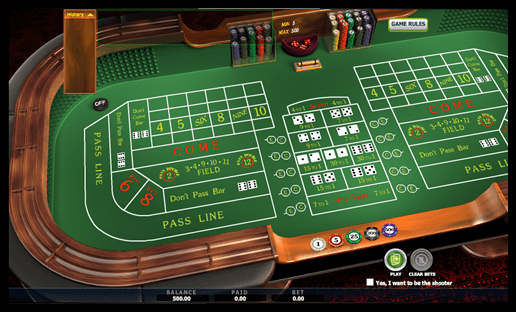 The table layout has a handful of areas for different betting options. So now you know how to shoot craps and how to evaluate the result of your roll, let's have a look at how to bet in a game of craps.
Pass or Don't Pass Bets in Craps
You can place a bet either on the 'Pass Line' or the 'Don't Pass Line'.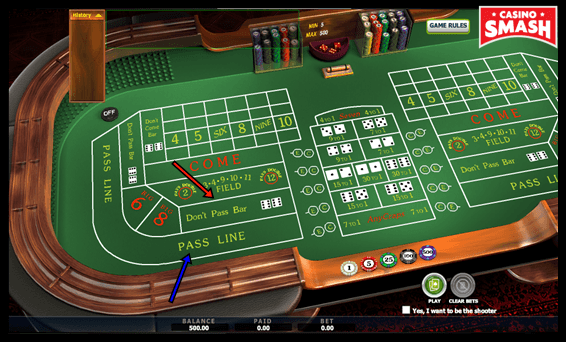 The Pass Line bet means you bet that the shooter will pass (win) by rolling out a natural or by winning the point before seven-ing out.
The Don't Pass Line means betting on the opposite scenario. Or, in other words, you bet that the shooter will not pass (lose). It can happen if the player shoots to get a 2 or 3, or fails to roll the point again before a 7 shows up its ugly head.
You can make these bets only before the point has been established on the table. Once the point has been rolled out and the shooter needs to roll the sum again, you can make a come or don't come bet.
Come or Don't Come Bets in Craps
Come or Don't Come Bets are made on another outcome of the shooters roll. Here they are on the craps table: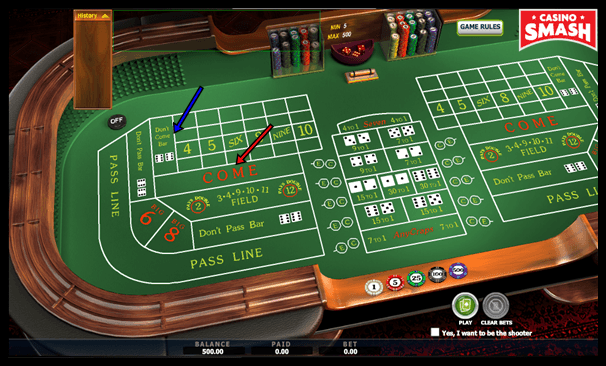 The Come Bet wins if a natural is rolled out and loses if the craps are rolled. If the point is rolled out, it becomes the Come-Bet point.
It works just like the Pass line one: if the come-bet point rolls out again before 7 does, you win. If not, it's not your lucky round, pal.
A Don't Come Bet is just like the Don't Pass one. You're in luck if the shooter rolls a 2 or 3, not so much if it's a 7 or 11. Once the point is made, you should hope for 7 before the shooter rolls out the point again.
Neither Pass nor Come bets can be turned off. You bet and wait until it plays itself out. But you can make additional bets on the come-bet point, too. And those you can withhold or increase at any time.
If a 12 is rolled for either a Don't Pass or Don't Come bet, your bet is a Push – meaning nothing happens. You don't win, but you don't lose either.
---
Proposition Bets in Craps
Proposition Bets are single roll bets made on any roll. This table shows how you win (with one exception):
| Bet | Wins if |
| --- | --- |
| Any Seven | The shooter rolls a 7 |
| Any Craps | The shooter rolls a 2, 3, or 12 |
| Ace Deuce | The shooter rolls a 3 |
| Aces | The shooter rolls a 2 |
| Boxcars | The shooter rolls a 12 |
| Horn | The shooter rolls a 2, 3, 11, or 12 |
The exception is called Hard ways and means you win if you roll a 4, 6, 8, or 10 (depends on which one you bet) with the pair of same numbers (2 and 2, 3 and 3, and so on) before any other combination that makes that sum or a 7.
Let's take a look at some other bets – these all pay 1:1:
Place Bets in Craps
Once you know the point, you can bet on any number on the table. You win if it's rolled out before a 7, you lose if it isn't.
Field Bets in Craps
This type of bet is only active for one dice roll. You win if a 2, 3, 4, 9, 10, 11, or 12 is rolled. If 5, 6, 7, or 8 is rolled then you lose.
Big 6 and Big 8 Bets in Craps
Make either of these bets if you think that 6 or 8 will be rolled before a 7.
Start with a free bonus!
Open a FREE casino account and receive your bonus!
(T&Cs Apply, 18+, BeGambleAware)
GET BONUS
---
Start Playing Craps - Craps for Beginners
So you have the basics down and you're considering the different types of bets to make when playing craps. Next is to start playing – but how and where? Let us guide you to the best places to play, whether you're a craps beginner or a regular player.
How and Where to Play Craps for Free Online
If you're new to craps, the best place to learn is playing online. If you don't want to risk your cash on real money games until you know the game better, you can use online craps sites for beginners to play and practice craps online for free for as long as you need.
Here's our top tips for craps for beginners:
The best site for learning how to play craps (in our opinion), is this one.
You can also open a free account on this site which let's you find the best craps tables online.
You can also use any sign-up bonuses you receive on online casinos to practice. However be aware that there is a house edge, so you might want to practice for free first.
Check out the offer below as this can help you to collect the best bonus available for craps games right now.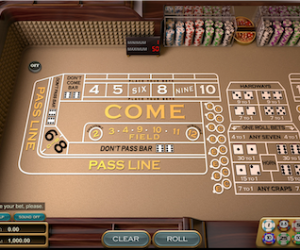 Starting with the right bonus is the best way to explore a real money casino and enjoy all the games to play there, so make sure you take advantage! When you click to collect the bonus, please read the terms and conditions first.
In addition, some UK and Canadian casino sites will provide you with bonuses to play craps when deposit real money.
If you don't live in a region that allows real-money gambling, it's taking a look at our guide to the best Free Online Games, to see where you might play casino games without spending any of your own money.
The top sites we recommend are social casinos like Luckyland Slots and Chumba Casino - well worth checking these sites out.
---
Best Sites to Play Craps Online
For the more seasoned craps player, check out our pick of the best sites for online craps:
Craps is available to play online in real money casinos only in regulated States such as Pennsylvania, Michigan and New Jersey.
If you're looking to start playing Craps right now, then let us direct you to our list of the best real money casinos!
Top of the list right now is FanDuel Casino.
For players based outside of the US, there are many online casino options for playing Craps. Some of our favorites for all the reasons listed above are 888casino, bet365casino and PokerStars Casino.
Fancy a game of craps online? Check out all the best websites that offer crap games for free and for real money and register your first account to begin with a bonus!
The Best Strategy for Online Craps
Read our Craps Strategy Guide to take your craps game to the next level and improve your chances of winning!
---
How to Play Craps for Beginners FAQs
What is Craps?

Craps is a table game that can be played in a bricks and mortar casino as well as online. It allows players to throw two dice and make bets on the outcome. The bets are determined by the placement of chips on a special craps table.
How can I find free online Craps games?

There are number a websites which allow beginners to learn craps for free so you can learn online without risking your own money.
Can you win at Craps?

Yes you can win at craps if your bet matches up with the outcome of the roll of the dice.
What is the house edge in Craps?

The house edge for craps is slightly better than most casino table games as it is 1,41% which beats both blackjack and roulette for chances to win.
What are the odds for each outcome in Craps?

The payout odds in craps can range from 30:1 to 1:1 and are determined by the true odds of a bet and the house edge.
How much can you win in Craps?

That depends on a number of factors – namely, the house edge of the casino, the amount being staked and the outcome of the bet.
Is Craps skill or luck?

As the outcome of craps is based almost entirely on the throw of dice, it doesn't really come under the heading of a skill game. Some players believe that it's possible to throw a particular number combination but this is unproven.
Why is the game called Craps?

The name 'craps' is believed to have originated from the French word "crapaud," meaning " toad". This is in reference to how people would crouch over a floor or sidewalk to play.
This page has been updated since its original publication.