IGT Slots: 150+ Slot Machines to Play for Free or Real Money!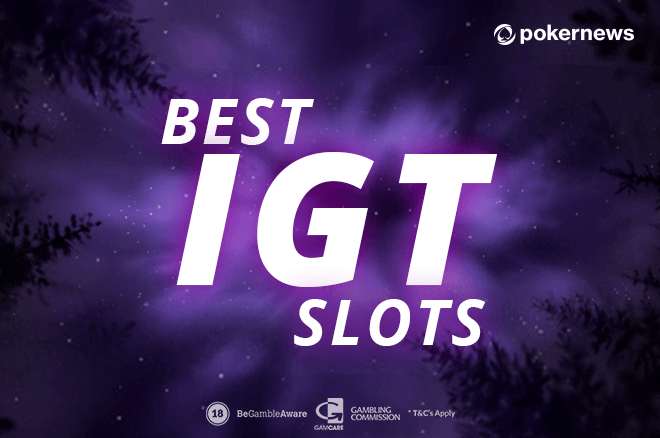 With more than 12,000 employees working from offices in Las Vegas, Providence, Rome, and more, International Game Technology (IGT) is one of the largest providers of online games in the world.
Listed at the New York Stock Exchange (NYSE), IGT is one of the few gaming companies that excels both at online video slots traditional slot machines.
On this guide to the best IGT slots, you find:
all the latest slots released by IGT in 2020
the best IGT slots of all time
a collection of bonuses to play free IGT slots online
and a lot more
In other words, if you are looking for a one-stop-shop to know all about IGT slots and to gain access to the best games you can play in 2020, you'll love this guide.
New IGT Slots in 2020
These are the top IGT slots that have been released between the end of 2019 and today:
IGT Slots
IGT slots are among the best in the business when it comes to packing action into modern, fluid, fun casino games.
All the slot machines by IGT look great, they play brilliantly, and they take you on an immersive experience that few games by other developers do.
Having built up a reputation for slots that players want to keep on coming back to, it's no wonder that we would suggest that you give them a go yourself.
Of the themes to choose from, there are historical games, fantasy games, cartoon games, and, for those of you who are only concerned about the bottom line, there are casino fun-fests with massive progressive jackpots that just keep going up and up, and it is these which will net you the biggest winnings, but at the highest volatility.
As there are hundreds of games to choose from that have been made by IGT, we thought we would break down the most fun, and the most memorable, in our guide to paid and free IGT slots, all of which are available with bonuses through the best online casino sites.
If you are new to IGT Slots, here's a selection of the most popular games ever created by this brand.
Gong Xi Fa Cai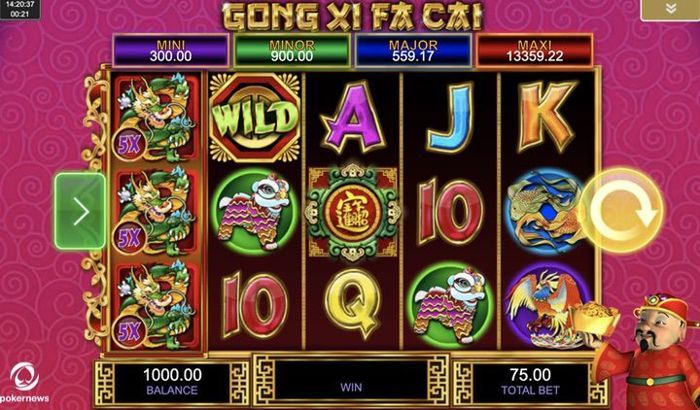 Meaning 'Happy New Year' in Mandarin, it's clear that with Gong Xi Fa Cai you're getting a Chinese-themed game, with plenty of celebration thrown in for good measure!
There are five reels, but as many as 50 paylines to keep the prizes flowing in on this beautifully-designed slot that plays like a dream. 5x multipliers in the base game add to the intrigue, as does an exciting free spins feature.
1421 Voyages of Zheng He
Five reels and a massive 88 paylines make this a high-variance slot that's great for a good time. Set in historical China, in the Ming Dynasty, this focuses on the titular explorer, Zheng He, who journeyed to far-off places such as Africa to trade and discover new horizons for his country.
You'll be discovering new horizons yourself, as this game has four bonus games, each one testing your strategy to the limit as you look to take advantage of that 95.7% RTP.
She's a Rich Girl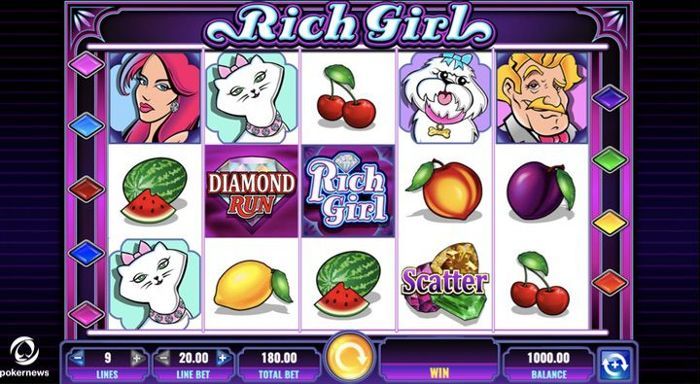 "...and she's gone too far, but she knows it don't matter anyway…" For fans of old-school seventies soft rock, this game will ring a bell, as the Hall and Oates classic is still fresh in the memories of many.
For other, younger, players, they'll mainly recognize the setting and environment of the IG slot for PC and mobiles, from the many, multiplying, 'Real Housewives' series.
Yes, it's a slot based on the trials and tribulations of people with too much money, and it's thoroughly racy. Low volatility matches with the possibility of 10,000x multipliers on your wager means it's easy to pick up and easy to enjoy for a quick spin.
Treasure of Troy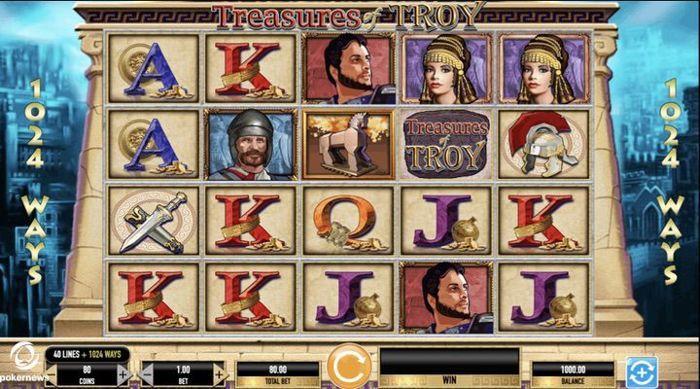 Back to much-loved historical themes, and here's a slot that will take you back to the battles of ancient Greece, the booming soundtrack making you feel like you're in the middle of an historical epic while you battle those reels for yourself.
While there's only one bonus feature, we take that as meaning that game is keeping it simple, focusing on the core dynamics instead of trying to distract from gameplay deficiencies with lots of diversions.
Indeed, the gameplay in this game is spot on, and the jackpot of 200,000 coins should appeal to both casual and experienced slots players. 1024 paylines will keep you busy and happy.
---
Siberian Storm
Using IGT's patented feature Multiway Xtra, Siberian Storm takes you to the frozen wastes of Siberia, where you will have to contend with the freezing conditions if you want to emerge with the top prizes contained within, including the Mega Jackpots progressive jackpot.
Although you can play all IGT free slots just for fun, a progressive jackpot always draws many more players to a slot, we feel sure that it adds an incentive to play.
It would, however, be nothing if it were not backed up with excellent gameplay, and here that is very much present and correct. That snowy forest contains 720 ways to win, and if you get five Siberian tiger wilds in a row, you stand a chance of qualifying for that massive main prize.
---
Crown of Egypt
You've probably played a fair few Egyptian-set slot games in the past few years if you're a seasoned player, but there's a reason why the theme is so popular, and that's because people love the gods of ancient mythology. Here you will see the Pyramids, the Sphinx, and all the other things you'd expect to find in Egypt, but alongside some quite inventive gameplay that sticks it all together.
There are 1024 ways to win, and the slot uses Multiway Xtra to mean that you can win up, down, left, or right, on every spin, which really adds to the drama and excitement to this IGT slot online.
---
Western Belles
As titillating as an old-style picture postcard, this game takes you to the Wild West, where you will meet the lovely ladies of Western fiction. The cowgirls are quick to the draw, and you'll have to be quicker if you're to get a share of the prizes on offer. There are 40 adjustable lines, and the line bets can be anything from 1 to 1,000 credits per spin.
With two wilds - lipstick, and a cowgirl wearing a red dress - you've got double the possibility to shake up your spins and get those big bonuses. The overall slot setup is fairly straightforward, with five reels and 40 paylines, but if you put in a little extra wager, you can activate an extra wild reel.
---
100 Pandas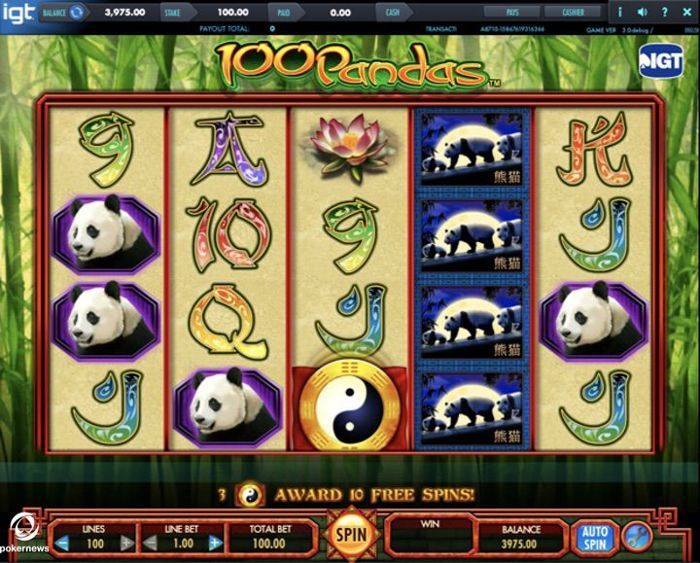 With pandas being such a universally recognizable symbol of cuteness but also supremacy in the wild, it's no wonder that they're such a popular theme for the developers of casino slots.
In this IGT slots game, you go to the natural habitat of the bamboo-munching docile animals, looking for symbols including the Yin-Yang scatter, awarding 10 free spins whenever it comes onto the reels, bamboo, a flower, and other Chinese-themed symbols that can net you big wins if you use them effectively.
The music is unobtrusive, and actually quite soothing, while the sound effects place you squarely in the jungle. There's a free spins bonus that emerges whenever you get three scatter symbols on the center reels, and you can keep retriggering free spins each time you get three bonus symbols on the three center reels. A fine game with a lovable theme.
---
Da Vinci Diamonds
This is one of IGT's biggest ever hits, a slot game that has transcended the usual crowd of players to become a breakout success. When you play you'll see why, with the famous artist, inventor, and, apparently, gem collector Leonardo da Vinci taking center stage in a game of mystery, history and excitement for all players.
There's a maximum jackpot of 25,000 coins, on bets between 0.01 and 5 coins on a payline. One of the reasons the game works so well is the seamless integration of its Renaissance theme in the setting of the game - historic works of art appear throughout the slot, along with gems that the rich financiers of classical Italy would have worn to show their wealth to the public.
---
Wolf Rising
Looking traditional, possibly, at first glance, as it has the conventional five reels, Wolf Rising has eight rows of symbols, and 100 paylines, and this increases the variance in the game, meaning more combinations are possible, adding to the challenge for players. The reels are transparent, with a snowy forest visible as you spin.
The totem pole wild stacks on the whole of one reel, activating one of five free spins rounds, which can also be triggered by getting three bonus symbols in combination on any of the three centre reels. You can get up to 255 free spins in the round, depending on how many symbols you trigger, and so there's the possibility of really winning big during the free spins round.
---
Family Guy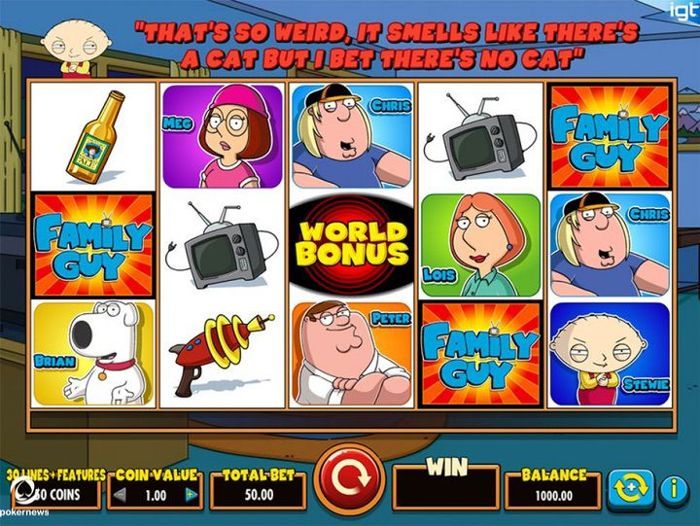 Television tie-ins don't always work on a slot, but that's down to the invention and imagination of the developers who have the licence. Family Guy, when it launched a few years ago, was one of the funniest slots on the market, and among the best-to-play IGT slots online; it still very much holds up now.
All of the scenes you'd expect to see in the adult cartoon are here and are just as good as they are on the small screen. You can play for bonuses for example, in the Drunken Clam bar, alongside Peter, Joe, Quagmire, and Cleveland.
The round where risk and reward both get higher, though, is the infamous chicken fight. The human-sized chicken appears in multiple episodes of Family Guy, and tries to beat up Peter, who grows unaccountably enraged, with escalating levels of destruction ensuing.
In Family Guy the slot, the chicken fight is enthralling, and can net you big bonuses if you're fortunate. The regular supporting cast - Meg, Chris, Stewie, Brian and the rest, also appear, encouraging or distracting you - it's your choice - but we advise you keep your eyes on the prize, as the progressive jackpot available in this IGT casino slot is well worth winning.
More IGT Slots to Play Online
Need more slot machines to play online? Check out all the best games by IGT and play them for free just for fun or for real money!
The promotion presented on this page was available at the time of writing. With some Casino promotions changing on daily basis, we suggest you to check on the site if it still available. Also, please do not forget to read the terms and conditions in full before you accept a bonus.