The 2020 Guide to Five Play Video Poker (with Bonuses!)
Why stick to the same game of video poker hand when you could be playing FIVE hands at the same time…in the most popular format in the world? If you are looking for some action, you found it. Meet Five Play Video Poker.
Do you still play video poker games one hand at a time?
Five Play Video Poker is a multi-hand game where you get a lot more action than in a regular game of Jacks or Better or Deuces Wild. And that's because here you play five hands at once every time you hit the 'Deal' button.
In this guide to Five Play video poker online, you'll learn:
Best Sites to Play Five Play Draw Poker
Are you ready to try this exciting multi-hand video poker game? You find Five Play Draw Poker only on the casino sites that offer games by IGT. To make your life easier, we included a list of the best five ones of them — so you know where you can test this new game of video poker on steroids.
Pick any of the sites below and remember: you always get a welcome bonus when you register to play Five Play Draw Poker!
What is Five Play Draw Video Poker?
Five Play Draw Poker is a multi-hand video poker game released by IGT in 2019. The game features nine different video poker variants and lets you play five hands of video poker at the same time.
The variants included in IGT's Five Play Draw Poker are the following five-handed games:
Jacks or Better
Bonus Poker
Bonus Poker Deluxe
Double Bonus Poker
Double Double Bonus Poker
Triple Double Bonus Poker
Deuces Wild Poker
Deuces Wild Bonus Poker
Joker Poker
Compared to most multi-hand video poker games, Five Play Draw Poker is special because you are not obliged to stick to the same variant all the time.
You can select any of the nine games included in the title and then click on the 'More games' button to change the rules and move onto a different one.
What are Multi-Hand Video Poker Games?
Multihand video poker games are extremely popular among big spenders and high rollers.
In these games, you play multiple hands of video poker at the same time - with some options letting you play up to 100 hands simultaneously.
How to play Five Play Draw Poker Online
The goal of this game is the same as in every other game of video poker: you need to create the best possible five-card poker hand to win.
To do so, you'll receive a five-card poker hand that you will need to improve by keeping/discarding any of the cards you receive.
To begin a game of Five Play Draw Poker online, you need to:
Select the variant you want to play
Place one bet
Click on the 'Deal' button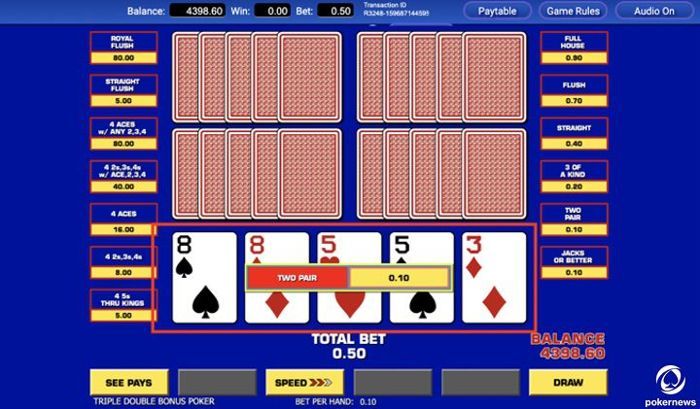 Once the game begins, you receive five cards - all face up.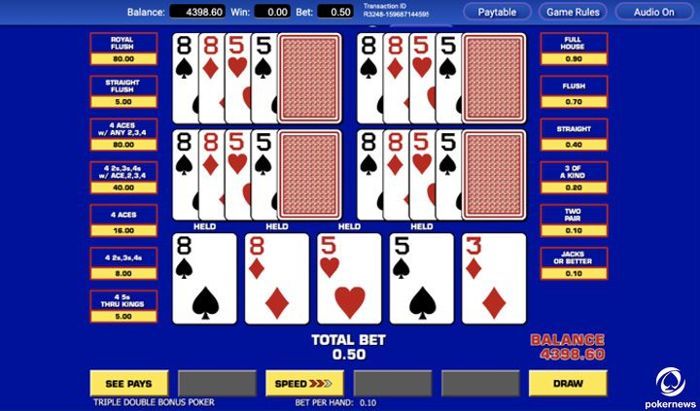 Select the cards to keep. Once you select a card from the main hand, this gets added to all the other four on the screen.
When you are done, click on the 'Draw' button.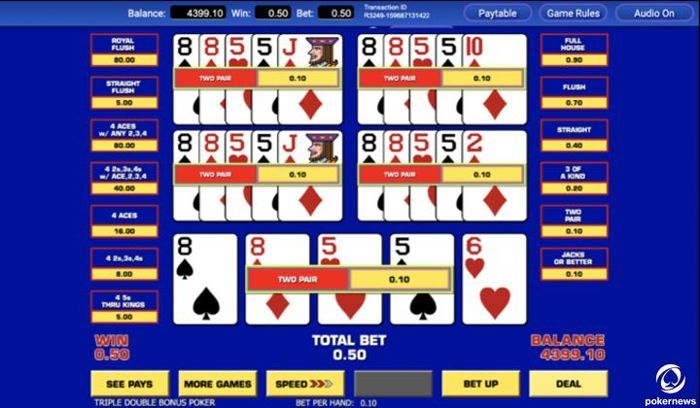 The dealer replaces all the cards you discarded with new ones on your main hand and deals new cards to the other four hands that you populated in the previous step.
This is where you discover if you made the right choice and the cards you keep lead to one, two, three, four, or five different winning combinations. Payouts and bonuses depend on the variant of your choice.
If you are not sure about the payouts, each game contains all the information you need.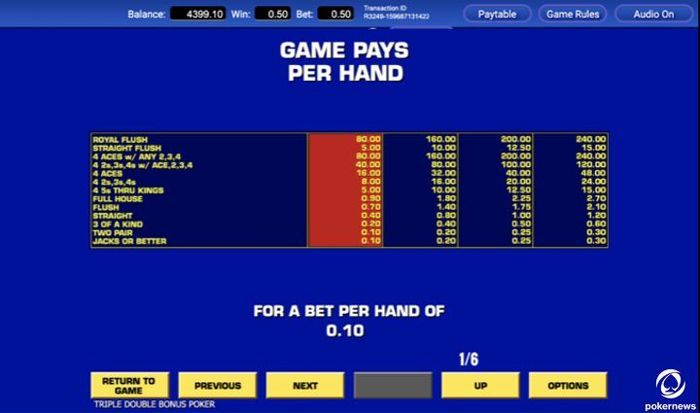 Whenever in doubt, click on the 'See Pays' button on the lower-left corner to know what each hand pays and what hand you need to qualify.
Every game comes with a different paytable and subset of rules. For example, if you play Jacks or Better or Double Bonus poker, you need at least a pair of Jacks to qualify for a win.
How to Win at Five Play Draw Poker
Like most games of its kind, 5 play video poker is one where the right strategy can help you go very far.
The low house edge inherently connected to video poker games is the secret of their popularity among experienced gamblers.
Although they might not be as fun and entertaining as the best real money slots, video poker games offer much better winning odds — especially if you know how to play to win.
Adopting the right video poker strategy can make a big difference in any of the games included in IGT's Five Play Draw.
Each of the games requires a different strategy. You will need to learn how to adjust to the rules of each game to know how to use your cards and increase your chances to win.
Although the Jacks or Better video poker strategy has some traits in common with other similar ones like the Deuces Wild video poker strategy, the two are also different enough to not be interchangeable.
If you are serious about getting better results on video poker machines, continue to our video poker strategy guide.
The promotion presented on this page was available at the time of writing. With some Casino promotions changing on daily basis, we suggest you to check on the site if it still available. Also, please do not forget to read the terms and conditions in full before you accept a bonus.