Playtech Slots: Top 26 Slot Machine Games by Playtech to Play in 2019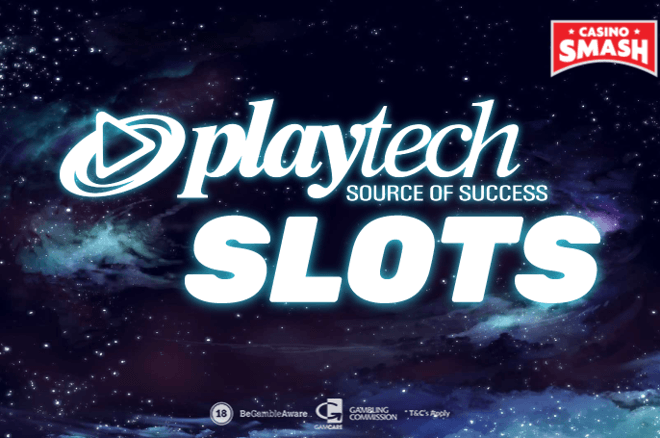 Playtech is one of the leading Slot developers since 1999
There are plenty of jackpot Slots, branded games, and other Casino Slots in Playtech's collection
The best Playtech Slots are reviewed in this article
Playtech Slots have become the staple of online gambling.
All Playtech Slots games are innovative and interesting to play. Playtech Slots offer high-level graphics, good gameplays, and a trusted and audited slots engine.
But do you know what are the best Playtech Slot games to play in 2019?
To make things easier, we've analyzed all Playtech games and come up with the best 26 Playtech Slot machines available right now.
Best Playtech Slots of All Time
| | Desert Treasure | Cinerama | The Matrix | Green Lantern | Top Gun |
| --- | --- | --- | --- | --- | --- |
| Editor's Rating: | 9/10 | 9.5/10 | 9.5/10 | 9/10 | 8/10 |
| Released: | 2005 | 2013 | 2017 | 2016 | 2015 |
| Theme: | Desert | Cinema | Movie | Superheroes | Military |
| Min/Max Bets: | 0.01/5 | 0.25/2.5 | 0.5/100 | 0.4/2000 | 0.25/125 |
| RTP: | 97.1% | 96.94% | 95.14% | 94.95% | 94.93% |
| Real Money Play: | Play here | Play here | Play here | Play here | Play here |
Desert Treasure
Not many Slot games survive the test of time. But Desert Treasure proudly did.
Released in 2005, but just as popular nowadays, it's a five-reel Slot machine inspired by all things desert.
For an old Slot, it also doesn't lack special features. You'll have golden snakes as wild symbols, a desert lady as scatter, and map+compass as a bonus symbol that triggers the bonus round.
Desert Treasure has simple graphics and classic Slot sounds - nothing more, nothing less.
It offers a refreshing alternative to the features and animations-packed modern Video Slots. And it is still one of the most paying Playtech Slots up to date (RTP = 97.1 percent).
Cinerama
Cinerama is another Playtech Slot that pays pretty well.
Inspired by Hollywood movies and filmmaking, it features directors and artefacts behind the scenes of any movie out there.
Cinerama also has not one but two bonus rounds which you trigger when you land either a headphone or three directors symbols on your reels.
Meanwhile, every spin on this Slot adds up to a progressive jackpot balance.
The Matrix
You don't live in the Matrix in real life (or do you?) but you can test how that works playing The Matrix Slot by Playtech.
It's one of the best branded Slots out there. Not only it uses the logo or characters from the movie, but it also makes the whole Slot feel like the Matrix. You'd think the Slot created by the filmmakers themselves.
The Matrix Slot has 50 paylines and two types of wild symbols. Three Free Games symbols (blue and red pills) trigger Free Games feature which has two modes:
eight free games wit more Agent Smith symbols,
unlimited free games with sentinel wilds.
Green Lantern
There are three ways to play this Slot, as in, three different missions for you to partake in defeating the forces of the dark.
Regardless of which one you choose, you won't feel like you're doing the same thing over and over. The Scatters in Green Lantern's pay 10 Free Spins if you land on them on the odd-numbered reels.
Top Gun
It would be wrong not to include in the top one of the most famous classics of all time!
Top Gun needs no introduction, and the fact that Playtech software could model it into a video Slot stands as proof as to how much this movie meant to generations of people all over the world.
Top Gun comes with the industry-leading "All Ways" technology. This means that there are 243 ways win.
Look for the Goose, the Iceman and, of course, Charlie, the main character from the movies.
| | Nostradamus | American Dad | Buffalo Blitz | Man of Steel | Big Bad Wolf |
| --- | --- | --- | --- | --- | --- |
| Editor's Rating: | 8/10 | 8/10 | 8.5/10 | 8.5/10 | 9/10 |
| Released: | 2013 | 2017 | 2016 | 2017 | 2012 |
| Theme: | Astrology | Sitcom | Animals | Superheroes | Fairytale |
| Min/Max Bets: | 0.25/125 | 0.40/200 | 0.01/5 | 0.5/2500 | 0.25/125 |
| RTP: | 94% | 96.10% | 95.96% | 95.05% | 97.34% |
| Real Money Play: | Play here | Play here | Play here | Play here | Play here |
Nostradamus
If there's one awesome theme that Slots games developers could've ever picked for their creations, that might be Nostradamus and his story.
This character has mesmerized the minds of generations with his ability to see into the future.
When you land on the Nostradamus Prediction, the scroll will roll down before your eyes and will reveal one of three possible outcomes, a random multiplier, a special symbol modifier or a direct win.
American Dad
Being at the top of the charts, right there with shows like Family Guy or South Park, American Dad has created a franchise of its own in American television.
Having a growing success amongst fans the world over, this animated series has now been turned into a Slots game.
The best part of this Playtech Slot is that it has a low-variance and also a 96.10 percent return to the player rate.
There are a lot of challenges, respins, bonus features and other special features that will transform the simple gaming experience into a down-right challenge, but it's totally worth it in the end.
Buffalo Blitz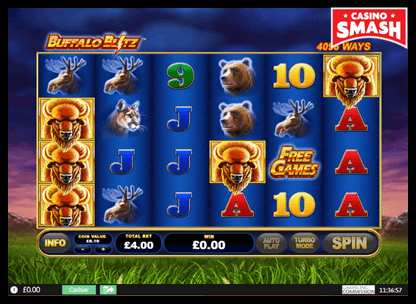 There's no animal more majestic and powerful than the mighty buffalo!
This is not only true in the American folklore but also makes for a great Slot theme.
This creation of Playtech software features an almost unique six reels instead of five, making for 4,096 possible winning combinations.
The Wild multipliers can award you up to 100 Free Spins if you land on six of them at one time.
Man of Steel
Slots take all shapes and sizes, and this Playtech Slot game is the ultimate example of that.
Based on the famous story of Superman, Man of Steel is the ultimate superhero-themed slot.
You get the perfect colors, the crystal-clear graphics, and the sounds that will simply make you feel like you're in the movies.
Man of Steel features an incredible 50 pay lines in the free spins round, which increases your chances dramatically when you land on the right symbols and open the Bonus Round.
Big Bad Wolf
Here's one Slot younger and older people alike will find common.
Inspired by the Tree Pigs Tale, Big Bad Wolf is the ultimate Playtech free Slot.
The thing that makes this Slot pop out is graphic design. The reels are incorporated inside a straw house, while the background is filled with hills and fields.
They've really outdone themselves with the graphics for this Slot, and you can immediately tell the detail they've put into them.
Latest Playtech Slots: 2019 Edition
Best for players who are always eager to try out new Slot games.
Each Slot has a different theme, payout, minimum and maximum bets - choose the ones that suit your preferences.
| | Bowling Frenzy | Sky Queen | AP McCoy | Pumpkin Bonanza | Treasures of the Lamps |
| --- | --- | --- | --- | --- | --- |
| Editor's Rating: | 9.5/10 | 8.5/10 | 8.5/10 | 8/10 | 9.5/10 |
| Released: | 2019 | 2019 | 2019 | 2018 | 2018 |
| Theme: | Bowling | Ancient Civilizations | Sports | Halloween | Magic |
| Min/Max Bets: | 0.1/500 | 0.25/500 | 0.25/1250 | 0.1/500 | 0.2/200 |
| RTP: | 95.6% | 96.5% | 95.03% | 95.51% | 95.15% |
| Real Money Play: | Play here | Play here | Play here | Play here | Play here |
Bowling Frenzy
Bowling Frenzy is the latest Slot game that joined Playtech collection.
It may be released in May 2019 but it will take you to the bowling alley from the 50s.
You'll meet male and female characters dressed in all of the 50s glory and see how the legendary bowling game looked like back then.
When you land at least three scatters on your reels, you enter a bonus game.
You get to choose between three features:
up to 25 high wins free games - only high win symbols on the reels
up to 30 multiplier free games - free spins with multipliers
kingpin cash bonus - it's bowling time!
If you choose bowling instead of the free spins, you get two bowls. First one can get you up to 100x multiplier (if you hit all 10 pins) while the second - up to 25x.
Sky Queen
Sky Queen Slot was inspired by a quite different era - ancient civilizations.
This five-reel 50-payline Slot features Mayan and Aztec symbols, has high payouts (96.5 percent), and offers you a chance to win a jackpot or two (or three).
Above it all there is a Respin feature and you can trigger eight free spins.
When you enter Fire Blaze Respin round, each sun symbol landing on your reels will hide a cash prize that you can claim or a bonus symbol that can trigger the jackpots.
AP McCoy: Sporting Legends
AP McCoy is the latest Slot game in Playtech's Sporting Legends series.
Just like previous Slots there, it depicts sports stars. This time it's the horse racing legend Tony McCoy, also known as AP McCoy.
The Slot has 243 paylines and is connected to Sporting Legends jackpots. One of them pops every day, another one - every week.
You can also trigger free spins with up to 7x multiplier and open bonus wheel for more prizes.
Pumpkin Bonanza
It may not be Halloween but Pumpkin Bonanza is a fun Slot to play any time of the year.
The Slot has impressive graphics, spooky tunes, and horror movie-worthy symbols. It doesn't have many special features and has only 10 paylines.
Sometimes pumpkins can occupy up to three reels and you get a Bonanza spin with all the pumpkins acting as wild symbols.
Treasures of the Lamps
Inspired by genies and Aladdin stories, it bursts with Middle East symbols.
The most paying symbols are three genies in the seductive getup. Each of them grants a special feature on any of your spins:
spreading wilds on adjacent positions,
respins until you win,
extra wilds in any location.
You can also trigger Stargazer Bonus and Free Games feature with scatter symbols.
It opens up to 30 free games with up to 5x multiplier. Your generous genies appear during free games, too.
Age of the Gods Slots
Best for Ancient Greece and mythology fans, Jackpot Slots players.
Each Slot depicts different gods, goddesses, and heroes; RTPs are similar, biggest differences can be seen in the bet amount range.
| | Age of the Gods | Fate Sisters | Furious 4 | Goddess of Wisdom | King of Olympus | Prince of Olympus |
| --- | --- | --- | --- | --- | --- | --- |
| Editor's Rating: | 8/10 | 7.5/10 | 8.5/10 | 8.5/10 | 8.5/10 | 8.5/10 |
| Released: | 2016 | 2016 | 2016 | 2016 | 2016 | 2016 |
| Theme: | Ancient Greece | Ancient Greece | Ancient Greece | Ancient Greece | Ancient Greece | Ancient Greece |
| Min/Max Bets: | 0.2/40 | 0.01/25 | 0.01/100 | 0.01/20 | 0.01/10 | 0.01/250 |
| RTP: | 95.02% | 93.02% | 94.88% | 94.94% | 94.99% | 94.82% |
| Real Money Play: | Play here | Play here | Play here | Play here | Play here | Play here |
Age of the Gods
You know that there are almost no other gaming themes that are more powerful than mythology is.
Greek mythology is the star of this Playtech free Slot game. With five reels and 20 pay lines, Age of the Gods is a game that offers an array of sequels not to be missed.
Still, if you're just starting out, definitely go for the original and explore your way through the mysteries of the Ancient Greeks. Land on Hercules or Hades and see the credits go wild on this sublime piece of gaming.
Age of the Gods: Fate Sisters
The Egyptian theme is one of the most famous in the gaming industry (look at these Cleopatra slots, for example), but the Playtech free Slots game series dedicated to Ancient Greece is interesting.
The second title of the series is Age of the Gods: Fate Sisters and the result from the work game developers have put into it is also good.
The story of the game is inspired by the Greek Moirai, or "fates". Legend says there were three sisters, Atropos, Clotho, and Lachesis, which were responsible for controlling the length of the life threads.
If you think that's not a good theme for Slots, just give it a try.
Age of the Gods: Furious 4
Get ready for some amazing wins with this mythological Slot machine by Playtech software.
Also featuring five reels and no less than 20 possible pay lines, this Slot is offering great bonuses with special symbols like Apollo, Hephaestus, Pandora, or Atlas.
Age of the Gods: Goddess of Wisdom
If you've ever been even slightly interested in Greek Mythology, chances are you heard about Athena.
The goddess of wisdom, Athena played an important role in Ancient Greece, and so does she in this new Playtech Slot machine.
The interesting thing about Athena was she was always the calm and calculated god, not like some of her buddies on Mount Olympus.
She never intervened or fought if there wasn't a good reason for it, and the guys at Playtech did a great job incorporating this feature into the gameplay.
Age of the Gods: King of Olympus
Of course, no Ancient Greek games series would be complete without a part dedicated to the god of the gods himself.
The power of Zeus the Olympian is unmeasured, and you'll get to taste a little bit of the action through this new Slot game from Playtech software.
This really is a game fit for a king, as there is a standard 300,000 jackpot, as well as the normal Age of the Gods progressive jackpots and, moreover, there are 25 pay lines you can bet on.
Age of the Gods: Prince of Olympus
Our final recommendation from the Age of the Gods series is the game dedicated to Hercules himself, also known as the Prince of Olympus.
This five-reel, 25-payline game comes with well-paying expanding wilds, a ton of free spins that can triple your winnings, and also a special bonus games that will have you battle with sea monsters.
Honorable Mentions: Other Great Playtech Slots
| | Great Blue | Legacy of the Wild | Heart of the Jungle | Wild Wishes | Tiki Paradise |
| --- | --- | --- | --- | --- | --- |
| Editor's Rating: | 8/10 | 8.5/10 | 8/10 | 8.5/10 | 7.5/10 |
| Released: | 2013 | 2016 | 2014 | 2016 | 2017 |
| Theme: | Ocean | Witchcraft | Jungle | Fairytale | Island |
| Min/Max Bets: | 0.01/2.5 | 0.4/120 | 0.5/50 | 0.15/45 | 0.2/1000 |
| RTP: | 96.03% | 96.06% | 96% | 96.12% | 94.05% |
| Real Money Play: | Play here | Play here | Play here | Play here | Play here |
Great Blue
Here's another Playtech masterpiece for the underwater world fans.
Great Blue features five reels on three rows, boasting a total of 25 pay lines that will surely return cash to their avid players.
The Wild of this Slot is the Killer Whale, and the Scatter Symbols are represented by the Oyster shell, which can also come in stacks, adding value to your overall gameplay.
Land on three or more of them and you'll immediately get to the Great Blue bonus round. Here, everything gets multiplied by two, with a maximum of 33 free spins.
Legacy of the Wild
Enter a mysterious, charming wizarding game that you can sense with all of your senses.
The guys at Playtech really went out of their ways to create one of the most interesting Slots in the world.
Just play a few spins and you'll see why we're recommending this game as one of the top 26 games of this year.
The game is not just a Slot, but a whole magical world to be explored and discovered, filled with goblins, ghouls and other monsters. Look after the Book of Wilds and The Wave-O-Meter too.
Heart of the Jungle
50 pay lines. Do you need any more information?
All right, then let us tell you that this particular Playtech Slot machine has one of the few real 3D feels in the industry.
The sounds, the graphics, the symbols, they'll simply make you feel like you're into the Amazonian jungle, cutting through the thick ivy in order to make your way through the game.
Wild Wishes
There are many Disney stories out there, but probably one of the most famous is the one about Aladdin.
If you want to explore the magical world of the 1001 Arabian Nights tales. Besides the Prince, Princess, and Villain symbols, the most important of the game is the Genie and the Lamp symbols.
The first is the Wilds of the game, while the second is triggering free re-spins as you play.
Tiki Paradise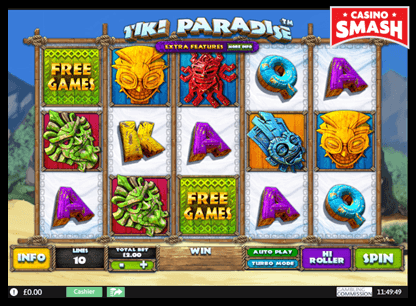 Tiki Paradise is a slot filled with playing cards symbols as Wilds and a Wild Nights feature that will pop up from time to time.
The feature allows you to one reel at random, which if it happens to have a Wild on it, will win you a Win Shuffle.
The Shuffle will reconfigure the reels, allowing for a better combination of symbols in the end.
The promotion presented on this page was available at the time of writing. With some Casino promotions changing on daily basis, we suggest you to check on the site if it still available. Also, please do not forget to read the terms and conditions in full before you accept a bonus.