Best New Slots to Play in 2020 - List Updated Monthly
More than 300 new online slot games launched in 2020
Every month, we add new games to this guide to the best online slots
Browse the list to find all the best new slot machine games for mobile and desktop and spin the reels!
Top New slot Games to Play in June 2020
Can't wait to get your hands on the top new games? Use the links on this page to open a free gaming account and get free spins to play the best new slots you can find at the top online casinos this month!
Need more new online slots? Continue reading.
The slot games on top are just the start. They are the best new slots that came out this year — but they aren't the only hot slots in Vegas these days.
Scroll through this page to find more new slots, all the top-rated new games that came out in 2020, and some evergreen classics you might want to go back to.
Top-Rated New slot Games to Play in 2020
On your mobile phone? Turn it to landscape mode and swipe this table to reveal even more new games.
| Game | Best for | Released on | Developer | Theme | RTP |
| --- | --- | --- | --- | --- | --- |
| Street Fighter 2 | Everyone | 21.05.2020 | NetEnt | Video Games | No Longer Available |
| Rick and Morty | Adults | 27.02.2020 | Blueprint | TV Show | 96.55% |
| Pink Elephants 2 | Meditation lovers | 06.05.2020 | Thunderkick | Psychedelic | 96.13% |
| Agent Destiny | ComiCon fans | 07.05.2020 | Play'n Go | Noir | 96.26% |
| John Hunter and the Book of Tut | Book of Ra fans | 14.05.2020 | Pragmatic Play | Egypt | 96.50% |
The never-ending race that game developers started a few years back gave us some of the best online slots the gambling industry has ever seen before.
And thanks to the superb slot sites available today - playing slots online has never been like it is today.
If you thought you've seen everything with the release of casino games like Guns n'Roses and the Book of Dead video slot — think again.
NetEnt, Microgaming, Playtech, Yggdrasil Gaming, and other top game never stop.
In 2020, they are giving you collections of top slot games to play online and new ways to spin the reels and have more fun than ever before.
From the best mobile slots to the best slots to play from your desktop computer, everything is on this guide.
Yes, all the best new casino slots games in 2020 are right on this page. No kidding.
Start from the list of the best new slots you can play in 2020. Use the links next to each game to access the titles at the best slots sites and secure an automatic welcome bonus when you need to register an account to play.
Play new games with no deposit free spins, match deposit bonuses, and free credits. Download the apps to play mobile slots or use the browser to play on your desktop.
Interested in new mobile games? No problem.
Pick a game from the list of the best new slot machines for mobile and start tapping to spin the reels.
Finally, the old-but-gold slot machines.
We should never forget where we come from and we should never forget the games that made slot machines what they are today.
Don't miss our exclusive overview of the best classic slots you can play at the top online casinos.
While those aren't the newest slot machine games out there, they still know how to keep you busy.
How to Navigate Through This Article
Here's a guide to navigate through this list of all the best new slots to play in 2020.
Use the tables in the article to get quick access to the games or scroll to read a short review of each new casino game.
When you are ready to play online, click the 'Play Now' button to open the game. If you need to register, you'll receive a welcome bonus package right away.
Don't miss the details about volatility and RTP of the new slots in this article. That's a great way to choose the best casino games to play, especially if you like to play for real money.
Read the terms and conditions of every bonus you activate and, please, always gamble responsibly.
The Best New slots in 2020
Street Fighter 2 Slot Machine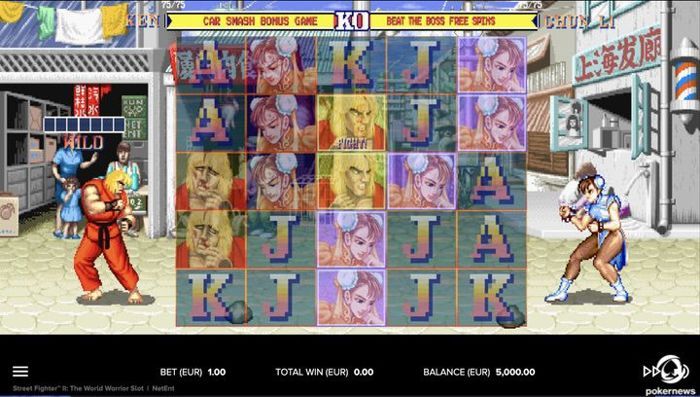 "Round One. FIGHT!"
When did slot became so cool to make the financial aspect of spinning the reels almost unimportant?
The Street Fighter II slot machine is by far the best casino game you can play in 2020. Especially if you are 30+ and, like me, you have spent a while screaming "hadouken" and "shoryuken".
Launched by NetEnt, this new slot is packed with special features (battle mode, beat-the-boss, bonus rounds, avalanche mode, cluster pays, etc) and comes with an RTP that varies according to what character you choose.
Ryu is the worse pick (but I bet still the most popular choice) as he comes with an RTP of 96.02%.
So, what about the best fighters? If you want to get more chances to win, go for everyone's sweetie Chun Li, Blanka, or Russia's old-timer Zangief — ad they all feature a 96.08% RTP.
Also, don't forget to scream. Hadooooouken!
---
Rick and Morty Megaways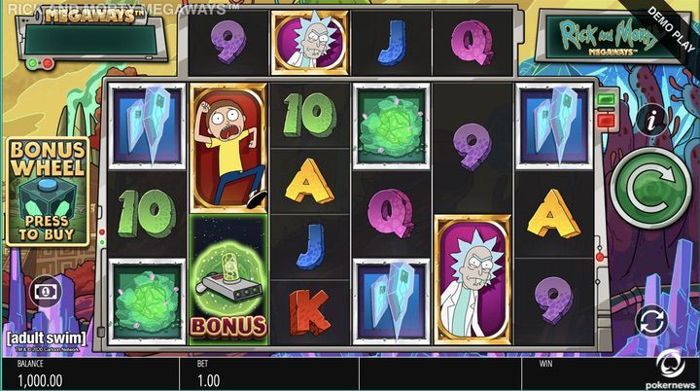 The hit adult cartoon Rick and Morty might be off Netflix these days, but it doesn't mean you can't enjoy it on your screen for free.
This great new slot comes from Blueprint Gaming and is part of the Megaways family.
Created in cooperation with Adult Swim and the Cartoon Network, it comes with three different bonus rounds and all the great animations and symbols you grew to love on the big screen.
---
Charlie Chance in Hell to Pay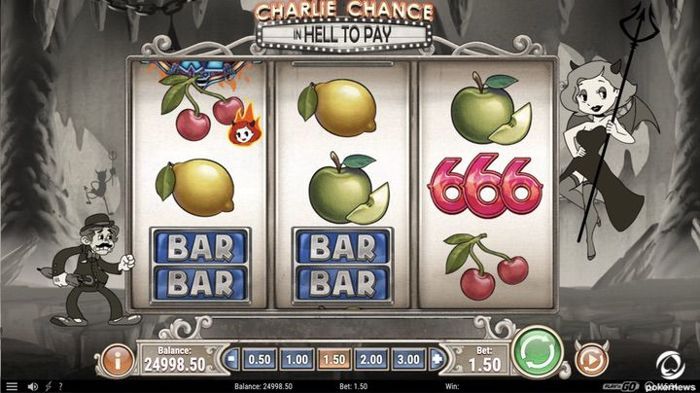 Retro black and white graphics and animations that bring you back to the first 1928 Mickey Mouse are the two most distinctive traits of this fascinating new slot by Play'n Go.
A fast-paced jazzy soundtrack and a wide range of bonuses make Charlie Chance in Hell to Pay one of the top new slots of 2020.
Add to this that the game revolves around the usual mechanics of three-reel fruit slots, and you'll understand how you can use this game to revisit a classic theme that never grows old.
---
Pink Elephants 2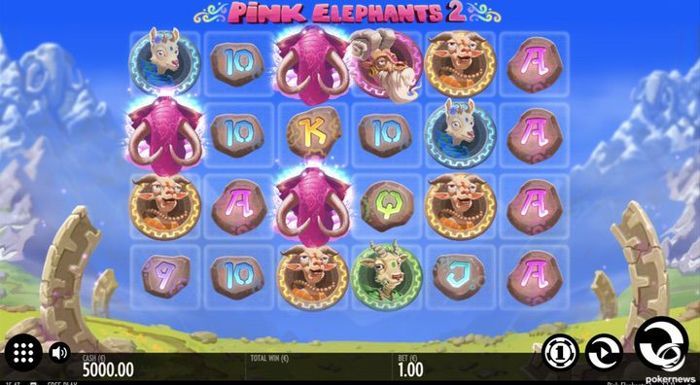 A psychedelic soundtrack and the wisest goats in gambling will accompany you in a one-of-a-kind adventure as you try to find as many pink elephants as you can.
Developed by Thunderkick, Pink Elephants 2 is the successful sequel one of the most popular slot machines we have seen in the past years. This new slot machine comes 4096 ways to win and a return to player of 96.13%.
---
Dragon's Maiden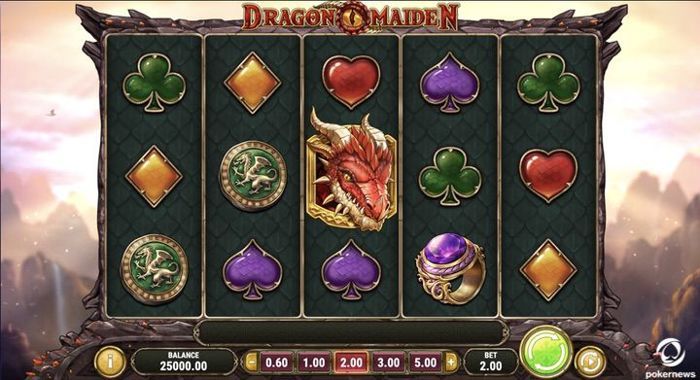 ‌Take control of your dragon and train him to get ready for your next epic battle.
It is only if once you learn to use the power of its burning flames that you can unveil all the treasures your eyes can see.
---
Agent Destiny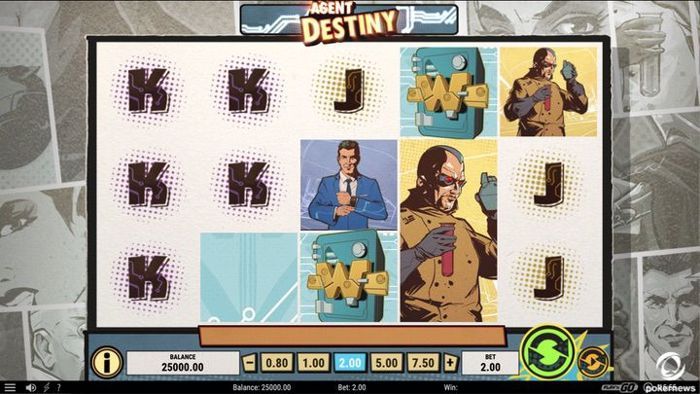 I can't say if Sheldon Cooper and Leonard Hofstadter would have loved this. But I feel this slot machine would have made Stuart's comic book store a lot more popular.
If you didn't catch the Big Bang Theory reference, know this: Agent Destiny by Play'n Go is a new slot machine that looks like it just came out from a comic book.
With five reels, 20 paylines and a 96.26% RTP, this game have one of the best soundtracks in real money gambling and graphics that are second only to the (unbeatable?) new Street Fighter slot.
---
John Hunter and the Book of Tut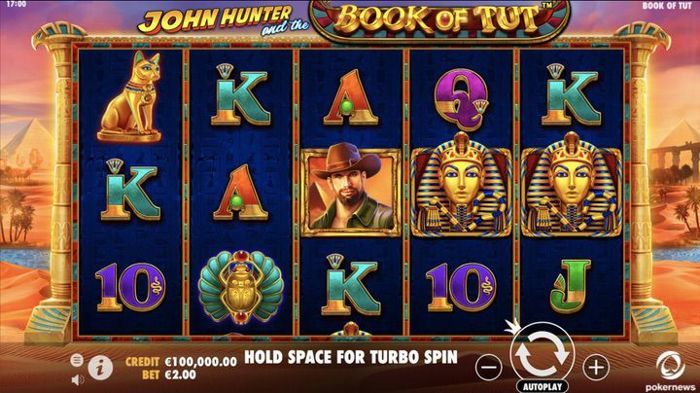 I know what you're thinking: did we really need a new slot machine online based on the adventures of yet another explorer lost in Egypt?
Every seasoned slots player knows at least three things:
It's not easy to pick a good slot machine
Winning at jackpot games is nearly impossible
There's always room for new Egypt-themed slot machines
If games like the Book of Ra and the Book of Dead do not surprise you anymore, why not join charming John Hunter on his search for the Book of Tut?
This high-volatility colourful new online slot developed by Pragmatic Play features a 96.5 return to player (RTP).
---
4Squad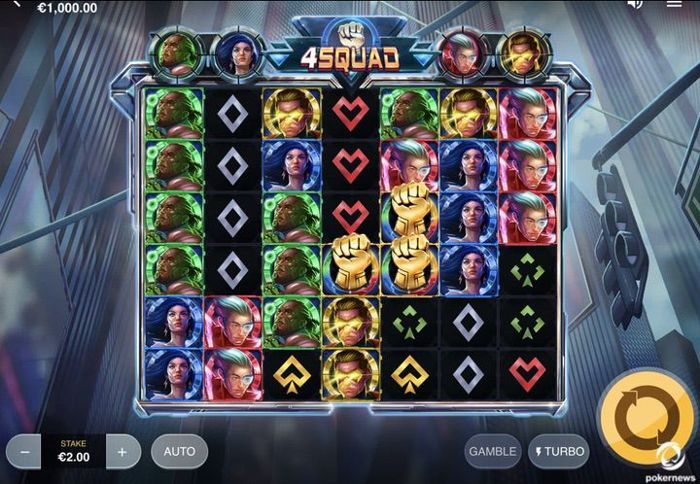 ‌The past couple of years have seen most of the best superhero-based slots disappear from the market as many famous franchises decided to take a break from gambling.
In 2020, Red Tiger chose to get superpowers back into the casino world with the new 4squad slot machine. The game plays on seven reels, he's packed with features like bonus rounds and cascading reels.
The 4Squad new slot machine features four superheroes with distinct superpowers.
---
Hellcatraz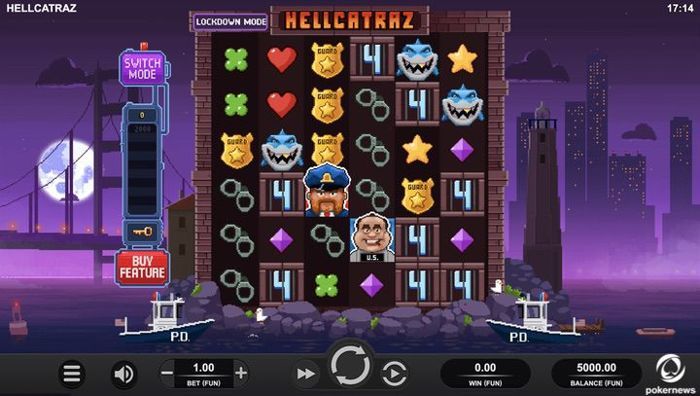 Pixelated games are not for everyone, I get this. But at that time when Minecraft is still one of the most popular and possibly best online games in the world, I don't see why we shouldn't give the new slot like Hellcatraz a shot.
I don't know how lots of players will react to this one, but as someone who grew up with a Philips MSX and a 80286 computer, everything about this game is familiar.
From the color scheme to the sounds and the animations, this slot machine developed by Relax Gaming is a retro game to go back time when nothing screamed power and innovation more than 8-bits.
The storyline is also one of the best you'll find in the top new slot machines this year.
---
Mega Moolah Absolootly Mad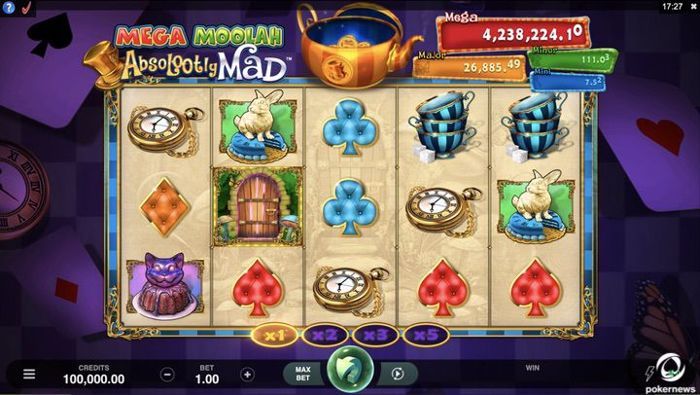 What would happen if the world of the Mega Moolah slot machine crossed path with that of Alice in Wonderland — asked no one ever.
And although this isn't a question that we ever posed to anyone, Microgaming decided to work on the answer and turn it into an entirely new game.
This is a basic game with a poor return to player (92.02%) and fourfold progressive jackpot that is nearly impossible to win.
---
Dead or Alive II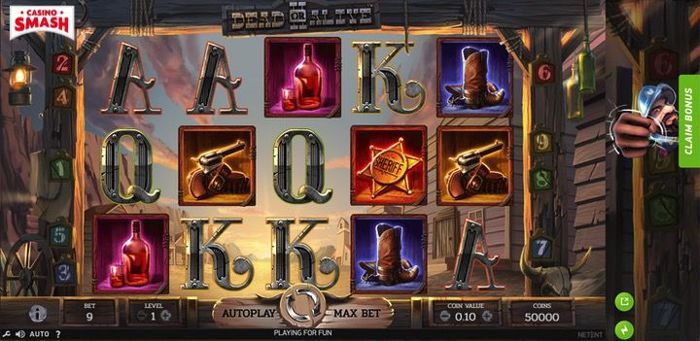 The second episode of the popular Dead or Alive slot series by NetEnt isn't just the best slot machine game that came out last year — it's one of the best online slots ever created.
The graphics are top-notch, the soundtrack is impressive, and the gameplay is of equally high standards.
Five years after launching the first game of this series, NetEnt did it again — the Dead or Alive II slot machine is another good game that is going to become a classic like its predecessor.
---
Subbuteo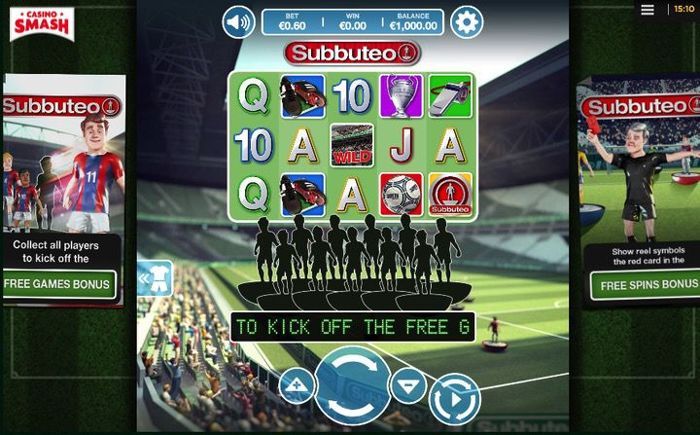 One of the newest game to enter our list of the best online slots to play in 2020 is based on a classic football / table game that many played decades ago.
Subbuteo is a fun game that needs no introduction to all the players who are 35yo or more.
Possibly the best online slot game inspired by football, this game by Betdigital is filled with interesting mini games.
---
Other Top-Rated slot Games to Play
Queen's Day Tilt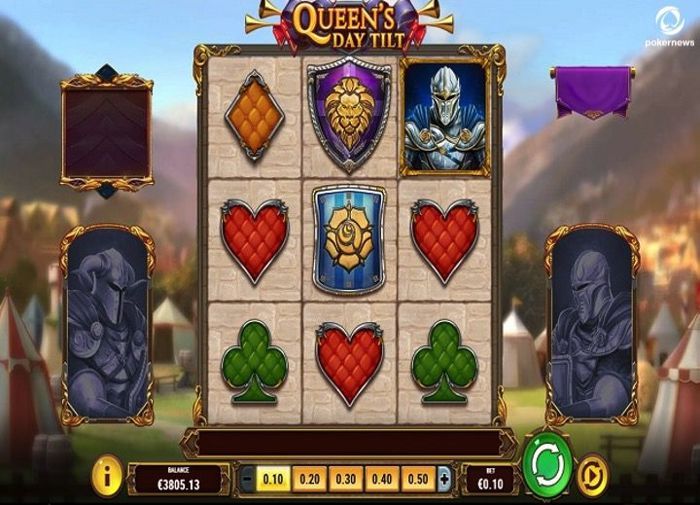 Out since February 2019, this brand new slot by Play'n Go is an unconventional 3x3 game with an RTP of 96.36% and a max win capped at 500,00 coins.
Queen's Day Tilt brings you back to a time when brave knights had only one way to prove their value, their bravery, and their love for the queen: to fight until they had any strength left.
You can play this online slot with free spins (registration is needed) or you can try it for real money (deposit required).
Strolling Staxx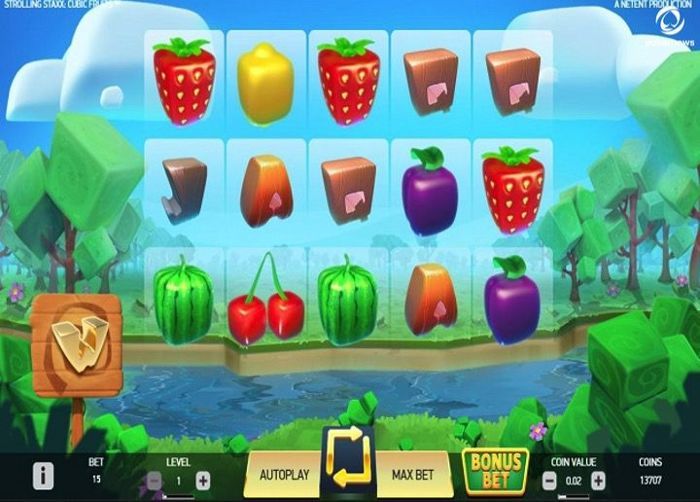 Strolling Staxx Cubic Fruit is part of the NetEnt slots family and is around since the last week of January 2019.
This game is a modern version of the most Classic fruit slots, with a five-reel and 10-payline layout where you will play with square-shaped watermelons, strawberries, cherries, and plums.
While the RTP of 95.95% makes this one not one of the best slots for real money you can play in 2020, the quality of its graphics alone makes it one of the most interesting new slots to try this month.
Excalibur's Choice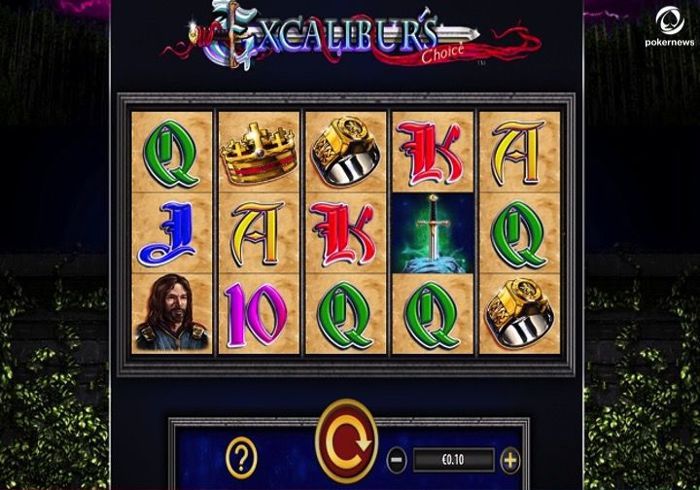 There's just one thing about this slot that is really hard to believe and that's that it is one of the latest Barcrest slots in the market. Everything in this medieval-themed game screams early 2000's.
The images on the tiles look outdated, the graphics are slightly pixelated, and the music reminds that of old Vegas style slots. However, Excalibur's Choice came out on February 1, 2019, and it's not the game it looks like.
What looks like an old-fashioned Vegas-style slots is a brand-new video game with lots of interesting features. Think of it this way: if you are one of the many players who love the Avalon slots, this is your next favourite slot.
Luminous Life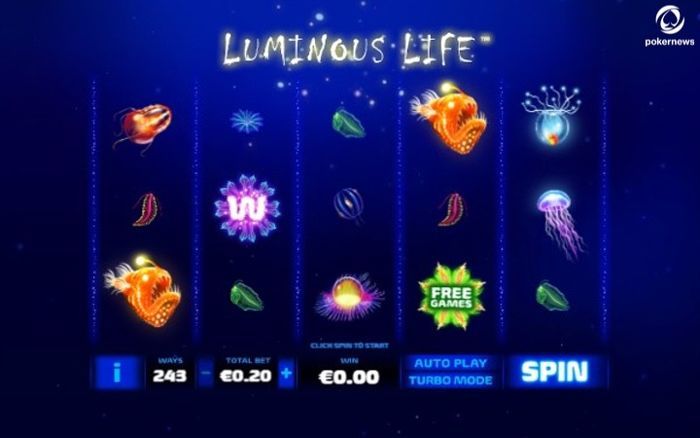 This new game released in December 2018 and part of the Playtech slots collection brings you to the deepest end of the ocean to discover a world full of strange and luminous creatures.
The game comes with a max. jackpot of 75,000 coins and bets ranging from a minimum of 0.20 and a maximum of 300.
Buffalo Rising: Megaways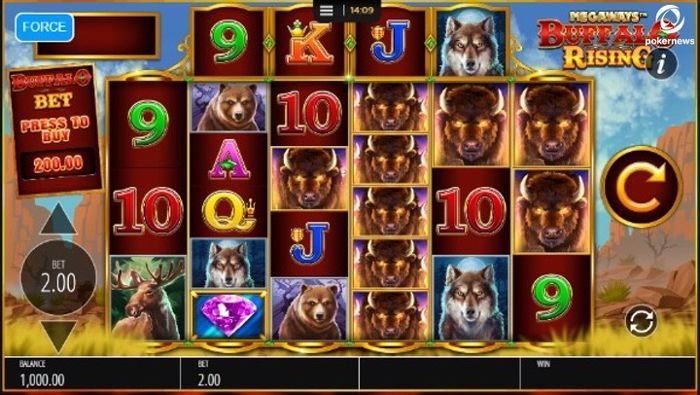 If Buffalo slots have been some the most popular games in 2018 it's also due to Buffalo Rising: Megaways by Blueprint.
The game launched in October 2018 with a staggering 117,649 ways to win and a Return to Player of 96.5%.
Running wild on the plains of North America has never felt SO good!
Berryburst
You've heard of the Starburst slot by NetEnt, right?
It's one of the best slot machines to play. And such classics have a follow-up slot years later. The follow-up for Starburst was released this year, in late August. Thus, it's one of the newest slot machines, too.
And it's called Berryburst.
Like you can imagine, the slots are very similar. They both have a simple yet classic structure - five reels and three rows.
The symbols depict different fruits and berries. When the reels spin, they are practically making you a badass healthy smoothie.
Fan of Starburst and fruity slots? Open an account here and play Berryburst!
Fortunes of Ra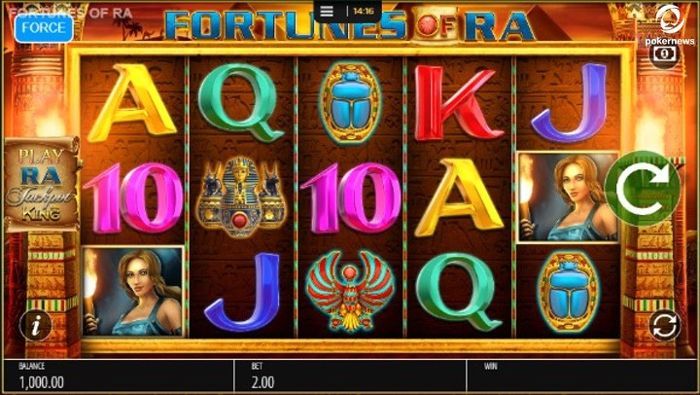 Fortune of Ra is another game from Blueprint that captured quite an audience since its release on July 30, 2018.
It's an exciting five-reel Egypt-themed video slot with 10 paylines and a fixed jackpot of 250,000 credits
Fortune of Ra is one of the best slots for RTP as it this number goes as high as 97.01%.
Banana Rock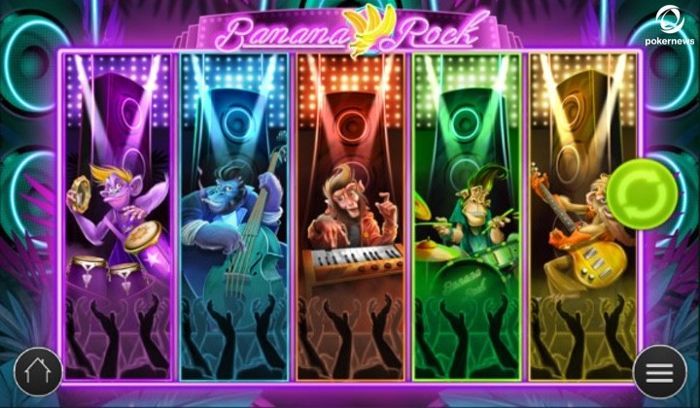 Join the craziest rock band of the year in Banana Rock, a new slot machine launched by Play n'Go in November 2018.
Spin the reels of one of the best slot machine games of the year to let five monkeys rick the stage and play for you.
Coming with a min. bet of 0.10, Banana Rock is one of the cheapest and most entertaining online slot machines you can play right now.
Vikings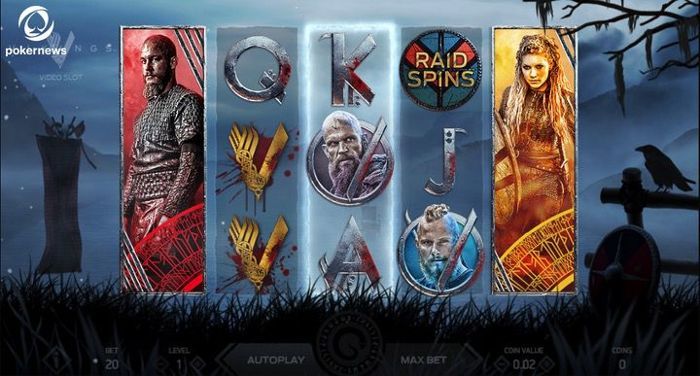 A lot of players consider this the very best slot machine game you can play in 2020 - and it won't take you more than a handful of spins to understand why.
Vikings is the new epic blockbuster from Netent, a company that keeps surprising online slots players every single time they release a new game.
Their best slot of this year is inspired by the Vikings TV show and features five reels, 243 ways to win, and an RTP of 96.03%.
Launched on November 22, 2018, this is also one of the newest slot machines you can play today. Real money bets begin at 0.20 and the jackpot is set at 1,000,000 coins.
The Nutcracker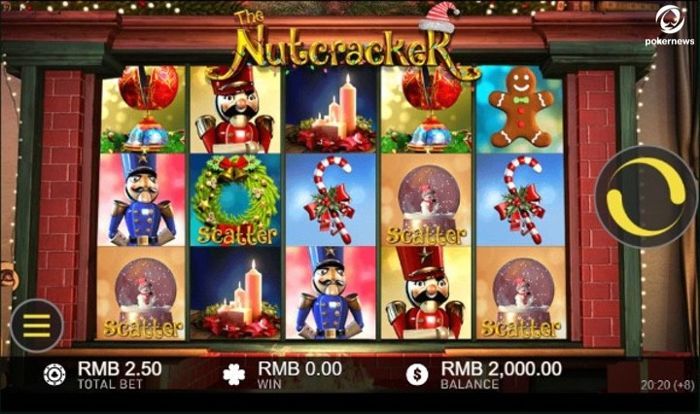 Right when you thought that classic ballet and slots could not possibly have anything in common, Gameplay Interactive released The Nutcracker - a charming and colourful new slot machine that will cheer you during the holiday Season.
The lovely colourful graphics and one of the best soundtracks you can find in the world of online slots make the Nutcracker the best Christmas slot you can play this year.
Crystal Rift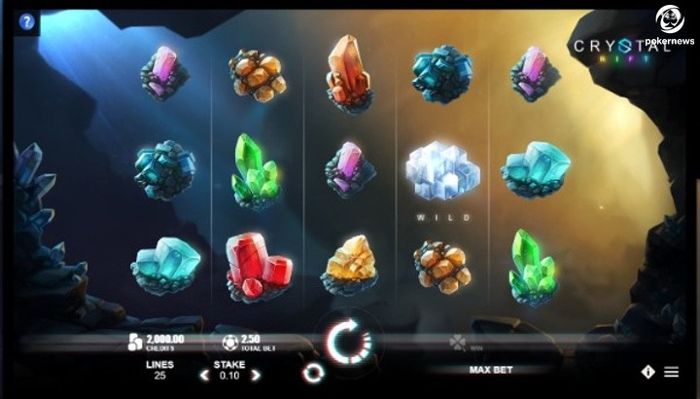 Crystal Rift is a futuristic-looking and feature-packed game by Rabcat that deserves a spot in the list of this year's best slots even just because of its graphics.
Enter a mystical cave and use the crystal on the reels to find treasures and unlock special features like the Bonus Fall and the Wild Grid.
Batman vs. Superman: Dawn of Justice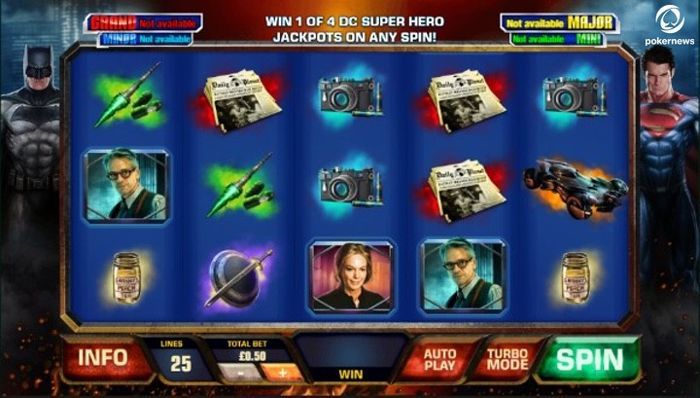 Not a single year goes by without the Playtech slots family giving us yet another superb superhero video game.
This time it's all about Batman and Superman with the visually stunning Batman vs. Superman: Dawn of Justice, a five-reel slot machine first released in January 2018.
Based on the internationally acclaimed blockbuster movie with Ben Affleck and Amy Adams, this exciting slot machine is the obvious choice for everyone who can't imagine a world without superheroes.
Age of the Gods: Medusa & Monsters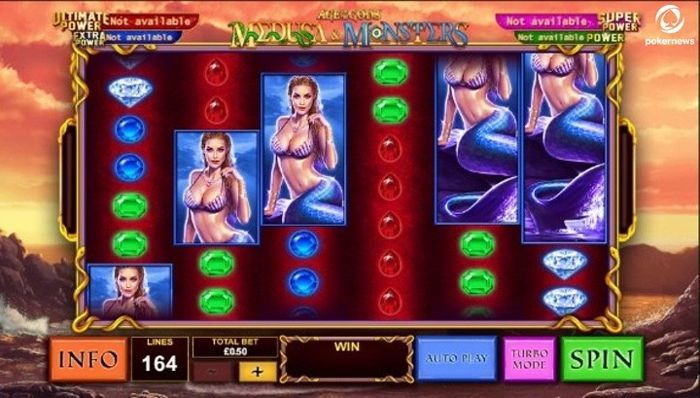 First released in September 2018, Medusa & Monsters is perhaps the best episode of the Age of the Gods franchise created by Playtech.
Two years after the first Age of the Gods slot machine came out, the world of Greek mythology is still going strong. T
Almighty Reels - Garden of Persephone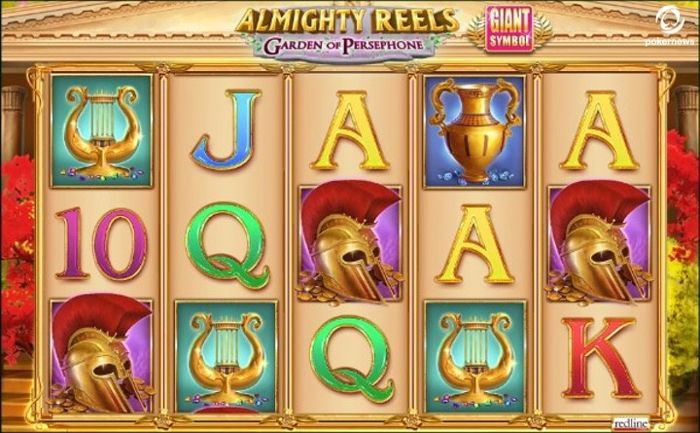 This year also slot giant Novomatic decided to enter the Greek Pantheon and surprise you with Almighty Reels - Garden of Persephone, an amazing slot machine game that lets you play with none other than Zeus' own daughter.
This low-med variance game part of the Novomatic slots family comes with 25 paylines distributed over five reels. The bets begin at 0.25 and can reach up to 500 coins per spin.
Egypt Story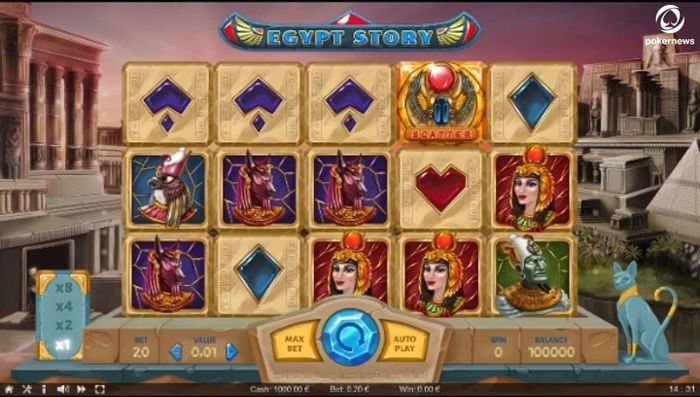 Released by AGames in November 2018, Egypt Story is a great modern take of a classic like the always-popular Book of Ra by Novomatic.
Modern graphics make this Egypt slot machine a great game to try if you want to wander around the pyramids and you are not afraid to deal with powerful Egyptian gods to collect your treasures.
Jack in a Pot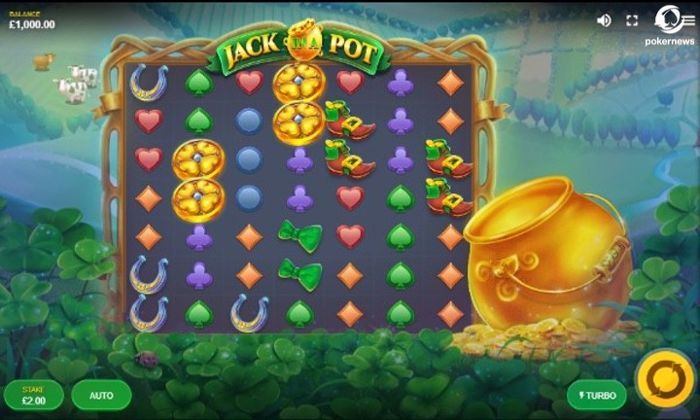 Nothing says gambling more than an Irish-themed slot machine with a Leprechaun, and that's why Jack in a Pot deserves a spot in this year's list of the best slots.
Compared to some of the most popular leprechaun slots Jack in a Pot features really good graphics.
This 7*7 innovative game by Red Tiger features an RTP of 96.06% and a max win of 70,000 coins. You can play Jack in a Pot from the desktop, tablet, and mobile with bets starting from as little as 0.20.
Vegas Diamonds
If you like classic slots https://www.pokernews.com/casino/classic-slots.htm make sure you don't miss Vegas Diamonds by ELK Studios.
BAR symbols, watermelons, lucky cherries, and diamonds spin on three reels in one of the latest iterations of the most classic version a true Vegas classic.
In a year where the border between the top slots and video games becomes thinner and thinner, it's truly refreshing to see how there's still room for classics like Vegas Diamonds.
Lucha Legends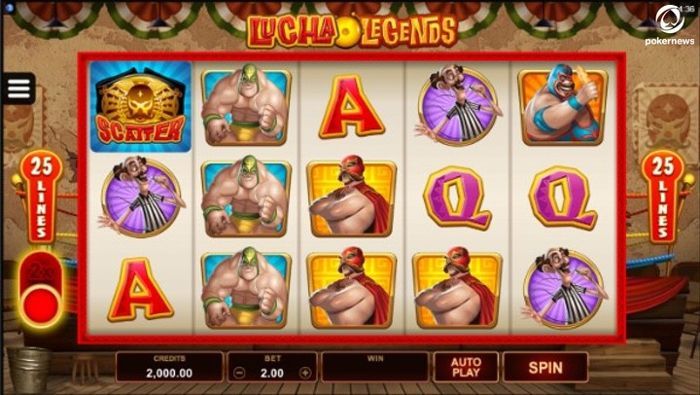 Lucha Legends is a crazy slot by Microgaming that brings you right into the colourful and loud world of Mexican wrestling.
Here at PokerNews we liked this slot game so much that we reviewed it right as it became available at some of the top online Casinos.
Cash of Kingdoms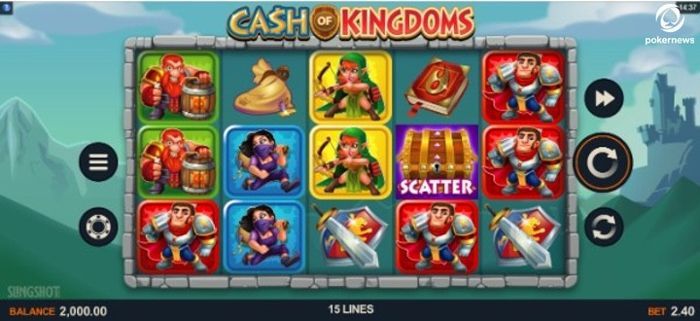 Coming from the Slingshot Studios (Microgaming), Cash of Kingdoms is one of the most anticipated and also the best slots you can play.
Announced during the ICE - Totally Gaming conference in London, the game launched in October 2010 as the first one that Microgmaing released through their Studio brand.
As Microgaming's David Reynolds stated, "Built with strong and regular features, which are amplified by paying both ways, the game delivers plenty of on-screen action on any device, together with a popular theme that is sure to make it a player favourite."
Wish Upon a Jackpot
Speaking of the best slot machines, the list wouldn't be complete without the Wish Upon a Jackpot slot.
You can thank Blueprint Gaming for developing a slot machine that has it all: glass slippers, magical forests and harps, frog-princes, and castles.
It features also different fairy tale-themed bonuses – three little pigs free spins, Rapunzel free spins, Jack and Beanstalk bonus, Rumpelstiltskin bonus - that are bound to keep you interested.
While the slot is not a very new one, it only now started showing up at the latest online Casino sites. Just like magic, it's not that easy to find. But you can play it on this page.
slot It In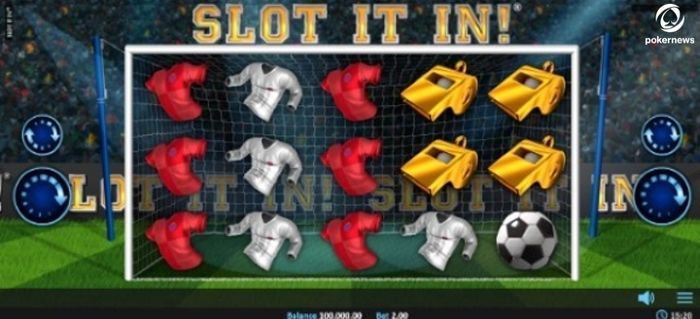 Football-themed slots are not the most popular Casino games in history, and there's a reason for that.
Most football slots online are just terrible.
Luckily for you, Realistic's slot machine slot It In is one of the very few GOOD football slots you can find out there.
Released in July 2018, this is one of the best real money slots of its kind you can play at this point of 2020 and probably the game you'll want to keep open as you watch your Champions League games on TV.
Hold the Safe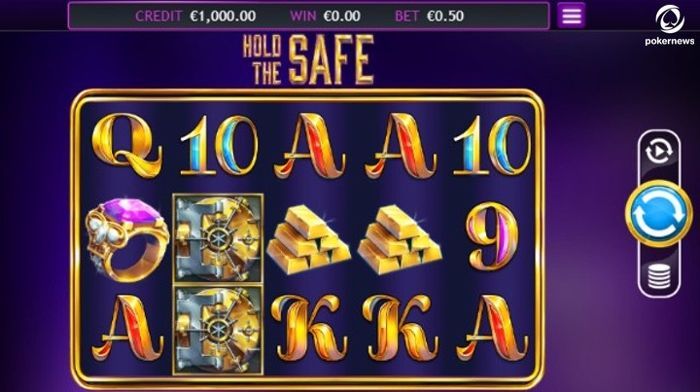 Around since August 2018, Hold the Safe is a pleasant new game with quite a few elements that come straight from the world of Classic slots.
Developed by Eyecon, this real money slot machine brings you to a world where you are surrounded by expensive jewels and shiny gold bars.
Wild Fury Jackpots
Part of the IGT slots family since September 2017, the Wild Fury Jackpots is a 60-payline and five-reel video slot game that revisit the theme of Classic slots.
Sevens and colorful precious gems populate the reels of this really beautiful new slot where a special Wheel of Fortune bonus round dominates the scene.
Tidal Riches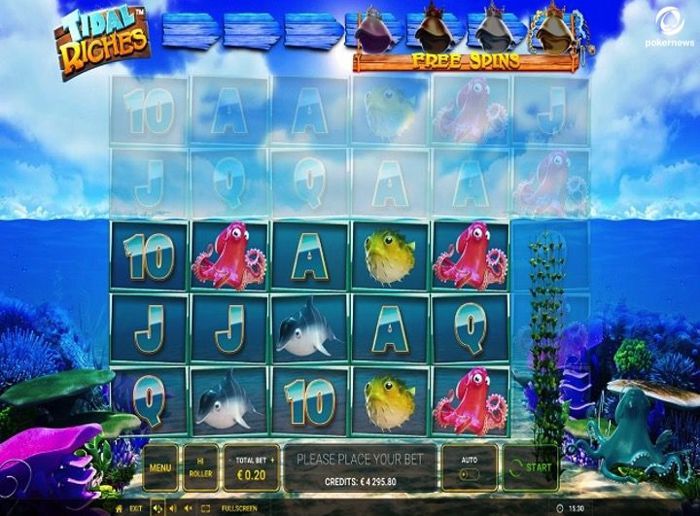 Released in January 2019, Tidal Riches is a crazy slot machine by GreenTube with 20 paylines and a max win capped at 50,000 coins.
This colourful game brings you to a sunny beach destination where an army of happy animals is ready to guide you to the most secret depths of the ocean to find all sorts of forgotten riches.
Tidal Riches comes with a number of exclusive features like the Arrow Trail, something that can change the way this video slot pays from one spin to the other.
Shogun of Time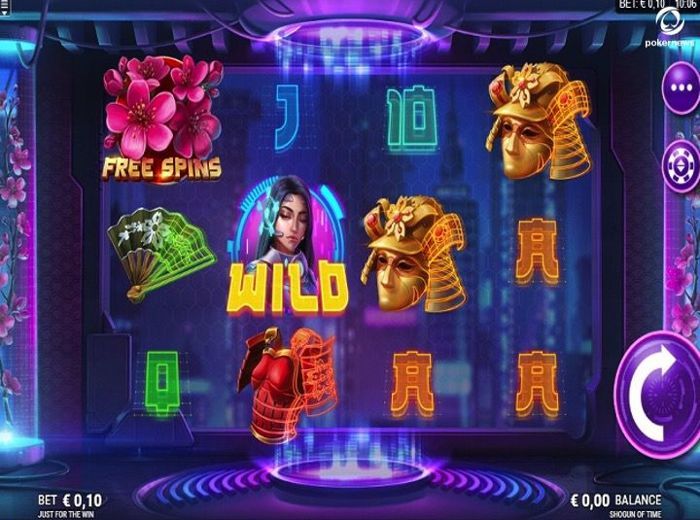 This new slot game by Just for the Win isn't your typical Asian gambling game. While it features the usual five-reel layout, Shogun of Time mixes together Japanese culture and cyberpunk to bring you an exciting and visually interesting slot adventure.
The game's RTP is 96.02%. If you are on the lookout for innovative slots for real money and you are tired of "the usual games" from the likes of Yggdrasil Gaming and Bally slots, this one by Just for the Win is a good choice for you.
---
The Best Mobile slots
The Goonies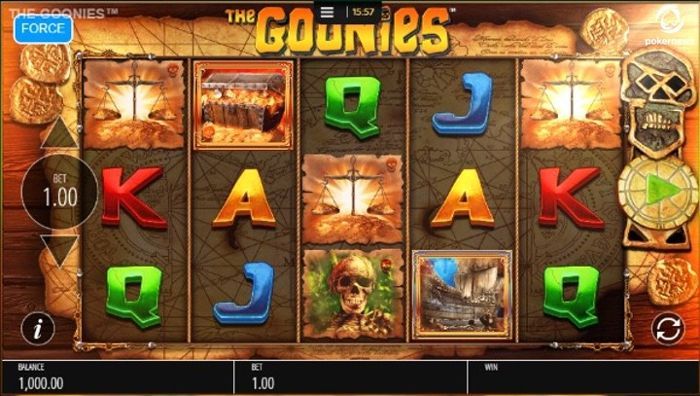 It might be because this is one of the movies that made me dream the most - but the moment The Goonies slot machine came out, I knew I was going to feature it in the list of the best slots to play.
If I didn't have an article about the top slots online, I would write it just to feature the Goonies online game
Based on the 1985 masterpiece by Richard Donner and Steven Spielberg, this is the best mobile slot you can play today.
Everything you would expect from a game based on the movie is there. From the Goonies to the Fratellis and the sloth everything is right where you want it to be.
Rocket Fellas Inc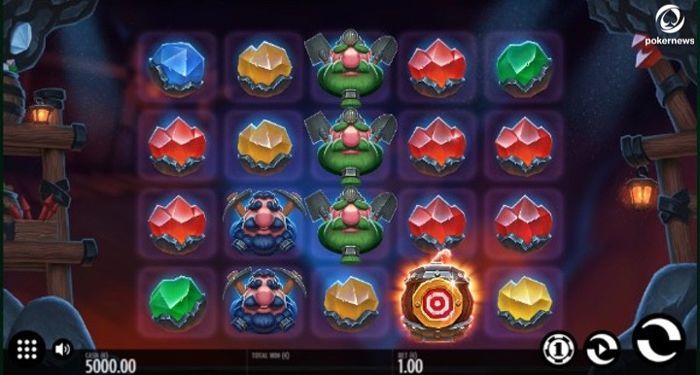 Are you ready to blow up the reels? Rocket Fellas INC. is a colourful and L-O-U-D mobile slot machine game by
Thunderkick that has been exploding the reels since November 22, 2018.
Napoleon: Rise of an Empire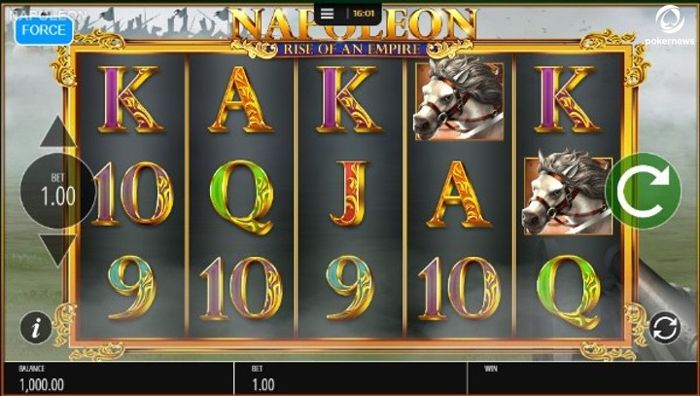 Join the epic battles that shaped the history of Europe fighting shoulder-to-shoulder with Napoleon, one of the greatest and most controversial emperors of all time.
Napoleon: Rise of an Empire is one of the best mobile slot machine games you can play in 2018 and also one of the most fascinating games ever cooked in the kitchen of the UK-based Blueprint Gaming1.
Wearing Napoleon's clothes costs you 0.20 per spin.
Feng Shui Kitties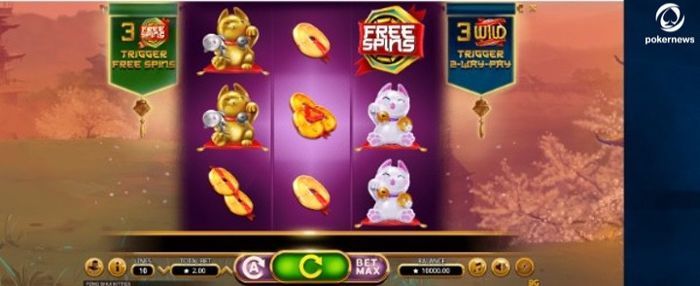 Did you really expect to go through a list of the best slots to play and not find even a single Asian-themed gambling game in it!?
We all love Asian slots and Feng Shui Kitties is a great title to understand why these games are so successful.
This cute three-reel and 10-payline game comes with everything you expect from an Asian game: charming music, Chinese coins...and a lot of cats!
Egyptian Dreams Deluxe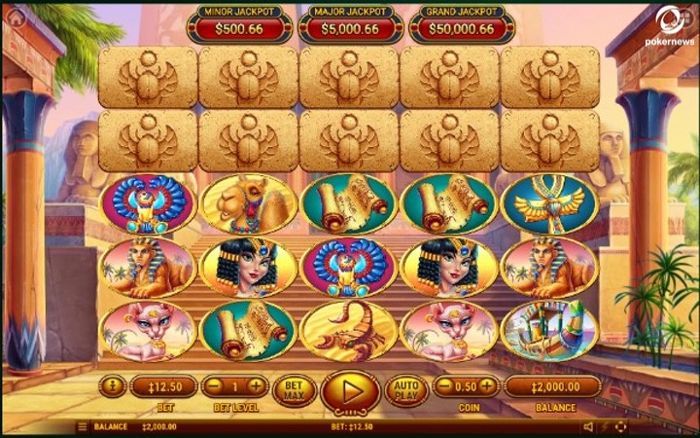 Much like you don't expect to find a list of the best slots that doesn't include at least one Asian game, you just can't go without an Egypt-themed game either.
Back in August 2018, Habanero Systrens released a great new slot game named Egyptian Dreams Deluxe where you are catapulted to a dimension where the sun shines over no less than 3,125 ways to win.
Da Vinci Diamonds: Masterworks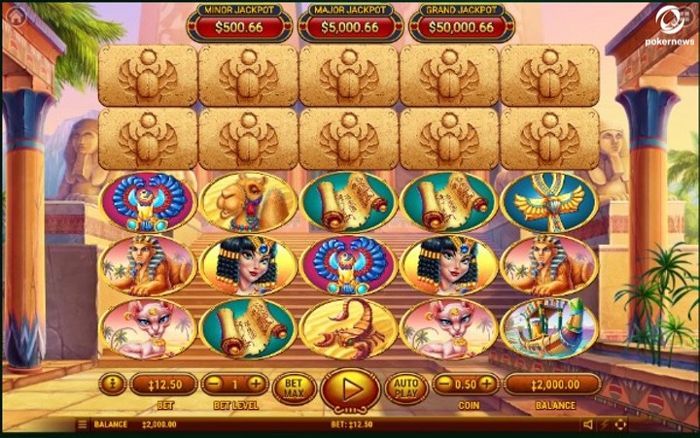 Although most people find it hard to believe - we are still playing [B]Da Vinci Diamonds[/V] slots even in 2018.
Proudly developed by IGT, the Da Vinci Diamonds: Masterworks slot machine is a 96.37% RTP game that takes you back to the world of brick-and-mortar Casinos.
This mobile slot features everything you would expect from a DaVinci Diamonds slot machine.
Colourful gems, portraits of Leonardo Da Vinci, and images of its masterpiece La Gioconda populate the reels and (if you are lucky) lead you to all the prizes available.
Baron Samedi
From a classic like the new Da Vinci Diamond slot to a stunning and dark mobile video slot launched by Yggdrasil Gaming in November 2018.
Start the Baron Samedi slot to begin a thrilling journey in the world of voodoo magic. Spin the reels to build combinations and collect all the special cards the trigger an endless number of hidden special features.
The Baron Samedi mobile slot feature an RTP of 97% and a fixed max win set for 250,000 coins. The bets start at 0.10.
1: After the Goonies slot machine - of course!
Jack and the Beanstalk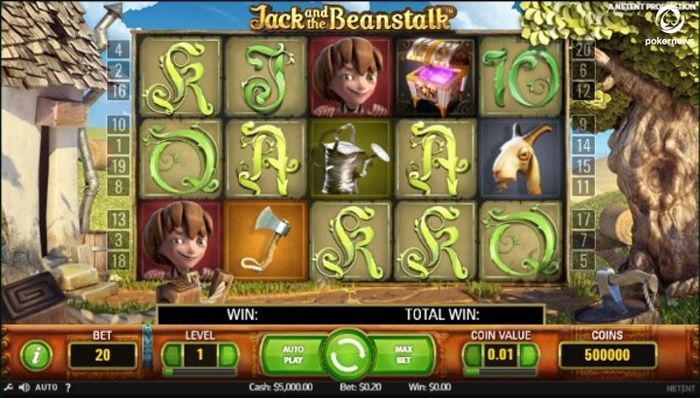 While this game might not be the latest slot to come to market, it is undeniable that Jack and the Beanstalk is one of the very best games you can play in 2020.
Based on the famous fairy tale, this game by NetEnt is packed with extra features and great animations.
Also, the fact that it comes with a 97.3% Return to Player is not a bad thing.
Jimi Hendrix
Spin like a rockstar with this game part of the stupendous online slots trilogy NetEnt launched in 2018. The Jimi Hendrix slot Machine is colourful,…and loud.
As a true music lover, I wish we had more games like this one - where all the winning combinations are celebrated with some of the most iconic guitar tunes in history.
Add a 96.9% RTP to the mix, and you'll see why this Jimi Hendrix game online would be the undisputed winner at the Sltos Grammies - if someone ever organised them.
The Legend of Shangri-La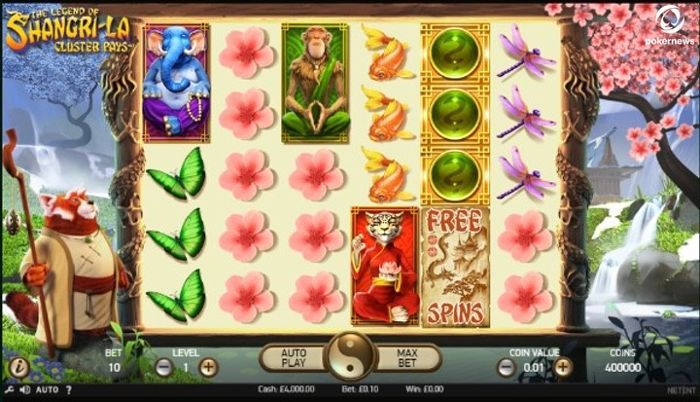 While this might not be your favourite Video slot if you are into games like Wild Fury Jackpots or Tidal Riches, The Legend of Shangri La: Cluster Pays is one of the most popular and best NetEnt slots to play in 2020.
The Legend of Shangri La: Cluster Pays is a 96.5% RTP game with 10 paylines and not five but six reels. You find it available at all the mobile Casinos that offer 3D slots by NetEnt.
This game is not part of the jackpot slots family, but it still features everything you need to add a new favourite slot to your collection.
Sakura Fortune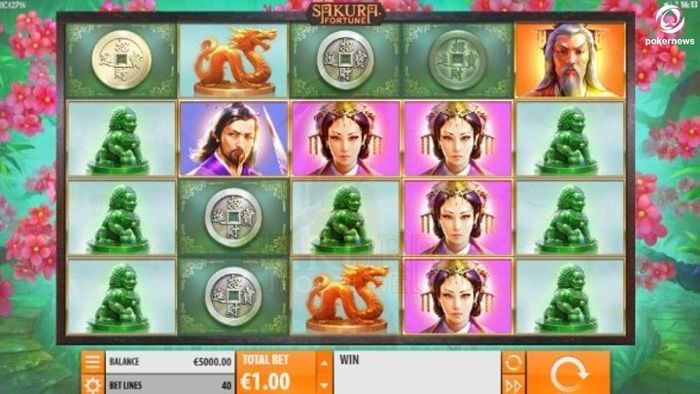 Sakura Fortune isn't a brand new slot, but this doesn't mean you shouldn't be playing it as much as you possibly can. Known to be one of the very best Asian slots out there, this game is part of the Quickspin slots family and it has been keeping players busy since 2017.
This is one of my favourite online Casino games, if not my favourite slot altogether. Sakura Fortune comes with an RTP of 96.61%, 40 paylines and high variance.
To play this slot machine game with an exclusive bonus at mobile Casinos online, click on the button above and register a free account.
---
The Top slot Machine Games of All Time
Now that we covered the best brand new slot games and also the top slot machines you can find at mobile Casinos, it's time to look at those games Casinos will never drop - even if they did not come out yesterday.
Some of the games in the list below have been classics ever since they made it to Las Vegas. Others are registered trademarks that exist only online.
Regardless of what their status is, if you enjoy playing online slots, these are the best all-time-classics you can't miss.
Starburst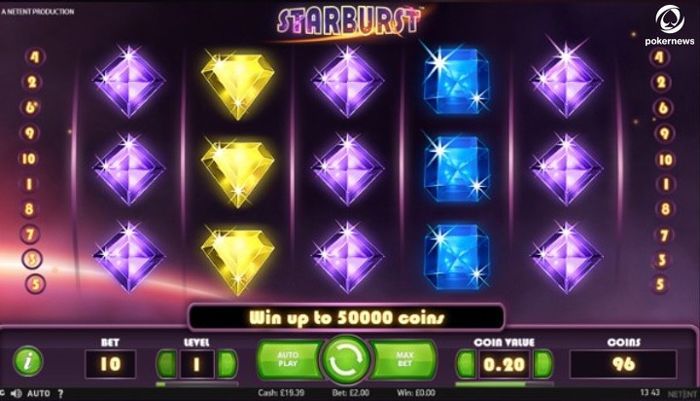 The Starburst slot machine is a game that needs no introduction. Launched in 2013, this world-famous game is probably the most played online slot of all-time and it is one of the best NetEnt slots ever created.
Here on PokerNews you can find a lot of articles about this game. You can read this in-depth review of Starburst or you can jump straight to the hot stuff and check out this page where you find all you need to know to get bonus free spins on Starburst in 2020.
Gonzo's Quest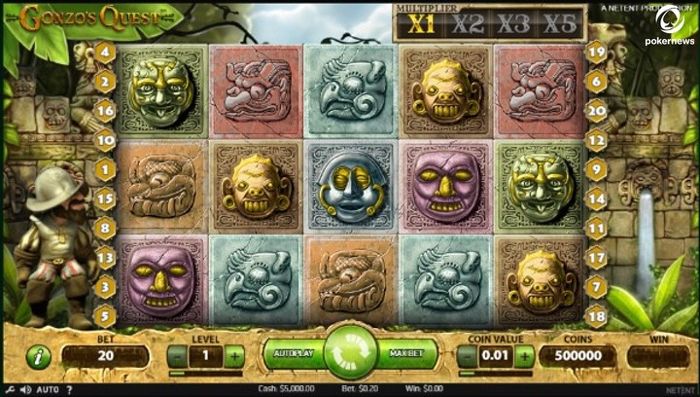 Released in November 2013, Gonzo's Quest is an exciting online slot produced by NetEnt. Although this game is now only slightly more than five years old, it is also one of the most popular slots you can play online.
Its graphics, the soundtrack, and the fact that the developers added some exclusive features like the Avalanche, makes this one of the top games to play in 2020.
You can play Gonzo's Quest online for free or for real money at all the best NetEnt casinos.
The game features a return to player of 96%, includes 20 paylines, and plays on a traditional 5-reel layout.
Mega Moolah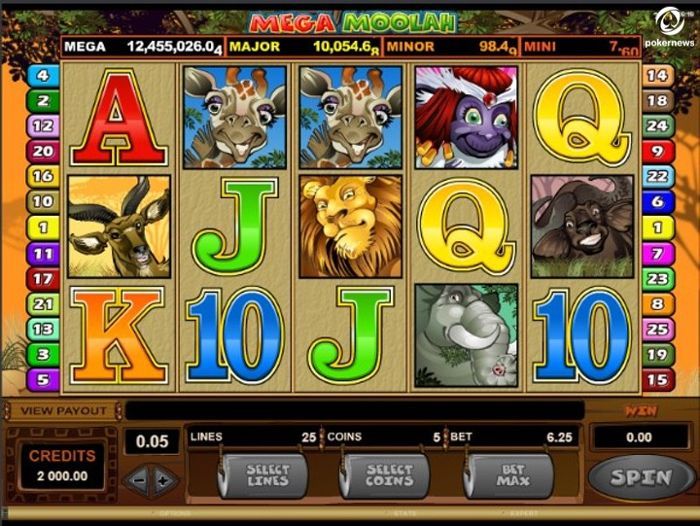 If you're into jackpot slots, you know the game already. Launched in 2006 by Microgaming, Mega Moolah is perhaps the most popular jackpot game in the world.
The graphics might a little outdated in 2020 and this game lacks many of the features that brand new slots come with. However, Mega Moolah is still one of everyone's favourite slots for many reasons.
Unfortunately, there is also a negative side of the Mega Moolah slot machine and that is the return-to-player this game comes with.
The 88.12% RTP is a clear indication that winning the mega Progressive jackpots on Mega Moolah is very-very-very-very difficult.
Hall of Gods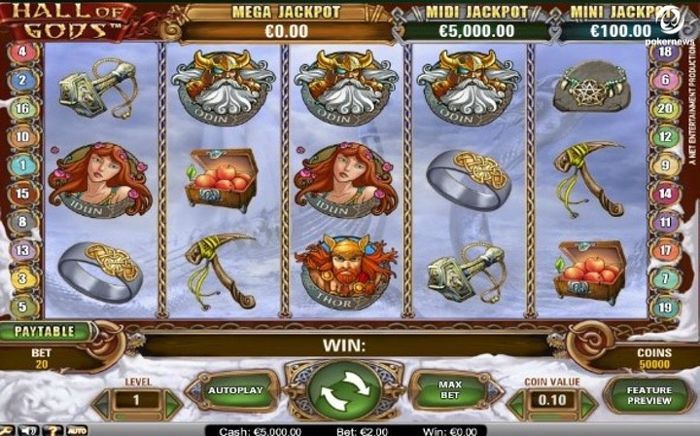 Our list of the most popular slots of all time continues with the title called Hall of Gods, a video slots launched by NetEnt back in November 2013.
This game is inspired by Norse mythology and comes with state-of-the-art graphics and a gameplay that online Casino players love.
However, the beauty of the symbols on the reels and the 95.5% RTP you get when you play Hall of Gods are not the only reasons behind the worldwide success of this slot machine.
Thunderstruck II
Online since 2010, the Thunderstruck II slot machine is part of the Microgaming family and it is also one of the most played slot machines of all-time.
Like the Hall of Gods video game, the Thunderstruck 2 slot is based on Norse mythology. This game became a hit right after its release and it has never lost traction since then.
If you want to play a game where you will stand shoulder-to-shoulder to some of the most powerful Gods in Norse mythology, join a Microgaming Casino and take this slot for a spin.
Bai Shi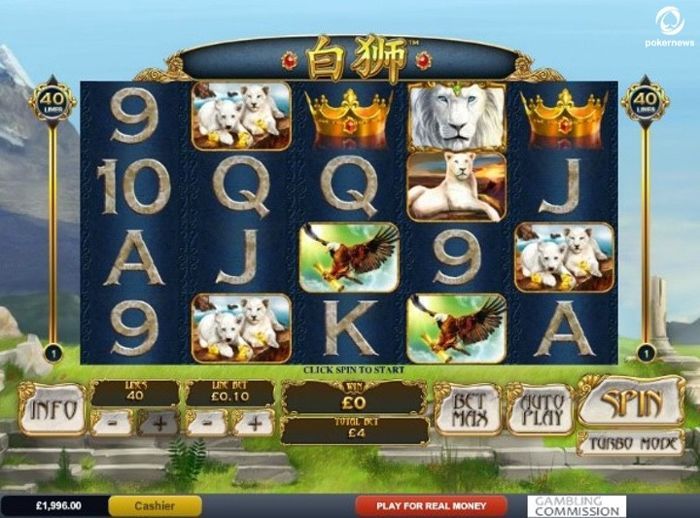 Bai Shi by gaming giant Playtech is an Asian game that we play since its first release in February 2016.
Like most Asian slot machines, this classic slot comes with evocative graphics and themed music.
On Bai Shi, you enter an world where white lioness and lions will escort you to a secret land that features an RTP of 95.99%, 40 paylines, and five reels.
---
Important Notice: Some games might not be available in your location — especially if you live in a country or state where real money gambling games are not legal. In that case, our links will redirect you to the best possible option for you. Unfortunately, that might not be the site where you find all the new slots listed on this article.
The promotion presented on this page was available at the time of writing. With some Casino promotions changing on daily basis, we suggest you to check on the site if it still available. Also, please do not forget to read the terms and conditions in full before you accept a bonus.