Pop! Slots: Free Chips and Rewards are Just for Starters
The Pop! Slots casino app has been consistently ranking top marks on the PlayStore
There are plenty of offers, bonuses, rewards and games at the eight available casinos on Pop! Slots
The 3D virtual graphics interface is fun to navigate through, with its Vegas-styled themes, and this walk-through will teach you the ropes
A three-dimensional casino-like experience is only the beginning on the Pop! Slots app.
With a 4.6 rating on the PlayStore, new players are rewarded with a host of benefits, never found on any other casino games.
Triggering the right bonuses, rewards and free chips at the right time can help new players stay hooked to any social casino game.
Thankfully, the team at PokerNews has found all the tricks you need.
With over 10 million installs, Pop! Slots is at the top spot for being one of the best online social casinos.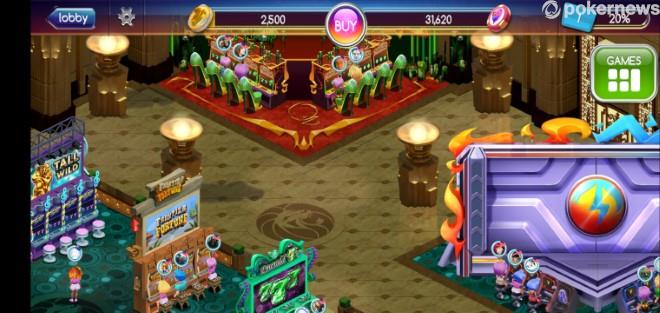 Read on for tips, tricks and a walkthrough on how players enjoy the game slots and free chips, Pop! Slots-style!
Get 12M Free Coins!
Are you ready to play the best slot machine games with 12,000,000 free coins?
Download the app and register a free account to begin.
Join Pop! Slots Online Social Casino of the Future
Pop! Slots casino is available for download on your mobile through the AppStore and Playstore, making it easy to play on the go.
The minute you download and open the app, your coin bank "Dings!" with bonuses and free chips.
But wait! The real fun has not even begun yet.
You've probably heard and seen a Vegas-themed casino.
But have you truly experienced it on an online social casino? Didn't think so.
Here's what makes Pop! Slots different:
Players get to pick and create their own personalized avatar who walks into virtual Vegas casinos and pick a winning slot machine. Cool, isn't it?
This social casino app allows players to sit right next to their friends and like-minded players around the world.
The reels and the slot you're playing occupy only one half of the screen, giving you a chance to look around to find different games if you choose to move.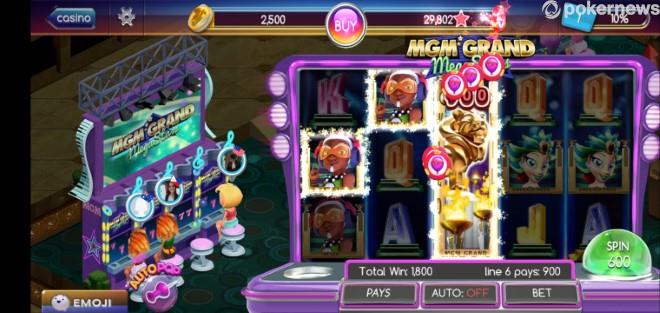 Hours of Fun is Only The Beginning - Your Slots Pop All The Way
Downloading, installing and opening the app unlocks a few benefits in the game.
New players get a leg-up in the Pop! Slots casino through free chips and a tour that does more than teaching. Click and collect all the free chips you get before you play any games.
After creating your avatar and opening the first available casino as a guest player, you can collect up to 30,000 chips as a free gift.
After taking your seat as part of the tour and spinning the reels on the slots, Pop! Slots gives you a free gift of chips.
Keep spinning for consecutive wins and mega wins - courtesy of the welcome tour.
Watch the XP bar on the top right side of the game app increase as you spin because once it is full... Guess what, you get to collect free chips AGAIN!
Every time a player at your table fills up the spin bubble and releases a balloon you can pop it for more Pop! Slots free chips.
Pop! Slots allows all players at the table to share any feature wins.
Leave the app to come back, and collect up to 60,000 free chips as a daily Pop! Slots bonus.
Get 12,000,000 Free Coins!
Are you ready to play the best slot machine games with 12m free coins?
Download the app and register a free account to begin.
Thinking of Using a Pop Slots Chip Generator?
There are several places that advertise and heavily sell concepts like:
pop slots bonus chips for free
pop slots casino hacks
millions of free chips for a dollar
pop slots chips generators
no survey free chips offer
pop slots *anything too good to be true*
The answer to whether these work, in reality, is a resounding "No!"
Players, please take caution and don't fall prey to the many scammers on social media and other websites who offer free chips, latest Pop! Slots codes or any unauthorised link to free chips.
Pop! Slots casino's official Facebook page is the best place to follow for deals or any free chips offer.
Connecting to Facebook Unlocks Latest Rewards
Playing as a guest on Pop! Slots gives you the entertainment you need and a fantastically designed social casino experience.
Is that really enough though?
Connect your game app to Facebook and power-up with rewards that you can enjoy in real-time. Yes! That's right, REAL-TIME!
Here's how you can activate and enjoy the rewards feature:
Authorise your Facebook page to connect to the Pop! Slots casino app. Pop! Slots will never post anything on your Facebook page without consent.
Allow the game app to receive your current location to reward you respectively.
Unlock the rewards feature in the game app and find places in your area where you can get deals on food, stay, etc. by using your loyalty points.
Your loyalty points increase with every spin you make and the size of your bets at the slots.
Prefer playtime with friends? Then, you will love the Facebook connection feature:
Your friends on Facebook can play with you at the tables.
You can challenge, play along with your friends and share the wins that you make on features.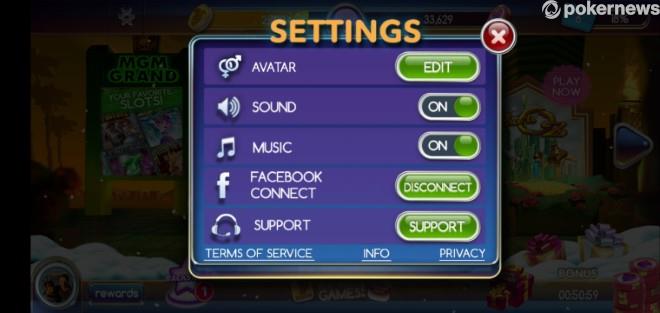 When Do Your Pop! Slots Casino Rewards Reset?
While being introduced to the rewards for the first time can be exciting, it can get boring to see the same thing every time you play.
The great thing is, the game designers ensure that new and fun rewards are available regularly, sometimes every day, so come back daily.
Rewards that you get are different from other players. If you who wish to collect a reward that best suits you, play the games daily and ensure your location information is correct.
Tips for Getting Unlimited Pop! Slots Free Chips
Steer away from any site or persons who promise unlimited Pop! Slots free chips.
Save your device's security and do not download or follow any link that promises freebies.
Instead, the best tip you can find for Pop! Slots free chips is through the official Twitter page. Two great pages to follow on Twitter for fan tips, free chips and social follow perks are:
@PopSlotsCasino - The official pop slots casino page site to follow
@popslotsplayers - A fan page site for all players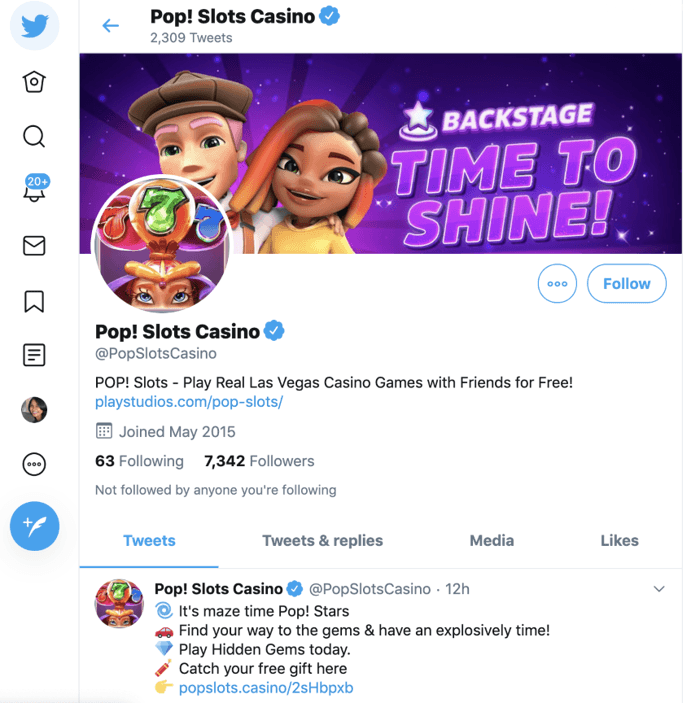 Stay away from the @popslotshack page as it is filled with fake promises and unyielding Pop! Slots offers.
Working Cheat Codes in Pop! Slots - A Broken Promise
Cheat codes are never encouraged on any gaming platform. Any activities relating to the use of cheat codes for free chips or free games are discouraged by Pop! Slots casino.
YouTube is filled with videos and channels that promise free chips when the player hits "Like" or "Subscribe".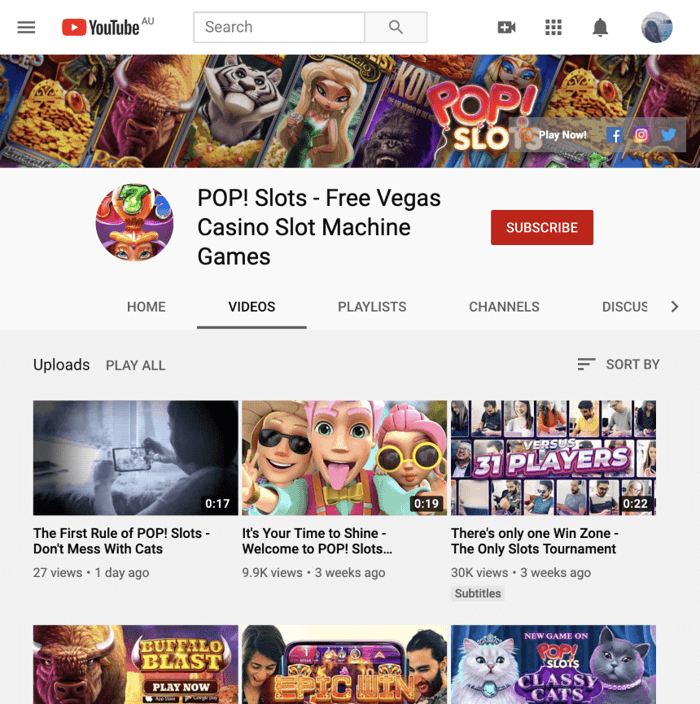 Beware and don't be mislead by the comments from fake accounts on posts with a promise that the link works.
Some fake accounts take things further by promising a mobile code for Pop! Slots free chips. Mobile code links look very inviting and encourage a player to click the link and download cheat codes to their phone.
With just the one click, all sensitive information on your latest smartphone is taken out and can be used for malicious purposes.
Players who use cheat codes, receive unauthorized free chips or try to jailbreak the games, risk being banned from playing Pop! Slots casino in the future.
And why would you want that when we just offered multiple ways to get legitimate Pop! Slots free chips?
FAQ
How do you contact Pop! Slots Customer Support?

The help centre of Pop! Slots will do their best to eliminate any issues you have, and they will do it quickly.

You can contact them through the app or on Facebook - whatever is more convenient for you.
Do you get real money on Pop! Slots?

No, real money awards are not an option at Pop! Slots social casino app. However, you are welcome to various real-life awards they offer through their partner companies.
Can you purchase chips for Pop! Slots?

Sure! Just activate your Google Play account if you are an Android user or use an active iTunes account for iOS Devices and connect it to your credit card.
The promotion presented on this page was available at the time of writing. With some Casino promotions changing on daily basis, we suggest you to check on the site if it still available. Also, please do not forget to read the terms and conditions in full before you accept a bonus.