Best FREE Fruit Slot Machine Games to Play Today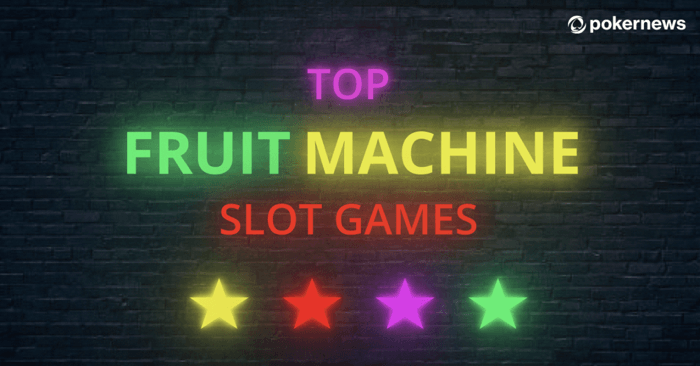 Looking for a fun way to boost your fruit intake? Don't miss our fresher-than-fresh collection of the best fruit slot games to play!
Browse through all the succulent slots at only the best online casinos, grab all the juicy bonuses, and spin the reels to bring home your daily intake of vitamin C-ash!
Fruit slots are at the core of real money online slots. Since the days of the three-reels old-fashioned slots with a single payline, fruit slot machines have been the heroes that made millions love the thrill of pulling the levers one-arm-bandits.
Decades later, the charm of fruit slots is still unchanged. Watermelons, cherries, bananas, and lemons are still some of the most recognizable and sought-after signs in gambling.
Even at a time when the newest slot machine games begin to compete with PlayStation games in features and entertainment-power, fruit casino games are everywhere.
From industry behemoths like Starburst, modern iterations like Betsoft's hit Fruit Zen to more traditional classics like Fruit Mania, fruit slots are everywhere.
This list brings you the cream of the crop. If you ever wanted to play fruit slots, find your game and play. The time is ripe!
Are you ready for a good vitamin boost? Let's have a look at all the best fruit slot machines out right now, and let's see together what makes these the perfect games for your next slots smoothie!
We'll even link you to the best casino where you can play these slots with a casino bonus.
And if you need some freebies, don't miss all these free spins!
1. Fruit Zen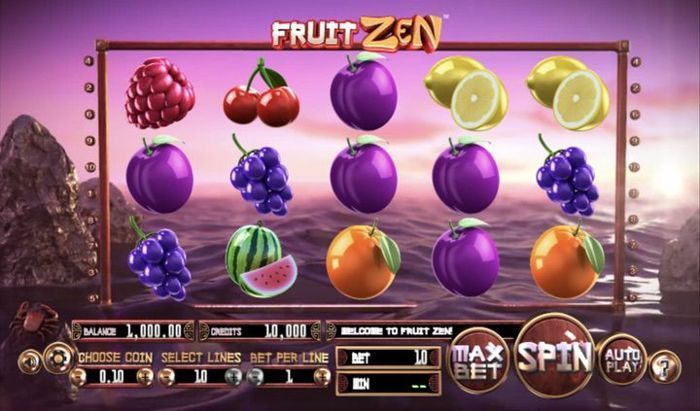 Did you know fruit slots are as good for your body…as they are for your soul?
On Fruit Zen you discover a modern take on the classic fruit slot machines theme. The game uses a calming background and soothing sounds to help you do the one thing no gamblers have ever asked -
To relax as the reels spin. And spin. And spin.
Jokes aside, this slot's gameplay is simple and great at the same time. You play on five reels, 10 paylines, and you need to collect matching fruits to win some cash.
FruitZen is available for free and for real money at the following online casinos:
---
2. Mega Flip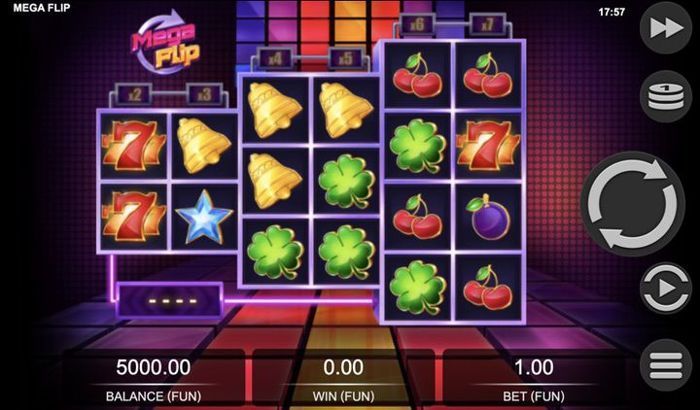 Want to jump on a fruit game with totally bonkers gameplay? Have a go at Mega Flip by Relax Gaming, then!
The 2-2-3-3-4-4 will keep you on your toes after every single spin, and crazy features like the 'screen flip' will make you go bananas every time you win.
Not literally, though, as this fruit slot machine features 'only' cherries, plums, and oranges.
Mega Flip is available for free and for real money at the following online casinos:
---
3. Fruit Spin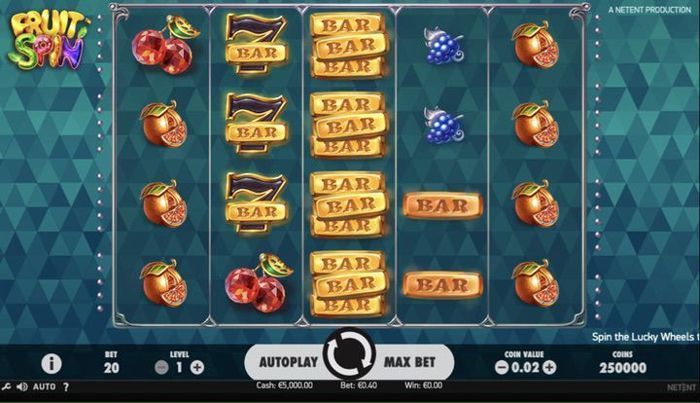 Do you wonder if the guys at NetEnt ever get tired of innovating every single thing they do?
Like most of their games, Fruit Spin is a perfect fruit slot. The graphics are terrific, the features are so numerous that it will take you days to go through them, and the jewel-like fruits are so good that you would just like to get a hammer and break them all!
If you've never played Fruit Spin, you're missing out big time. This fruit slot machine is available for free and for real money at the following online casinos:
---
4. Juice 'N'Fruits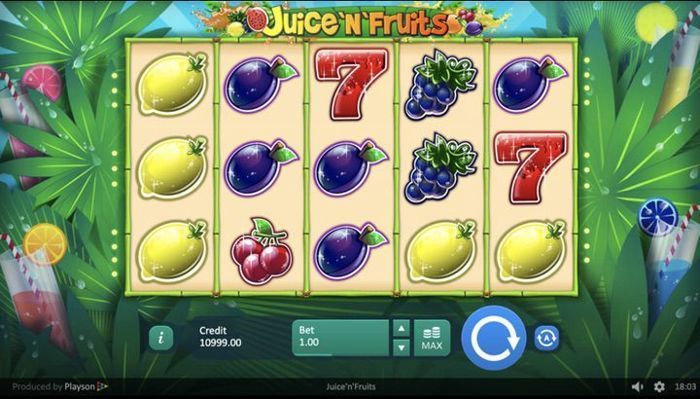 If you like piña coladas
And getting caught in the rain
If you're not into yoga
If you have half a…spin!
Robert Holmes' Escape (The Piña Colada Song) feels like the perfect soundtrack to keep in the background when you spin the reels of PlaySon's Juice'N'Fruits.
This cute fruit slot machine is a basic classic Vegas slot with the perfect summer vibes.
Spin the reels, mix all the fruits, and create your winning cocktail. And the, as the song goes, "Yes, I like piña coladas, and getting caught in the rain. I'm not much into health food, I am into…slots!
Juice 'n'Fruits is available for free and for real money at the following online casinos:
---
5. Fruits of Neon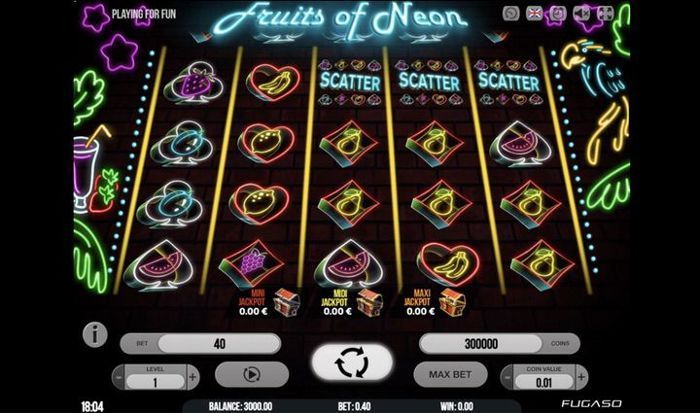 Fugaso slots are always controversial games. You either love them, or you hate them.
While this might not be the greatest casino game developer of all time, we have a list of Fugaso slots we like - and Fruits of Neon happens to be one of them.
Fruits of Neon is an old-school fruit slot machine game with one of the most modern graphics you'll ever find browsing this specific theme.
If there ever was a way to turn a fruit game into a borderline-cyberpunk electric experience, that's exactly what Fugaso came up with.
Such a great game.
All the retro symbols like bananas, cherries, and strawberries are stylized to look flashy and modern while being the oldest classics one could ever think of.
Fruits of Neon is available for free and for real money at the following online casinos:
---
6. Exotic Fruit Deluxe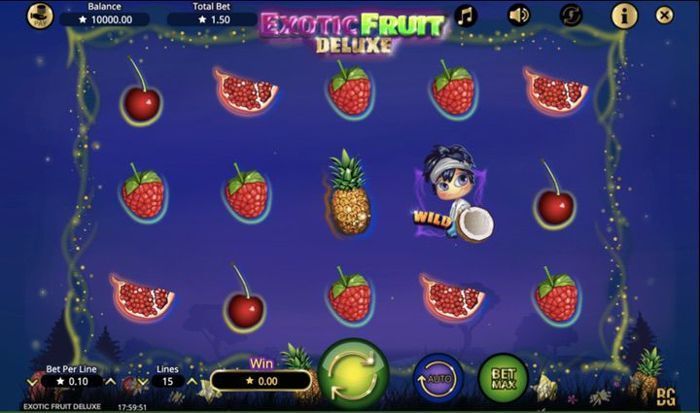 Do you know those bizarre fruits you see at the supermarket that make you wonder who would ever buy them?
Finally, you can play with them and toss them around to see what precious riches they hide!
Exotic Fruit Deluxe features rare gems like star fruits and lychees - with each one of them being connected to a different (and always good) payout.
Created by Booming Games, this spinning fruit salad bowl has five reels, three lines, and 15 adjustable betways. The bet per line starts at 0.01 and goes up to 30.
Exotic Fruit Deluxe is available for free and for real money at the following online casinos:
---
7. Fruit Mania Deluxe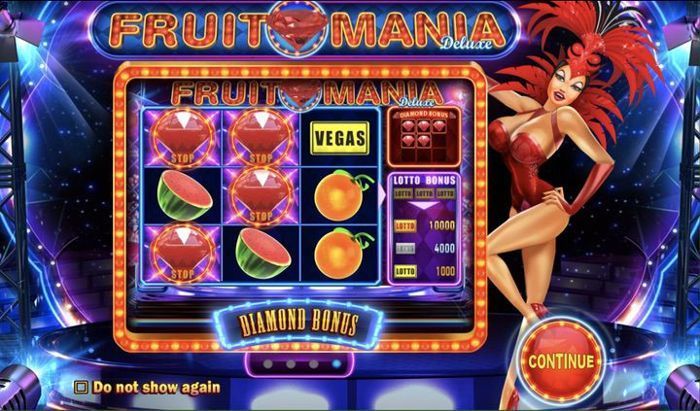 If you love Vegas slots, the new 'remastered' version of a super classic fruit game like Fruit Mania is one you can't miss.
The Deluxe edition of the game lets you play on nine reels and comes with an RTP of 96.38 percent — which is not too bad.
This time, Wazdan decided to spice things up with additional features like a brand-new Diamond bonus round and a pick 'n'click lotto mini bonus.
Fruit Mania Deluxe is available for free and for real money at the following online casinos:
---
8. Fruits Go Bananas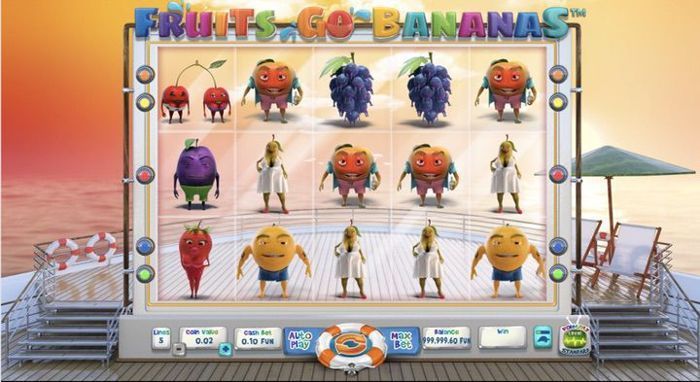 The fruits have gone wild, and it's time to spin the reels for some quirky, unstoppable fun!
Enjoy a few rounds of unexpectedly…different games as you are joined by a troop of 'unusually-shaped' strawberries, raspberries, pears, and grapes (all SFW, trust us!)
Fruit Go Bananas is available for free and for real money at the following online casinos:
---
9. Jumping Fruits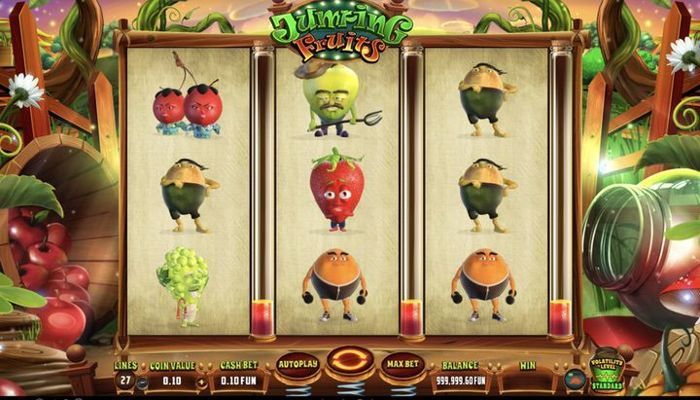 If there's one takeaway you can glean from this list, it is that Wazdan knows a thing or two about fruit slots.
If you liked the quirky sexy characters that live inside the Fruit Go Bananas fruit game, go ahead and give Jumping Fruits a spin or two.
This 96.4% RTP fruit slot machine features the 'unsexy' cousins of the other game and keeps things fun and exciting with Wazdan's Nudge Feature.
Whenever you activate it, the reels move back a couple of spots to create the best winning combination for you!
Jumping Fruits is available for free and for real money at the following online casinos:
---
10. Berryburst MAX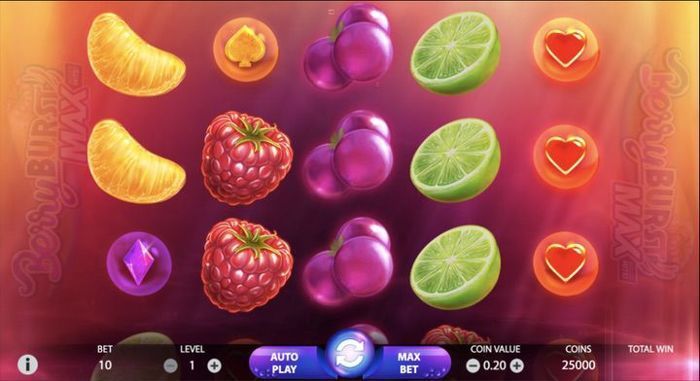 The second chapter of NetEnt's Berryburst saga came out in August 2018. Since then, it has become one of the most-played and most popular fruit slot machines available online.
The gameplay is the same as in the regular game, with the only difference being that Berryburst Max brings the RTP to 96% and the max win to a pretty impressive 200,000 coins.
Like in all the newest NetEnt slots, the colorful graphics are perfect and the game is so packed with extra features that it looks almost like a video game.
Berryburst MAX (and the traditional Berryburst fruit game) is available for free and for real money at the following online casinos:
---
Looking for the Best Slots Guides and Slots Content?
---
Fruit Slot Machines FAQs
What are fruit slot machines?

Fruits have been used as symbols on the reels of slot games since the slot machine was invented. The origin of these symbols being used is due to people betting on fruit sweets when gambling for money was illegal.

Echoing these origins, slot machine manufacturers decided to use fruit symbols on the reels of their games. Even though slots have evolved, especially with the introduction of video slots, fruits remain a popular feature of slot games.
What fruits can you see on slot machines?

Typically you'll see the classic fruit symbols, both on physical slot machines and on fruit-themed video slots. These fruits are usually cherries, oranges, bananas, melons, and grapes. These are mixed together with other classic slot symbols like gold coins, 'bar' symbols, and 'lucky' sevens.
What are the best fruit slot games?

The games we've listed here are some of our favorites, although we'd also throw Starburst into the mix as a famous fruit slot as well.
Where can you play fruit slot machines?

Fruit slot machines remain a staple in physical casinos from Monte Carlo to London to Vegas, but you can also play their online equivalents at the best real money casinos, as well as on free game sites.
---
This article was first published in 2020. It was last updated September 2023