Trey Poker: a New Online Poker Game to Discover
Most players have never heard of Trey Poker. If this name means nothing to you — this is the article you need to read.
Trey Poker features:
Realistic graphics and design
High theoretical payout of 96.63%
Interesting and unique gameplay
You don't find this type of poker game everywhere. It's nearly impossible to play Trey Poker at any brick-and-mortar Casinos around the world and it's kind of a rarity online, too.
The simplest way to play Trey Poker, is to use the button below. If it's your first time you play on the site, you can also claim a Welcome Bonus — which is always good.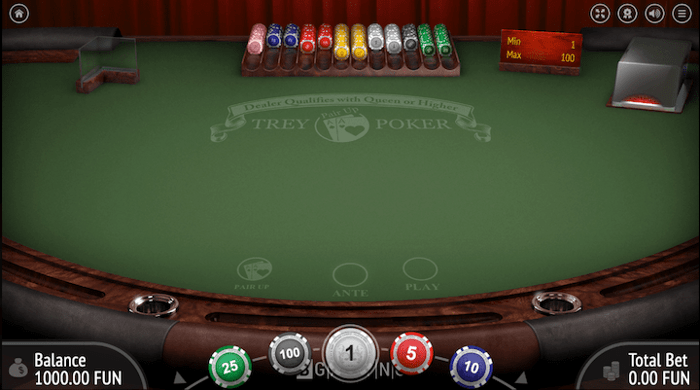 Trey Poker
Texas Hold'em is the most popular type of poker, but that does not mean it is the only one you can or should play.
There are many other variations, some of which are quite interesting and exciting.
Our favourite poker game at the moment is BGaming's Trey Poker, which is a very simple but unique game.
It is played with three cards only, so each round finish in a matter of seconds.
This is a fairly new variation of poker, so players around the world are slowly getting to know it and enjoy it.
To many players, it is already a go-to poker game since it's very easy to learn how to play it. We are one of those players as well!
Graphics and Animations
Trey Poker is a simple game only when it comes to gameplay. When it comes to appearance, BGaming's attention to detail is quite obvious.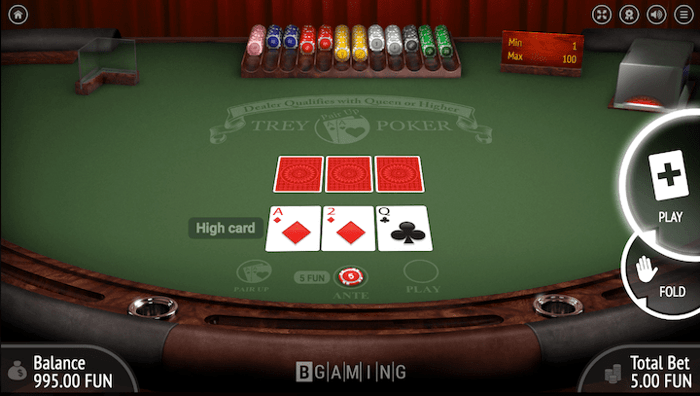 It has all the elements necessary to make you feel as if you were sitting at a real poker player, facing a real dealer.
The colours are clean and not too strong, so it's easy to play Trey Poker for hours without getting tired.
The central part of the table is under a spotlight, whereas the rest of the table is dimmed, so you can easily focus only on the most important things.
We also love the realistic animations that appear when the cards are dealt and turned.
Finally, the dealer announces all the developments in the game, much like in a real casino.
How to Play Trey Poker?
Trey Poker is played differently than any other type of poker. There's no need to worry as it is very easy to learn the basic rules and the gameplay.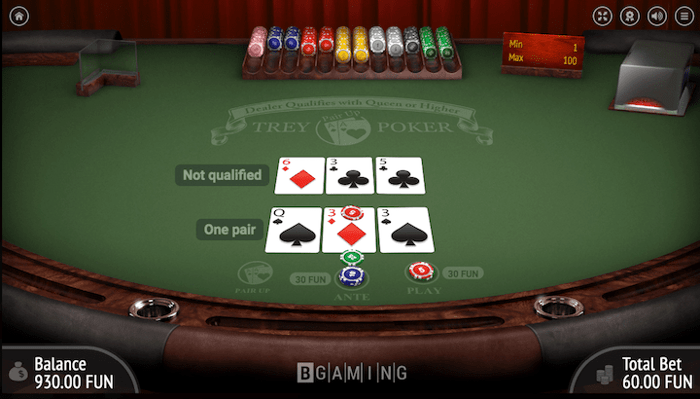 This is a three-card poker game in which you play only against the dealer.
Both you and the dealer will be dealt three cards each. Then, the cards will be compared and the one with the stronger combination will win.
You can see all three of your cards from the moment they are dealt to you, but you cannot see the dealer's.
If you like your cards and proceed with the round, the dealer will show you their cards.
If you fold, you will not see the opponent's cards, so you will never know if you were right or wrong. This is slightly frustrating, but it's part of the gameplay.
Since the hands are made of just three cards, the ranking of the hands is slightly different than in 5-card poker games.
Here they are, listed from the strongest to the weakest:
Royal flush
Straight flush
Three of a kind
Straight
Flush
Pair
High card
How to Bet
The betting procedure is also different in Trey Poker compared to other conventional poker games. Namely, there are three types of bets you can place in this game.
The first one is the so-called Pair Up bet that is completely independent of the other two. With this bet, you are not wagering against the dealer.
You are simply betting that your hand will result in a pair or a better combination. You can play the game with this bet only, without competing against the dealer.
The second bet you can place is the Ante. This is the main bet in the game and is placed against the dealer.
After you place this bet, three cards will be dealt to both you and the dealer. After that, you need to decide whether you want to fold or proceed with the bet.
The final bet is called the Play. You place this bet after you have been dealt your three cards and you decided they are good enough to go against the dealer. This bet must be of the same amount as the Ante.
Trey Poker Payouts
The payouts in Trey Poker depend on the hand you win with and on the type of bet you have placed.
The Pair Up bet payout table looks like this:
| Poker Hand | Payout |
| --- | --- |
| Royal Flush | 100:1 |
| Straight Flush | 50:1 |
| Three of a kind | 40:1 |
| Straight | 5:1 |
| Flush | 3:1 |
| Pair | 1:1 |
The Ante/Play bets pay out 1:1, except for the three of a kind that pays 3:1 and the straight flush that pays 5:1.
The dealer needs a queen-high to qualify, but if they don't have it, your Play bet will be a "push" and you will get a 1:1 payout on your Ante.
Final Thoughts
There isn't much left to say after writing this in-depth review of Trey Poker. You can conclude everything from it yourself.
In our opinion, Trey Poker is a fantastic game that is simple to play but very engaging.
We love the fact that there are two types of bets you can place, which offers a lot more excitement.
It seems to us that BGaming has done a very good job, which is why we recommend this game!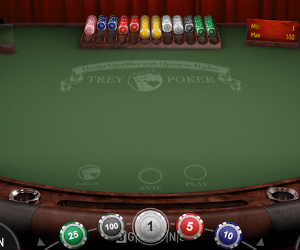 The promotion presented on this page was available at the time of writing. With some Casino promotions changing on daily basis, we suggest you to check on the site if it still available. Also, please do not forget to read the terms and conditions in full before you accept a bonus.