How to Level up Fast in House of Fun: Reaching over Level 100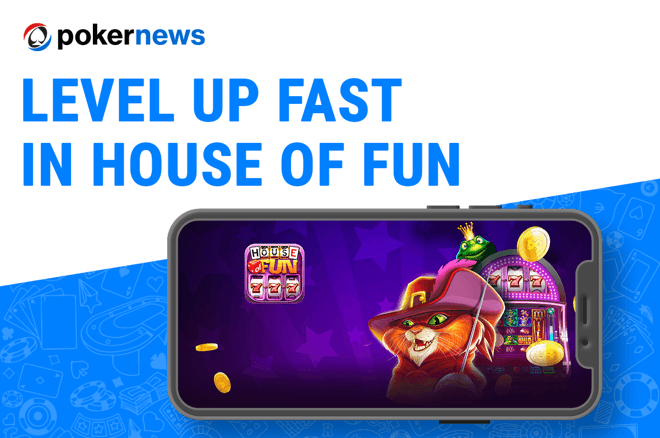 If you want to play slot games but don't want to invest any of your own funds, House of Fun is one of the best places to enjoy them. The app uses its own in-game currency, referred to as coins.
Players can level up and earn more coins as they do so, and these can then be reinvested in the games.
Check out this guide to find out how you can level up fast in House of Fun. You'll be able to get past House of Fun level 100 in no time, and you may even hit House of Fun level 130. You'll not only collect a load of coins, but you'll have a great time in the process.
House of Fun Level System Explained
With sites that offer free online games, there's usually an incentive for players to keep playing. At House of Fun, the aim of the game is to rise through the ranks of the level system.
When you join House of Fun you will start off at the bottom of the ladder. By playing games, you can move up through the different rankings, earning coins along the way. As you progress through the levels, you'll gain access to a greater number of slots.
To check your progress and see what level you're at, you can see it written on the screen. It's above a bar in the top right-hand corner. When the bar fills up, you'll move on to the next level.
The reason for this leveling system is so that you don't feel overwhelmed by the sheer amount of choice to begin with. It also gives you something to aim for, and a reason to keep playing.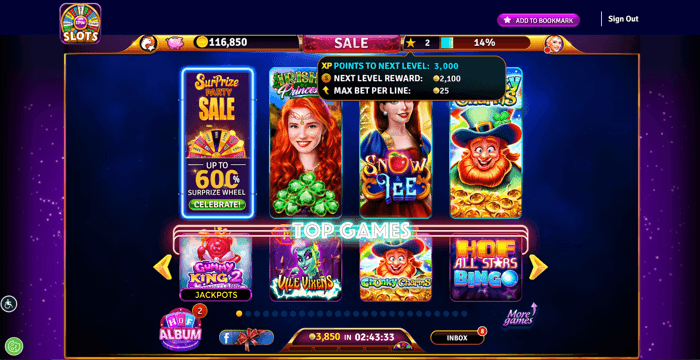 House of Fun Leveling Up Tips
If you want to know how to level up fast in House of Fun, you should follow these House of Fun leveling up tips. You can simply play on the app and level up over time, but some players on House of Fun level up fast to get the better rewards that come with the high levels.
One of the best pieces of advice for anyone looking for a House of Fun app strategy is to always opt for the highest stakes on the slots. These are games of chance, and there's no guarantee when you're going to win.
However, the chances of winning are the same regardless of the stakes you play for. The main difference is that with higher stakes, you will get bigger payouts on a win. Bigger payouts on House of Fun mean you level up fast.
Another tip for House of Fun app leveling up is to play as much as possible. If you run out of coins, you'll have to wait for your stocks to be replenished. Keep a note of the time you'll be allowed back in and get ready to start spinning immediately.
Alternatively, you can pay money to level up faster. You can do this by visiting the shop and buying coins. However, it is not necessary for you to ever spend your own money on the app, it's purely a matter of choice.
There is no surefire hack that tells you how to win on House of Fun, as the games are based on chance. All you can do is activate all the win lines on the slots and bet the highest value possible. Part of the fun is in the unpredictability of the games, so it's best to just sit back and enjoy the ride.
Where to Play House of Fun
If you are playing on a mobile device, you can download the House of Fun app in the Google Play Store or the App Store. For desktop users, you can join through Facebook and play on your browser.
It's easy to get hold of House of Fun and level up fast, and that's why so many people are choosing to use the app. The beauty of it is that anyone can join and start playing straight away. There's no need to learn how to play the games.
House of Fun: Leveling Up FAQs
How does leveling up work in House of Fun?

House of Fun app leveling up is straightforward. All you need to do is keep playing games and winning coins. The more coins you earn, the higher chance you have of moving up through the levels.
How do you get more coins in House of Fun?

You can get coins at House of Fun by playing games and winning them. You also have the option to visit the House of Fun shop, where you can buy more coins. You can also pick up power-ups from the shop.