How to Level Up in Governor of Poker 3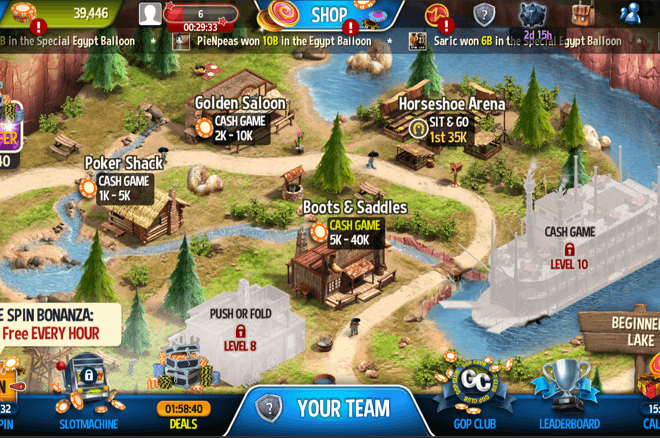 So, you've joined Governor of Poker 3, and want to start to progress through the levels to start playing additional games and winning extra prizes?
Through the ability of gaining extra coins and playing the different games of Texas Hold'em poker, you'll be able to start levelling up.
But how do you do this?
In this article, we'll teach you:
How to Gain Chips in Governor of Poker 3?
Whether it's the daily spins or joining the GOP Club there are a variety of ways to be able to gain additional chips to be able to storm the tables and start levelling up through your wins!
Through the Free Spin Bonanza, every four hours, you are able to spin and be within the chance to win a variance from the amount of chips.
From the frequency that you're able to gain these chips, this will keep you in the poker games – enabling you to enjoy the GOP3 experience.
In addition, when you gain the free spins, after 5 spins, this is where you're able to gain even bigger prizes!
In addition to the chips which you've gained from the five spins, you can win additional prizes through the jackpot spin – as a bonus, this can all be completed within five hours, so you can achieve this ultimate prize daily!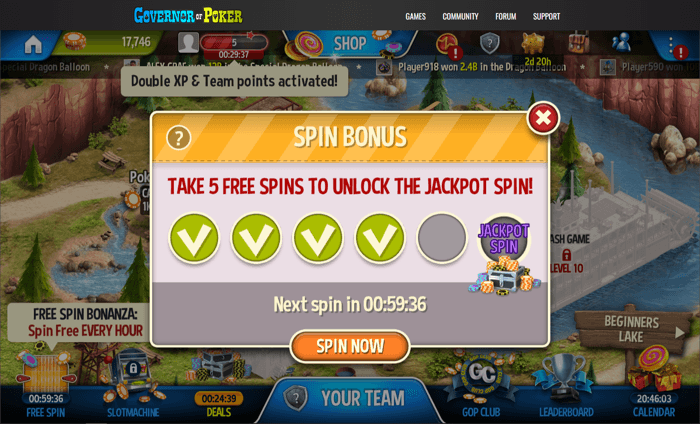 In addition to being able to spin to be able to increase your chip count, through the GOP Club, there is another venture for you to grow the amount of chips which you have.
Even if you haven't joined the members club from Governor of Poker when you log into your account every day, you are able to take advantage of the free chips.
Through the 2,000 free chips which you can access every day, even if you don't have lots of luck from your spins every hour, you are guaranteed 2,000 chips to keep you in the game!
In addition, if you decide that you need more chips to play in some of the other games, and game types – such as Sit 'n' Go or Texas Hold'em – you can join the club.
Including varied priced tiers, you can join the club, even with club yellow, you are able to gain 6,000,000 chips – which is 200,000 chips every day!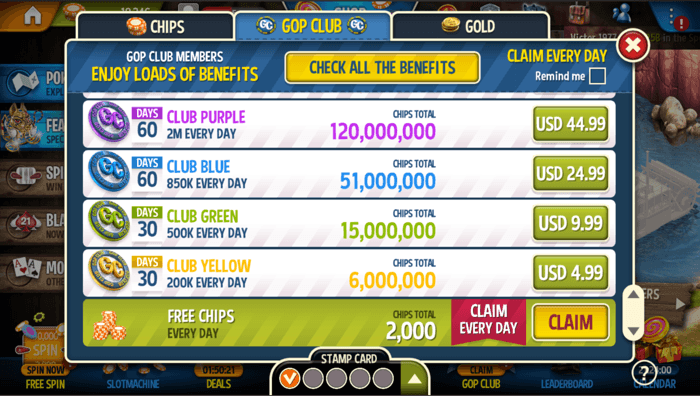 How to Gain Additional Levels in Governor of Poker 3?
Through the coins which you have now amassed you are able to start leveling up to be able to unlock a variance of games and get yourself a seat in the larger pots!
Through playing blackjack or poker, the abilities of gaining experience points, this is the way of increasing your level and achieving additional levels whilst you're playing through the governor of poker 3 experience.
Whether you're winning hands, busting players, or evening losing hands – regardless of where you place within the poker, blackjack, and other games, these are the factors which also enable which grow your levels and experience points.
In addition to playing the games, completing the achievements are also an effective way to be able to increase and gain additional levels.
Being able to level up and gain additional levels is important whilst you're playing Governor of Poker 3 because this gives you more freedoms to be able to play additional games.
For those games which you have more skill and knowledge of, this is an advantage for you because this gives you additional chances to win even more coins – as well as increasing your levels through the wins and unlocking the achievements.
What Games Can You Play on Governor of Poker 3?
Poker
Being the focus of Governor of Poker, you can play different variants – which also varies in the buy-in and gives you chances to win the bigger coin prizes!
Whilst you're playing on GOP3, you have the chances of playing Cash games, sit 'n' go, push, or fold and many more. As you continue to play, you can unlock the different levels which unlock the different types of poker.
In addition, there are other formats of poker that you can indulge yourself in. For the first one, although invite-only, this means that it is made for you and your friends. With a buy-in between 2,000 and 10,000, you can enjoy the game with your friends!
Blackjack
Regardless of the amount you wish to buy in with, you are able to indulge yourself in the game of blackjack. As you play the other games of poker, you can gain additional chips which you can use to have your first 10k to buy into blackjack.
If blackjack is your game of choice, this is the perfect chance for you to be able to jump into the governor of poker experience even further.
With the ranging buy-ins, you have the freedom to play at your level, you are able to win even bigger coined prizes.
Slot Machine
As an additional add-on to Governor of Poker 3, once you reach level 15, this is when you can unlock the slot machine which gives you another way to win.
Whether it's coins or experience points to be able to continue to level up, this introduces another way to enable you to continue leveling up.
How to Get 30,000 Free Poker Chips?
Being a generous help and helping you to build your big bankroll from the starting pot, you can gain 30,000 free poker chips. When you sign up with PokerNews, you will receive 30,000 free chips to get yourself started on the poker tables!
As you get started on the tables, you can use this 30,000 poker chip head start to gain an advantage for those with less chips and become a winner among the tables as you start to level up and progress!
This means that in addition to the other chances of winning poker chips, from the start, you can gain 30,000 chips to get started!
Governor of Poker 3 Frequently Asked Questions
What are GOP Poker Chips?

Being the in-game currency, the poker chips are used for each game which is being played on Governor of Poker 3.

Whether it's Poker, Spin & Play, Blackjack or more poker formats, the poker chips are utilized and can be won at each game!
What Games Can You Play on Governor of Poker?

Across the poker games, you have the choice of cash games, sit & go or push & fold games which you are able to choose from.

In addition to the choices for poker, you also have the choice to play 'Spin & Play' for your chance to win a mega jackpot, as well as Blackjack at various buy-in options.