How to Play Surge: Lighting Fast Poker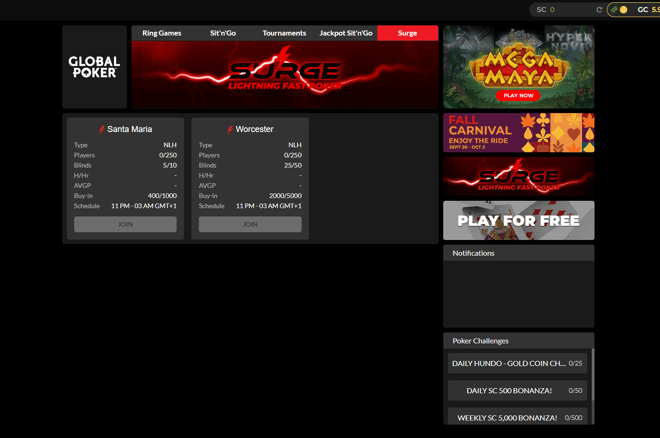 Are you looking for a 'Fast-Fast' way to be able to play poker ring games in the blink of an eye? Through Global Poker's quick fold poker game – this is exactly what you are able to do.
For the adrenaline junkies, for additional action, this is where you can move to the next table for you next day through Surge: Lighting Fast Poker.
What is Surge & How to Play?
Being Global Poker's answer to Fast-Fold poker, Surge is the way to play poker ring games quickly. Through the unique option, as soon as your hand is folded, this will quickly move you to a new table with a new hand.
Enabling you to get even more hands into the game, for the adrenaline junkies, through playing the poker game, you can skip the various marginal hands which are dealt and be able to skip to the more interesting ones.
How to Play Surge?
When you are playing Surge, the first element of the game is that you've played in a 'Player Pool'. Every time that you fold your hand, you are reseated with different opponents with a new hand. Surge gives you the option to fast fold within the game before the action is even placed within your hands.
Being able to fast fold within the game, gives you the opportunity to be able to triple or even quadruple the number of hands that you're able to play within the hour.
Through this, it gives you additional opportunities to win more than ever through hours of entertainment in shorter periods.
Why Should You Play Surge?
Of the different game modes that Global Poker offers to play, Surge is one of those which brings many reasons through the fast game mode which is presented across many hands.
If you're trying to figure out whether to play, these are the main reasons to decide:
Quick Mix of Opponents
Through the mix of opponents, you have the chance which you're able to join towards with the fast-moving paces in the game.
Giving yourself and the additional players new opportunities to play each hand at the new table with new opportunities and opponents which you can go towards the games of quick-paced Texas Hold'em.
With the chance to play three to four times as many hands as you're able to play, you don't have to wait so long to be able to play hands in your range. Having to treat each player the same, you always have a live hand and can't develop reads through playing multiple hands or even different styles of playing.
Through the fast-paced experienced, especially if you're an adrenaline junky brings an exciting experience!
More Successful Games
In the midst of your poker immersion, the beauty is that living-on-the-edge feeling which ensures that you know that every decision matters and every action counts towards success.
However, through the game that Surge brings ensures that you don't need to stress about every move which you have to make, this then enables you to level and balance your range because the history you have with your opponents is going to be minimal.
Ensuring that you have enough time free to be able to enjoy poker stress-free as much as possible – through the advancement of many games.
No Importance to Your Poker History
Whilst you're playing Surge Fast-Fold Poker, the biggest change to the game is the factor of you changing tables instantly when you fold your hand.
This means that you have no opponents which you have amassed history, this then gives you the opportunity to play your favorite style of poker across the different games you play – which is always a bonus!
Across the fast-fold style, this makes the game more unique from all other types of poker. In addition, as a bonus of the fast-fold ability of that other players can't develop a read of you!
Global Poker PROMO CODE
Use our promo code POKERNEWS to play now at Global Poker.
Tips & Tricks to Improve Your Skills on Surge
As you progress through the different games and tournaments which involve the Fast-Fold Surge game mode, these are a few tips and tricks to be able to improve your skills in the poker game:
Don't Pressure Yourself
Throughout the game, although there is a difference to this game compared to the other games which you're able to play on Global Poker, you need to ensure that you don't bring yourself added pressure.
Although, within this game mode, there can be pressure from the pace and the number of hands you're able to play in a relatively short amount of time, however, you should control this to be able to take it as an advantage.
Take advantage of being able to learn new skills of learning your opponents quickly and how to react to the game through the different modes of poker.
Take Advantage of the Pace
Being a fast-paced game within Global Poker, being able to take advantage of the mode to winning more coins and learning new skills from a new side of poker.
Introducing your new skills and knowledge from the ability to quickly fold. Being able to fold before the action gets to you, ensures that you can move on the next hand to continue playing even when you feel like the current game isn't good for you!
Ensuring that you're able to many more hands within a shorter period of time, take advantage of the pace and get more involved within the game of Texas Hold'em – especially if you're practicing!
Where Can You Play Surge: Lighting Fast Poker?
If you're wanting to indulge yourself in the fast-paced, lighting-fast poker game of surge, you can test your poker skills and see if you can keep up with the pace.
Through the game of surge, you can play and immerse yourself into the experience on and test your poker skills on Global Poker!