An Interview With Simon ACES Trumper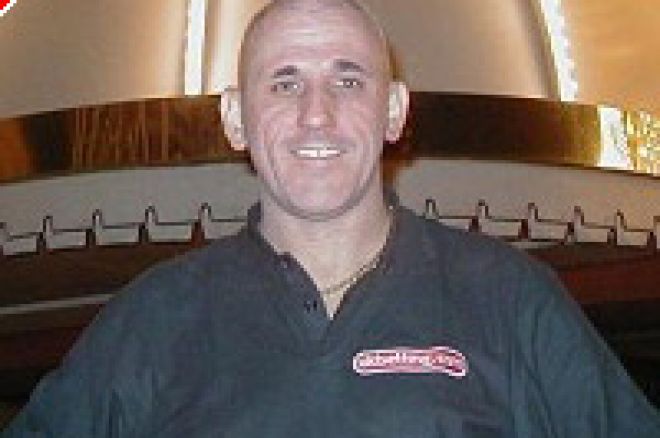 Simon Trumper wrote his "Tournament Poker Rollercoaster" article in January 2004, describing the incredible highs of a professional poker player during a successful run of tournament results but also the terrible lows as he went bankrupt. During the summer of 2004 Simon picked up a lucrative sponsorship deal and has since gone on to claim a number of good tournament results. We caught up with Simon after his recently victory in the Short Handed, No Limit Holdem tournament at The Aviation Club in Paris.
PN: Hello Simon, you are a well known player throughout Europe and have been playing poker professionally for some time now, when did things really start to take off for you in your poker career, is there a defining moment which stands out?
Simon: Hi, obviously winning Late Night Poker was one of them especially as it has achieved cult viewing and is constantly repeated (on UK TV) but I would say for me the defining moment was winning the EWSOP Trial in Vienna in 2001, then returning there 3 months later and winning a second £1000 No Limit event during the World Heads Up Championship with a lot of top Americans playing (for which I won the first Tournament Performance of the Year), followed by a second in the £1000 No Limit Grand Prix De Paris a month later. I would love to repeat that sort of form today with the big prize pools on offer!
PN: You've had some highs and lows at the poker table, last year you were the number 1 Omaha player in Europe, how do you rate your Omaha ability compared to your Holdem?
Simon: I was lucky to win the rankings, basically winning the Amsterdam event was worth 1800 points, more than any other event in Europe due to the 220 runner field, adding this to the 5th at the Vic in a £500 event gave me the win. This year I want to try to get more than 1800 points before Amsterdam. Even though I didn't win any No Limit events last year I would still say it is my best game, although as I learn more about Omaha it is starting to catch up.
PN: Any advice for new Omaha players?
Simon: Simple, don't play Hold-em. The most common mistake is to overplay big pairs. With 4 cards you have 6 possible permutations of Hold-em hands so AA with 3,7 is basically one hand whereas AAKQds is 6 good hands. As Devilfish once said to me after watching me play in an Omaha cash game for 5 minutes, " two words, starting hands".
PN: UK Betting recently extended their sponsorship deal with you, how do you see player sponsorships progressing in the coming couple of years? Are we at the peak or will more and more talented players be snapped up?
Simon: I think we are far from the peak, a new team has just been formed comprising of 4 players from the Brighton area and Willie Tann has just signed a deal with Betfair. As more new online card rooms are formed I can see other players getting deals. Obviously some deals will be better than others. One player I think should be snapped up is Lucy Rokach, she has won 17 events, mostly No Limit including back to back wins in Dublin and at the Vic last year and would be a great ambassador for any site.
PN: When you're not on tour with UK Betting, do you compete in any of the large online tournaments? Have you had any success?
Simon: I played in the WCOOP 2 years ago but no good, and when I have time I occasionally play one of the Sunday $250 or $500, I made the final twice. Last year I missed out on a $27,000 package to Bellagio by one spot, sick!
PN: If the poker world crumbled tomorrow and you had to earn a living doing something else, in an ideal world, what would that be?
Simon: I have always enjoyed buying and selling, my 2 eldest children are both successful in sales so I would probably sell high end cars and jewelery.
PN: You launched your website last year, a popular read amongst many players, as you are a regular face on UK TV screens, has the site benefited you work-wise?
Simon: I have been contacted regarding teaching through the site and have finally agreed to start with one player this year. I also get asked to do interviews like this as well as being offered pilot shows for TV, this is definitely the medium I hope to do more in as I enjoy being in front of a camera, also I would like to do more commentary or presenter work.
PN: How do you see the future of traditional face to face poker with the continuing developments in poker technology on the internet, will there always be bricks and mortar poker rooms, if so is that due to media interest?
Simon: The two compliment each other. The Aussie millions in Melbourne had their biggest field this year with 160 players qualifying through online sites, if anything I can see more B&M tournaments being created to take advantage of the huge mass of new players who want to show their skills in live play as well as having the opportunity in most cases to appear on television. What continued media interest will do is help to attract the corporate sponsors which is the next logical step in poker acceptance as a mainstream sport.
PN: Thank you for your time Simon, good luck at the tables.
Simon Trumper can be found playing in poker rooms throughout Europe or contacted through his website www.simonacestrumper.com.
Find out which sites you should be playing at on our Online Poker Rooms page.