Kathy Liebert on Life as a Pro Today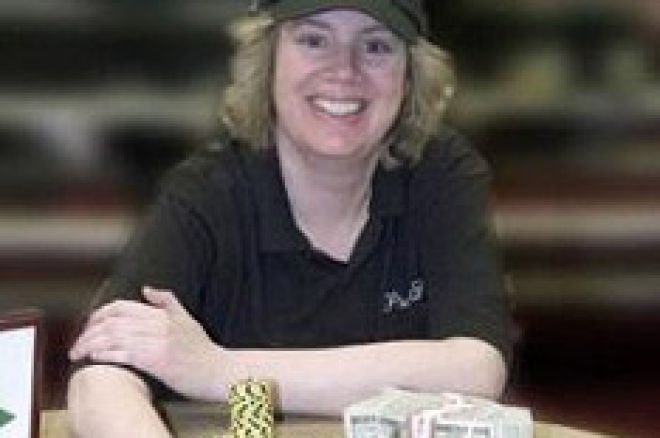 Kathy Liebert is one of the top tournament players in the world. She has a number of wins under her belt, including a Party Poker Million win. Recently, I sat down with Kathy to discuss life as a modern poker professional, what she is doing to help promote women's participation in poker, and the frenetic pace involved in being a top tournament player.
PN: Tell me about a little about Women's Poker Network, which is something you have recently become involved in?
Kathy: It's a group of women that put together a website, and are putting together a series of poker tournaments to encourage women to play and teach them a little bit about poker.
PN: Do you think things like that, and things like the Lips tour, eventually encourage women to enter open events?
Kathy: I think it's a good starting place for women, because it will help them become more comfortable, and helps them learn the game. They can start moving up as they feel comfortable, and enter open events.
PN: How important is TV coverage, and does whether a tournament is televised or not factor into your decision when deciding whether or not to play a tournament?
Kathy: I don't seek out a tournament because of TV coverage. But the fact is, most big events today are televised. They are big buy in, and big prize money, so I do tend to play the televised events because of that. Also, there are a lot of special invitation only events that are being televised, and they can be fun also.
PN: Speaking of televised events, you were recently a part of GSN's "Battle of the Sexes", an event which you wound up winning. Was that experience fun?
It was. There was a problem with me and a couple of the other girls toward the end, but overall it was fun.
PN: As far as televised events go, has camera time become an issue? I have seen some players in televised events get on other players for taking to long to make a decision to get camera time, do you find that an issue?
Kathy: Its not usually an issue, but there are a few people that do like to get camera time, so if you have no decision, and you are chit chatting, and things like that, you are delaying just so you can get camera time, it delays the game ….When its your turn to act, if you have a decision, and you need a couple minutes to think about it, fine, take your time, and think about it. But if it's your turn to act, and you are holding up the game just cause the camera is on you, that's not right.
PN: It seems to be that the pros these days have to be much more selective about which tournaments they play. Is scheduling a tough issue?
Kathy: It's a very tough schedule if you are going to play most of these tournaments. Actually, there are too many big tournaments right now. If you try to play all of them, it just burns you out; you just can't do them all. If you want to just focus on the big ones, you can play most of the big ones and fit those into your schedule.
PN: Silly question: Has there ever been a tournament where you have busted out, and thought to yourself "OK, now I have a couple days to rest."
Kathy: You never want to get busted out, but sometimes you are a little tired, and you aren't playing 100% at your best, and you need a few days off. Now that I have busted out of this tournament, I will take some time off before my next big tournament.
PN: What is your next big tournament, and will you just chill out between now and then?
Kathy: My next big tournament is the Party Poker Million. There is another tournament at the Rio, but….yeah, I think I will just take some time off, and get ready for the Party Poker tournament.
PN: Percentage wise, how much time do you spend playing cash games?
Kathy: I play online. Occasionally I will play in the casino, but most of the time when I play in the casino, I am playing a tournament. When I am at home, I play online, both tournaments, and live games.
PN: You play mostly at Party Poker?
Kathy: Yes. I generally play the 15/30 tables, and the tournaments. I have won a couple of the big tournaments there.
PN: Do you have an agent? Is this necessary for the modern professional poker player, or do you handle it all yourself?
Kathy: I didn't used to, and it turns out that the people that do have representation have gotten a lot more exposure, and as a result are making more money these days, and getting more opportunities. So, I'm starting to do some of that stuff.
I've never been a big self promoter, but there are a couple players who have been, that don't necessarily have a great tournament record that have made a name for themselves, and are getting opportunities, and making money off of it.
PN: Do you play any other game for fun, or otherwise other than Holdem?
Kathy: I play other games, but mostly hold em, no limit, and limit. Occasionally, I will play Omaha, but there are a lot more tournaments out there for hold em – especially no limit.
PN: Do you set specific goals for yourself as a player?
Kathy: I do sometimes write down some goals. It varies, sometimes it might be I want to win a couple big tournaments, sometimes maybe I want to make so much money. It's a very volatile business, and you can't predict what is going to happen, but I think sometimes it does help to have some goals written down.
PN: Any more upcoming TV appearances?
Kathy: I am going to be on the Poker Superstars Two, which airs starting on March 13th on Fox Sports Net.
PN: That's great, are you the only woman?
Kathy: No. They started with 24 players this time, and myself, Mimi (Tran), and Cindy (Violette) are all part of it.
PN: Thanks for your time, Kathy.
Kathy: Thank You
You can find out more about Kathy Liebert by going to her website, KathyLiebert.net. You can also find her playing often at Party Poker.