Daniel Negreanu's Big Poker Challenge, Part Two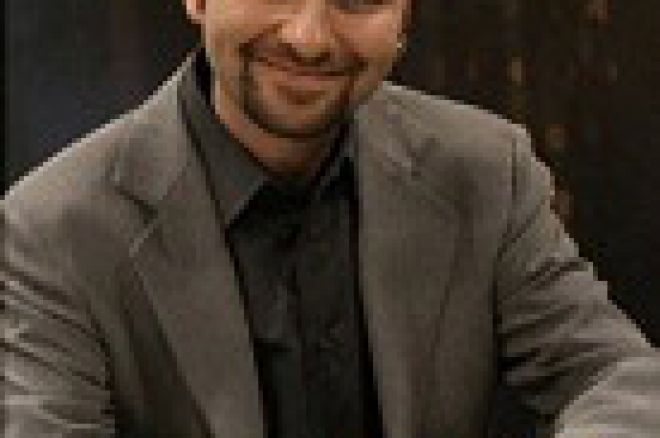 As noted previously on this site, in an effort to maximize his new role as a poker host as the new Wynn Casino, Daniel Negreanu has issued an open challenge. He will play anyone at the Wynn, in any of nine different games for anywhere from $100,000 to $500,000.
Though he managed to play two matches in the first week of the open challenge, Daniel's schedule has limited him to only playing one match since. This past week, Daniel took on poker whiz kid Joe Cassidy in a $200,000 limit hold em match.
The match was actually broken into two sessions. On the first session, Daniel was actually down 370,000 to 30,000, but battled all the way back to almost even. Daniel and Joe played for about four hours that night, and at the end of play Joe lead 225k to Daniel's 175k.
Daniel had this to say (via his blog) about the first session against Joe.
He stays aggressive and fights for every pot, while at the same time making good reads and sharp laydowns in spots where he knows he's beat. Tough man, really tough to play against. Of the three matches I've played, I can easily state that I find Joe to be my toughest yet.
David played very well too, but it was hard to tell since the cards were so clearly in his favor. In this match against Joe I have no idea if I'm being outplayed, outcarded, or a combination of both. He's playing very well.
The next session was played out the next night, and Joe beat Daniel, according to Daniel quite handily. Daniel said at times he never felt like he was in the match, and had this to say about Joe Cassidy as a player. In my opinion, Joe is the best young player poker player (under 25) in the world today. He is mature beyond his years and handles himself with class at and away from the table.
So, now Daniel is one win, and two losses in his three challenge matches. Fortunately for his wallet, the one match he won was for more than the other two combined, so he is still up $100,000.
Daniel made an interesting comment about Joe, in that he said he would be willing to have Joe "sub in" for him in these matches at Wynn were that acceptable to the opponent. It is hard for me to imagine this happening, as I would assume most people would be playing these matches, at least partially for the publicity, or just the panache of playing Daniel himself.
The most interesting phase on Daniel's challenge match career is about to take place. As mentioned last time, Daniel has had a war of words on the internet with top player Barry Greenstein, and supposedly the two are going to play nine challenge matches against each other in nine different games during the WSOP. These matches should be fantastic poker, but the interpersonal heat gives them an extra edge. It wouldn't surprise me if some enterprising cable TV producer offered to shoot the matches.
I look forward to those matches, and since I will be in Las Vegas throughout the series, rest assured I will be at the Wynn to take in all the excitement. No $2,000 martinis for me though.
Ed Note: Play heads up matches against the best at Ultimate Bet