Five Minutes with Donna Harris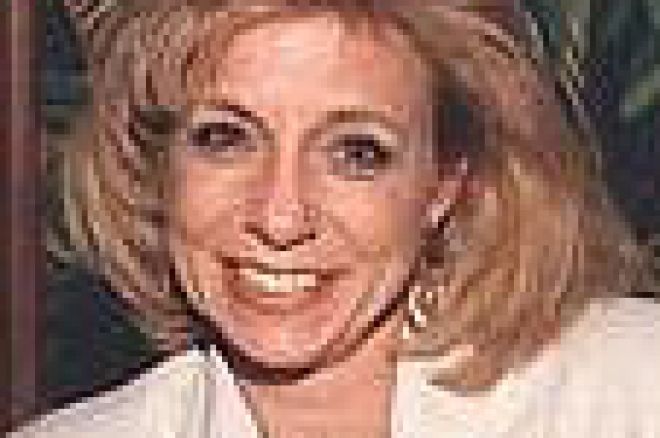 Donna Harris has been the director of poker operations at The Mirage Hotel Casino since 1998 and will be the host to this years Mirage Poker Showdown starting Monday 9th May thru May 27th . Donna has been one of the leaders in the Las Vegas poker scene and Poker News got a chance to spend 5 minutes with this class act.
HUX(Pokernews): Donna you started your career as a Black jack dealer at the Golden Nugget and switched over to poker a few years ago, seeing everything that poker has done over the last few years aren't you glad you decided to make the switch into the world of poker?
Donna: A few years ago? How about 25 years ago! Yes poker has been very good to me, I love what I do.
HUX: The Mirage Poker Showdown is the signature poker event for your room, this years event will be featuring a Heads up Challenge along with the first episode of next seasons WPT, tell us more about the heads up event.
DONNA: Yes, we believe that heads up and short handed play is the wave of the future for poker. Our heads up tournament will pit players against each other in a best of three elimination format. Along with the best of three format players will be happy to see that the levels get increasingly longer as they progress through the rounds, thus giving them more play in the later rounds. This is a first in many ways for a major heads up tournament in the U.S. and I'm sure the players will appreciate the extra play. You might like to mention that we are running a large variety of different tournaments this year including 7-card stud, Pot Limit Omaha and Omaha 8/B, as well as, a host of limit and no limit Hold'em events The Buy-ins for these events ranges from $1000 to $3000, and culminate in the main event with a $10K buy in. You can view the tournament schedule at our website mirage.com
HUX: Another feature that The Mirage is offering is a wire transfer facility to lock up seats in the Heads up event or the Main event, tell us more about that.
DONNA: Yes you can wire transfer directly into the cage to lock up a seat for the Heads Up Championship which is important since we are limiting the field to 128 players. The same applies to the main event, your seat will be guaranteed and if we exceed seating limits (620) we will do a split start to accommodate the players. Your deposit must be received and cleared before the commencement of the event. Players can use the wire transfer option to get their money on deposit, but for all other events you will need to go to the cage and direct them as to which events you want to play in and then come to the registration desk to register. Our hope is that this is a useful tool for our international guests who would like to lock up seats in the Heads-up or main events since all of the other events will be held to a first come, first served basis. For any help with this feature please call The Mirage poker room directly at (702)791-7291 or (702) 791-7290.
HUX: How many tables will your room expand to come Monday and the beginning of the tournament?
DONNA: 61 tables to begin and then we have 8 special tables built specifically for the heads-up event and/or for players who enjoy short- handed play. We will be running single table satellites every day along with daily supers for the main event. The room will hopefully be jamming over the next few weeks.
HUX: What are your thoughts on the P.P.T. $500,000 free-roll and do you see these types of events as the future for poker?
DONNA: The players love the idea of the PPT. I mean it's their first real free-roll of it's type and I'm always happy to see them being able to get something for their tournament loyalty. Along with it being a total free-roll it is also a filmed event, and we all know how much the players like that. Once the show sells, then it will be a win/win situation for all parties. We feel confident that the show will sell and am sure that it will make for some great viewing. One thing that I would like to mention to all of the players is that this years event will be located in the Race and Sports Book. This being said, Nevada law prohibits the use of cell phones or even land lines in this area, so please make sure that all of your friends know to call the poker room if they want to page you. I would like to apologize for this inconvenience in advance, but due to some remodeling issues, this locations was selected.
HUX: Now Donna a little birdie told me that you are an avid darts player, are you looking to hit a bulls eye with this tournament or will you be happy with a triple 20?
DONNA: I am a avid dart player and so I want both - a 2-dart out - a Triple 20 and a Double Bull. One hundred and ten for those of you who aren't into dart math.
HUX: Doesn't sound like any Bull to me! Sounds like The Mirage would be a nice place to work, are you hiring?
DONNA: Well most of the hiring has been done for this tournament, but we are always looking for experienced dealers for our room. Would you like a Job Hux?
HUX: Yes, in fact I will be working for The Mirage once again for this tournament, so I very much look forward to working with the First Lady of Poker once again.
DONNA: Thanks Hux, I look forward to it too!
Well that's all she wrote, if your in Vegas over the next few weeks, then you best head on down to what I feel is by far and away one the best poker rooms in the world. Offering both great live action, the weekly Poker Zone Tournaments, and what sounds like a terrific major in The Mirage Poker Showdown. And if your all in, I'll see you on the river!
HUX
MAY THE FLOP BE WITH YOU. . . ALWAYS
Please visit our online poker room directory to see the best bonuses on the web!