Joseph Hachem - Australia's Gift To Poker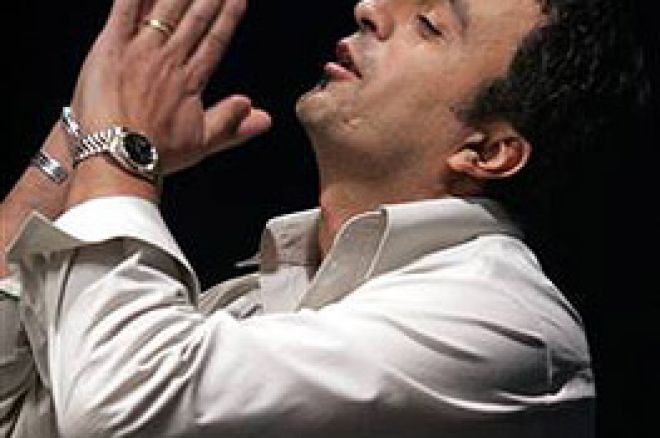 Early on the morning of July 17th, the final table of the 36th World Series of Poker had been contested for nearly fifteen hours. After 5,619 players had started the event, it came down to a battle between American Steven Dannenmann and Australia's Joseph Hachem. When Hachem, holding a 7-3, flopped a straight he was certainly hoping to draw Dannenmann into a trap. When Dannenmann, with A-3, hit an Ace on the turn and had top pair with an open ended straight draw, the trap was sprung. When a blank came on the river, Joseph Hachem became only the fifth non-American to take the World Championship. (see the Final report of WSOP)
What has followed since the cries of "Aussie! Aussie! Aussie! Oi! Oi! Oi!," were heard on that morning in Las Vegas has certainly been exciting for Joe Hachem. This year's World Series was his first trip to the Mecca of poker and he most certainly now will be back! He has continued to compete in worldwide poker tournaments, carrying the title of World Champion proudly and professionally. He also has very grounded ideas as to his place in today's game and a devotion to those around him, his family.
I recently had the chance to speak on the phone with Joseph after he competed in the California State Poker Championships at the Commerce Casino in Los Angeles. What I found was a man who, while proud of his achievement, is also very aware of what it means to be the reigning Champion. It is a position that he doesn't take lightly.
PN: Hello, Joseph, and congratulations on winning the Main Event! Now that you have had a couple of months, how does it feel to be the World Champion?
JH: Thank you very much, Earl. The best way I can put it is it still is an incredible feeling. I went from being very anonymous in the poker world to being at the top of it. It can be very hard to keep your feet on the ground after something like that! But each day that goes by, I do get a little more used to it. It will be some time, though, before I really get what it means to be the Champion.
PN: The Championship Event was definitely a long one. What was the most difficult thing you faced during your run to the title?
JH: It would have to be keeping my discipline at the table. I'm normally a very aggressive player and having the discipline to not risk my entire tournament life at the wrong moments was a key to winning the tournaments. Rather than gambling, I actually took my time and laid down hands. I was concentrating on taking my shots when I was fairly sure I was leading and it worked out well for me.
PN: That was one thing that I noticed during the play at the Final Table. It was very difficult to put you on a particular style. What would you typify your "style" as?
JH: Oh, I am a very aggressive player. I have been able to learn over the years I have played to change up my game, switch gears. That has been critical to making me a better player.
PN: You came to the Final Table this year in the middle of the pack. Did you have to make some adjustments there?
JH: Definitely. I was very aggressive throughout the tournament and once I reached the Final Table, I tried to keep up that aggressive play. Once I found myself short stacked, though, I had to make a big adjustment to my game and became a little more conservative. When I rebuilt my stack, then I could go on with the aggressive attack.
PN: I have read that you started playing online prior to coming to the World Series this year. Did that have a great deal with helping you prepare your game?
JH: It helped a lot! It was very, very important because I was able to get in a lot of hands. In a short time online you can play many hands, what would take weeks to play if you strictly played in a casino. I also played primarily short-handed online, which was important to my play when it came down to that point at the Final Table.
PN: Where did you play online?
JH: I played on PokerStars, mostly.
PN: What were some parts of your poker game that you felt you had to improve to be able to step into the tournament arena?
JH: Wow, good question. I always believe that you should always work at improving every aspect of your game. I would have to say it was my patience. It is very easy to trap yourself with over-aggressiveness. That was something that I knew I would have to improve on.
PN: One thing I wanted to ask you about was the Australian poker scene. What's it like now?
JH: Well, we were on the cusp of a big wave. It has always been a big game and now it has gotten even bigger since the country now has the World Champion! I think that it has probably quadrupled, at this point, over what it was before.
PN: Wow, that is a huge increase! What about you, have you been approached for other business opportunities since your victory?
JH: Oh, yes. I was recently approached about doing a Hurricane Katrina Relief tournament, which would have myself and many celebrities like Dennis Hopper, that looks good. It's something that is normal, for sure, but I am in no hurry to make decisions on those things.
I want to make the right choices when it comes down to those issues. I want to represent the game well. I want to look back five years from now and be able to say that I was a good World Champion and that I was worthy of carrying the title.
PN: Do you plan on playing more worldwide, be it in America, Europe or Australia?
JH: Definitely. One, because I can! Two, because I believe that being the World Champion you should make yourself more available to playing against people. I have often said that if I played against the quality of opponents here in the U. S. all the time, my game would improve vastly. It is important that a World Champion is a playing champion, definitely.
PN: Would you like to see a worldwide competition to see which country has the best players?
JH: That would be a great twist on the game! Of course, some countries have more great players than others, especially the U. S., but it would be a very entertaining event.
PN: I also read that your family is very important to you. Is that one of the ways you get away from the pressures of the game?
JH: My family is my number one priority. Without my wife and children, my brother and the rest of my family, everything else, including the money and the bracelet, wouldn't be worth a thing to me. Even though I may be away from them, I always want my family to know they are the most prized thing in my life. That's why I guess I mention them frequently.
PN: What else do you do to get away from poker?
JH: I go to the gym frequently, my family of course, I get together with my poker buddies and just have a drink with no poker involved. Football is another great release...
PN: I wondered about that. I have always been a fan of Australian Rules football and wondered what your take on American football was?
JH: (Laughs) I have to say I really don't get it! Aussie rules is a much more fluid game, there is always action, it is very exciting.
PN: I understand. Here it's run a play, take a break, run a play, take a break...
JH: Exactly! The Australian game is much more exciting and physical.
PN: So what comes next for you?
JH: I am looking at the possibility of moving to America, Los Angeles maybe. One thing I found, after winning the Championship, was that I really became homesick for Australia. I was tremendously happy to return home after the World Series, but a couple of weeks later, I wanted to be back in the U. S.! So that's a possibility...
As far as poker goes, I am going to continue to play. I just played at the Borgota's WPT event and here in California. I thought about playing at the Bellagio next month, but I have commitments in Australia to a televised tournament and I want to see my family, so that will keep me from that event. The World Series Tournament of Champions is in November as well as Foxwoods and I am planning on playing those events. The Monte Carlo Millions is another event I am planning on being a part of. And I should be at the Bellagio for their tournament in December.
PN: Finally, Joseph, what do you see as your place in the world of poker?
JH: That's a great question. Being the World Champion, I am an ambassador for the sport. I feel I have to represent it well and show that it is a good community comprised of fantastic people. Many still seem to think of our game as filled with gamblers and such. I believe it is important to show that it is not the game that it once was, but it is something that is good and good to be a part of.
PN: Well, thank you for your time and once again, congratulations!
JH: No problem, Earl, and thank you!
I would definitely like to thank Joseph for taking the time with me. I would also like to thank the Crown Casino in Melbourne, Australia and Danny McDonagh, their tournament director, for their assistance in getting Joseph and I in contact with each other. I found Joseph to be a soft spoken and proud man who seems to have a tremendous grasp of what is going on, not only in the world of poker but in his life as well. We couldn't have done better if we had hand picked our current World Champion! Here's to seeing the Australian flag once again at many final tables and to the continued success of Joseph Hachem!
Ed Note: If three world champions work on their games at Poker Stars have our highest rated tournaments, find out why