Poker Book - "One of a Kind"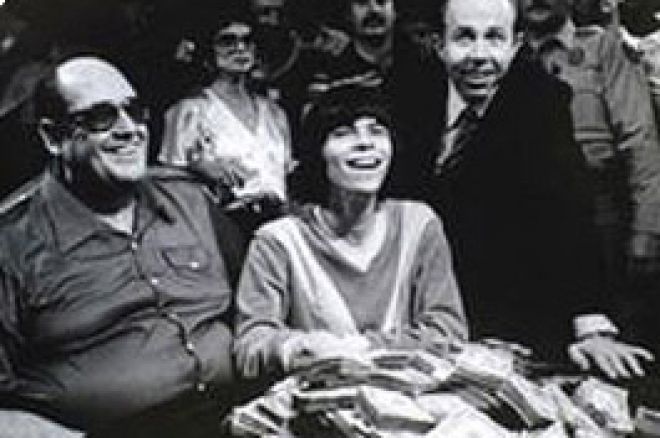 One of the toughest things to read is an autobiography or biography about someone that you have seemingly learned everything about. You have preconceived notions and, in some cases, the information that you have learned in your previous readings (or movies, in some cases) can be counterfeited by the information you come across in something new. Sometimes, at the end of all the data that you have gathered, you are left with no better clue than when you started.
This is definitely not the case when I sat down to read "One Of A Kind: The Rise and Fall of Stuey "The Kid" Ungar, the World's Greatest Poker Player". Authors Nolan Dalla and Peter Alson have come up with a fitting tribute to the three time World Champion and, at the same time, have delivered perhaps a final message of guidance and wisdom for future players of the game of poker from the greatest card playing mind of all time.
Nolan Dalla was able, in the middle of 1998, to get the hyperactive Ungar to tell his story in what was to be an autobiographical tell all. It was going to recount the highs and lows of Ungar's ride in life in his own words. Unfortunately, it was something that Ungar would not live to see; the man who, by most accounts, won somewhere in the neighborhood of $30 million in his life died in a downtown Las Vegas hotel at the age of 45 on November 22nd, 1998 with only $800 to his name.
Dalla must be commended for his continuation on the story of Stu, and additional praise should be awarded to Alson as well. Through anecdotes from of the biggest names in the poker world, including Doyle Brunson, Billy Baxter, Mike Sexton, Phil Hellmuth and many others, they have been able to flesh out the entirety of Ungar's life, from the phenomenal apexes to the utter depths and disparity that he also faced. These true-life looks at Ungar are not the high points of the book, however.
What has to be the most stirring passages is where those that were Ungar's family tell their sides of his life. Not only are Stu's former wife Madeline and his daughter Stephanie prominently featured, his sister Judy is able to delve into much of what was his background and childhood, which was what gave Stu much of the basis of what his life would become. Between these three women, they give the stamp of credibility that such a work needs to be accepted.
Even with this said, the true heroes of the book are Madeline and Stephanie Ungar. Through it all, they were two of the many people who loved Stu Ungar, faults and all, and through their reminiscences of him can you see this. They were two people who were always there for him and, in an odd circumstance, in most cases Ungar was there for them as well.
Eerily enough, it is the words that Stu Ungar uttered to Nolan Dalla during their interviews for the book in 1998 that give us the most telling lessons. Throughout the book, in italics, it is the voice of Ungar, seemingly from beyond, that gives the lessons that many should hear. He knew that he wasn't the best person in the world; he tried to be the best person he could, which is what we should all aspire to. It was his inabilities to elude those demons that pursued him that ultimately led to his demise, something that he readily admitted several times.
Dalla and Alson have to be commended for not entering one judgmental thought into their work. They, most appropriately, let the words of those that knew the man give us the color to the story and then add the known and unknown information around it. It would have been very easy for them to enter into some psychological blabber, but they appropriately stay away from such and let the lessons and the words of Stu Ungar and those who loved him tell the tale.
With "One Of A Kind", Dalla and Alson have come up with the ultimate epitaph for the life of Stu Ungar. They have told his story, warts and all, and have been able to cut away the mystery of his life through anecdotal evidence from everyone who surrounded him. It is a useful lesson on the perils of life on the edge and something that anyone could possibly see themselves doing or, unfortunately, maybe see in someone close to them. Stu Ungar not only left his legacy on the game of poker but, with this book, may have given all of us some of the greatest guidance that we could learn. It is a fitting tribute to Ungar and "One Of A Kind" is definitely a must have for anyone involved in poker, player or otherwise.
Ed Note: Poker Stars have our highest rated tournaments, find out why