Underwater Poker - What's Next?
Michael Freidman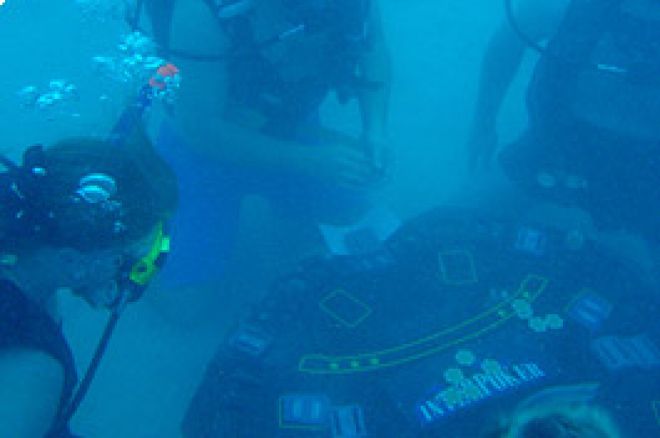 In what may be the most interesting poker tournament of the year, Juha Helppi became the first-ever underwater poker champion in the Interpoker.com Extreme Poker event.
Created with the idea of testing top player's abilities in extreme situations, this event certainly gave the players as much as they could handle. While on his way to victory, Helppi had to deal with water in his mask and a dangerous stingray, all while sitting on the reef floor and playing the likes of Phil 'the Unabomber" Laak, Kenna 'Cowboy' James and Louise H., an online qualifier.
Situated 30 feet below sea level of gorgeous St. Kitts, the host of the 2nd annual Caribbean Poker Classic, the action was heated and it wasn't long before Helppi crushed his competitors like a tidal wave.
Both Laak and James were eliminated in one hand after they went all-in and were beaten by Helppi. As always, the tongue-and-cheek Laak praised Helppi. "Although I went out with one of the worst beats in the history of undersea poker, I congratulate Juha on becoming the first Extreme Poker champ. I honestly thought that when his mask filled with water that I could take advantage of his broken concentration, but in the end he drew great hole cards and bet very wisely, and I give him credit for that."
According to Kenna James, this was an important moment for poker and for the champ. "Juha is one of the best poker players the Caribbean Sea has ever seen. Even though it hurts to lose in a historic tournament such as this, I'm glad Juha was able to claim the bracelet and become the first Interpoker Extreme Poker champ."
Louise H. was simply thrilled to be there and playing with players of this caliber. "It seems like yesterday I was at home in Denmark, and then all of a sudden I find myself at the ocean floor playing poker against Phil Laak and Kenna James. It was very fun and very surreal, an experience I'll never forget."
Floating above the action was a host of celebrity and star poker players observing the underwater action. World Series of Poker champions Kathy Liebert and Todd Whiteles joined actress and poker wunderkind Jennifer Tilly in observing the action via snorkeling.
According to InterPoker spokesperson Peter Marcus, this event will set the bar for future events. "I've been present at some of the most electric events in history, but this one tops them all."
Ed note: You can also play above water at Interpoker