WSOP 2006 Tournament Of Champions - Sexton Wins One For The Old School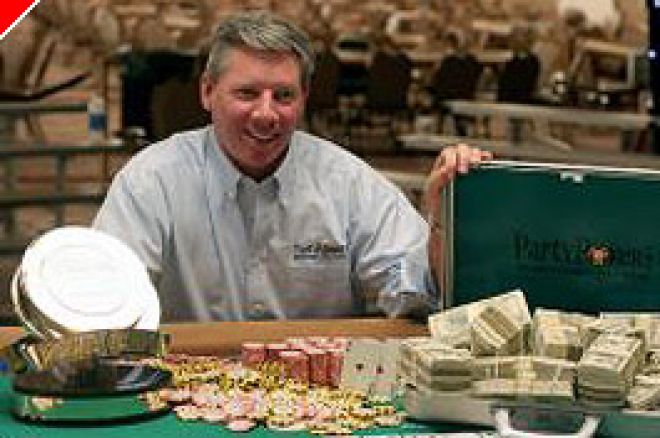 The first day of the 2006 World Series of Poker began much like the 2005 WSOP ended and was marked by large crowds for both the tournaments and fans. The official first event of the tournament, the $500 Casino Employees No-Limit Texas Hold 'Em event, set a new record when 1100 players came to the felt for the action, smashing the record set last year. The audience was more interested in the final table action for the 2006 Tournament of Champions, however.
The 2006 version of the TOC was an ultra-exclusive event to be sure. Only twenty seven players were invited to take part in the tournament: the final table from the 2005 version of the tournament, the twelve World Series of Poker Circuit event winners and six Harrah's sponsor exemptions. This made for an excellent field and the final table was loaded with big name talent and high caliber poker prowess.
After playing down from the original twenty seven, these men made it to the final table for the 2006 Tournament of Champions:
Seat One: WSOPC event winner Thang "Kido" Pham, 238,000 chips
Seat Two: Former World Champion Chris "Jesus" Ferguson, 166,000
Seat Three: Online poker pro Darrell "Gigabet" Dicken, 154,000
Seat Four: Defending TOC champion Mike Matusow, 213,000
Seat Five: 2004 World Series Player of the Year Daniel Negreanu, 443,000
Seat Six: Chip Leader Andrew Black, 942,000
Seat Seven: World Poker Tour announcer Mike Sexton, 161,000
Seat Eight: "The Great Dane" Gus Hansen, 74,000
Seat Nine: Circuit event winner Chris Reslock, short stacked at 64,000
Seat Ten: Foreign poker pro Daniel Bergsdorf, 245,000
While there were ten players at the table, only nine of them would actually walk away with something from the $2 million freeroll. Thus, the first player eliminated would leave with nothing while the rest would divvy up the prize pool. It didn't take long to determine who this player would be.
Only ten hands into play, Gus Hansen decided to make his move after Daniel Negreanu limped into Pham's blind. Black raised the pot up to $16,000 (with the blinds at 2K/4K and a $500 ante) and Hansen moved all in over the top. Everyone except for Black cleared away and Andrew was the pre-flop favorite with his pocket nines against Gus' A-K. When the board blanked out for Hansen, he was the unfortunate player who was sent home in tenth place with no profit for having played in the freeroll.
Early action was dominated by the Irishman as he used his status as chip leader against his opponents. Negreanu was also an active participant as he would claim the next victim of the TOC. Daniel Bergsdorf raised the pot with only Negreanu calling and, on a flop of 9-J-8, bet $20K into the pot. Negreanu popped it up to $50K only to have Bergsdorf come over the top of his for his remaining $214K in chips. Negreanu was happy to call as he turned up the nuts: his Q-10 had flopped a straight and Bergsdorf's pocket Kings were looking very bleak. There was no miracle to be had as Daniel Bergsdorf walked out of the Amazon Room with a ninth place finish and $25,000.
The action continued to be frenetic as only ten hands later Andrew Black raised the pot again. Kido Pham took a moment of thought before he pushed his stack of 115K into the pot. Black didn't think for long and, as it turned out, he had an excellent read on Pham's strength. Kido was on a steal with a J-3 and paled in comparison to Black's A-7. While the flop gave moment for hope for Kido, a needless seven on the turn sealed the deal as Black extended his chip lead and Kido Pham was eliminated in eighth place, worth $25,000.
There was a tremendous amount of post flop play in the TOC. Because the blind structure was low and the rounds lengthy at ninety minutes, around seventy five hands passed before we eliminated another player. Chris Ferguson had been attempting to revive his flagging stack with several all in moves but was unable to get anyone to play against him until the fateful final all in. When "Jesus" made his move with pocket sixes and ran into Darrell Dicken's pocket eights, the writing was on the wall for the former World Champion. He was eliminated in seventh place when the board failed to improve his situation. Jesus walked away with $50,000 for his troubles.
Down to six players, Negreanu seized control of the event when he and chip leader Andrew Black clashed with Negreanu's pocket Kings dominating Black's A-K. World Poker Tour announcer Mike Sexton, who was granted a sponsor's exemption to play in this event, was grinding his way up the leader board and Matusow, Black, Dicken and Reslock all were attempting to stay in touch with the leaders. On Hand 114 (after the dinner break), Darrell Dicken decided to challenge Mike Sexton on a flop of 4d-Kd-4c. After Dicken bet 28K, Sexton reraised him to 100K which brought the all in from Dicken and a call from Sexton. The jury was still out when Dicken showed the nut flush draw with an Ad-5d, but Sexton had hit the flop with his K-5. Another four came on the turn and a harmless deuce ended the day for "Gigabet", giving him $75,000 for his sixth place finish.
The end of the night was also coming for Andrew Black unfortunately. On Hand 122, the Irishman raised the pot only to have "The Mouth" re-raise him to 100K. He then moved over the top of the defending champion but Matusow caught him on a scavenger hunt. Mike's pocket Kings dominated the Kd-9d of Andrew and, after the flop brought a thrill with two diamonds, didn't bring any others the rest of the way. Black was eliminated in fifth place after entering the final table with the chip lead, but got to take away $100,000 for his efforts.
Forty hands later, Chris Reslock mixed it up with Mike Sexton in what was a very interestingly played hand. On a Q-10-Q flop, Reslock moved all in over Sexton and, after what seemed to be an eternity, Sexton reluctantly called. It proved to be the correct move, as Sexton's K-10 was ahead of Reslock's 10-9 of clubs. There was a ray of hope for the Circuit event champion when a Jack came on the turn but no further help arrived to keep Chris Reslock from finishing in fourth place. Chris pocketed a nice $150,000 for his fourth place finish.
"I made the only move I could in that spot," Reslock said to me afterwards. "Mike knows I'm not going to do that if I had a Queen (for a set), so I wonder what took him so long to call," he laughed. "I never really had enough chips to do what I wanted at the final table, though. I'm happy with the way I played."
Down to three players, we began what would become an epic struggle. Matusow, Negreanu and Sexton battled back and forth for over sixty hands before we eliminated another player. "The Mouth" seemed to be getting a bit frustrated with some of the plays against him by both of his opponents and on Hand 216 moved all in. Sexton called him down with pocket sevens and Matusow turned up a rather disappointing A-4. While Matusow was able to pair his four on the turn, there was no hope for rescue and the defending champion left the game in third place, good for a $250,000 payday.
Heads up, the chip stacks looked like this:
Sexton 1.488 million
Negreanu 1.212 million
In perhaps one of the finest demonstrations of poker I have seen, the two men proceeded to battle over the next three HUNDRED hands, with the chip lead swinging both ways at one point or another. As the clock wound into the early morning hours, the two combatants put on a clinic on post flop poker, which excited the rapidly tiring crowd. Adding into this exhaustion for the audience (as well as the players) was the difficulty for either Sexton or Negreanu to firmly seize control of the event for over five hours.
To demonstrate this, on Hand 451 Negreanu was able to take over the chip lead when he landed top pair, top kicker on a Jack high board. Only 32 hands later, Sexton retook the chip lead when he doubled through Negreanu when his K-Q dominated Daniel's Q-J. Negreanu was unable to overcome this beat as Mike continued to apply pressure to the 2004 Player of the Year.
On Hand 504, Sexton limped into a pot only to be raised by Negreanu. Mike took a couple of moments to think out things before springing the trap on Negreanu by repopping the pot with a $180K bet. Negreanu called and, on a flop of 8d-4-10d, immediately moved in on Sexton. Mike was more than happy to call Daniel as he turned up pocket Aces and Daniel only had a gutshot straight draw with his Q-J. When an Ace fell on the turn and the board paired with another eight on the river, Sexton had crushed Negreanu's hand and captured the Tournament of Champions.
After a nearly sixteen hour final table, both players were exhausted. Negreanu, in fact, pulled out of today's first open event of this year's World Series when the TOC final table rolled into the early morning hours. His efforts in the TOC were rewarded well though, as he took home $325,000 for finishing second and Sexton took away the lion's share of the pool with a $1 million payday.
"You know, sometimes I'm glad I have a day job," Sexton joked as the Tournament Of Champions trophy was awarded to him. "I'm proud of the way I played and maybe I proved that the "old school" guys still got some game." We'll find out over the next six weeks if the old school does indeed still have some play in them, but for now one of the true "old school" guys, Mike Sexton, is the 2006 Tournament of Champions victor.
Ed Note: Mike Sexton proudly endorses Party Poker ...Can the Ambassador of Poker be wrong?