WSOP Daily Summary for Wednesday, July 5th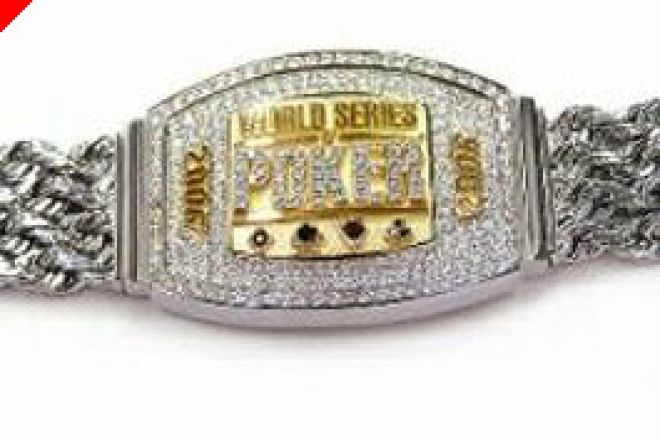 There were three events in action yesterday, headlined by the final table for Event #8 ($2,000 Omaha Hi-Low Split), where Jack Zwerner defeated Florante "Rusty" Mandap heads up. Zwerner took home $341,426 and a coveted WSOP bracelet. (For details on that final table, read Stephen Noh's full report.)
The other two events are summarized below.
EVENT #9 ($5,000 NO-LIMIT HOLD'EM) - DAY TWO
Event #9 resumed with 60 players, all looking to make the final table. The previous day featured some interesting clashes between Phil Hellmuth and Jean Robert Bellande, and they were still seated next to each other at the start of Day Two.
At the end of Day One, they were headed in opposite directions, and Hellmuth was the one with the upward momentum, in third place. Day Two continued those trends, with Hellmuth increasing his stack early while Bellande took some hits. But unlike the previous day, there were no notable clashes between them. (Except verbally, of course.)
While Bellande never had the chip stack he wanted on Day Two, his spirits never faltered, and he was talking up the table and showing his usual bravado. He made it to the dinner break in decent shape, able to enjoy his meal. After dinner, however, he would receive a bad beat that would make anyone sick.
Three players limped to see a flop of A-K-4 rainbow, and Dang Trinh moved all in with pocket threes when the other two players checked. Bellande check-called with A-10 (pair of aces), and was a huge favorite to win the hand. But the last two cards came 2-5, giving Trinh a five-high straight. The entire room could hear the frustrated yell of Jean Robert Bellande as he was eliminated in 21st place.
Phil Hellmuth continued to roll, never very far from the top of the leaderboard, and he would finish the day second in chips with 461,000. Hellmuth is having an excellent WSOP so far, cashing in three events, and he should be exuding confidence when he sits down at the final table, focused on just one thing. (If you don't know what that one thing is, check the "Trivia" section below.)
Hellmuth is going to have to share the spotlight at this final table, because there are some big names at the top of the chip counts.
Marcel Luske had an up-and-down day, but finished strong, and he's just a few chips below Hellmuth in the standings. Marcel Luske has never won a WSOP bracelet, but he has made it deep several times. His best WSOP performance was in 2004, when he finished 2nd in $5,000 Seven Card Stud, and 10th in the Main Event.
Fan favorite Isabelle Mercier started the day near the bottom of the chip counts, but quickly doubled up with A-5 against K-J, and then doubled up again a short while later when her K-Q outdrew A-4. She was in the middle of the pack most of the day, but she dropped down to a vulnerable level on the final table bubble. She persevered and gained some chips on the bubble to finish the day with an average stack.
Vinnie Vinh had a stranglehold on the chip lead late in the day, and he'll start the final table with a 1.7-to-1 lead over second place, making him Hellmuth's biggest obstacle to a bracelet. As an added bonus, he also has position on Mr. Hellmuth.
Day Two came to an end shortly before midnight when Dang Trinh moved all in after a flop of 5-4-3. Marcel Luske quickly called with A-2 (giving him a wheel), and Trinh's only hope with A-10 was a chop. But the last two cards were blanks, and Trinh was the unfortunate 10th-place finisher.
Here are the nine final table players and their official chip counts:
Seat 1: Quoc Al 'Vinnie' Vinh - 784,000
Seat 2: Isabelle Mercier - 301,000
Seat 3: Eugene Todd - 240,000
Seat 4: Marcel Luske - 458,000
Seat 5: Jeff Cabanillas - 275,000
Seat 6: Douglas Carli - 273,000
Seat 7: Dan Smith - 117,000
Seat 8: Thomas Schreiber - 200,000
Seat 9: Phil Hellmuth, Jr. - 461,000
Not-quite-Trivia: These nine players have a combined nine WSOP bracelets between them. And they all belong to the player in seat 9, who won his most important bracelet in 1989 with pocket nines. And he really, really doesn't want to finish ninth tomorrow.
A year ago, Phil Hellmuth was tied with Johnny Chan and Doyle Brunson for the career record in WSOP bracelets with nine. Then they both won their tenth in the span of a week. Hellmuth's mission this year is to even the score.
Bad Beat: ESPN is not taping this event for telecast. This final table would be perfect for television, with Marcel Luske, Isabelle Mercier, and Vinnie Vinh all standing in the way of Phil Hellmuth's tenth bracelet. But ESPN's crew has already packed up their things and returned to Bristol, Connecticut, planning to return later this month.
Historical precedents: I think there's a chance ESPN might send in a small crew to do some emergency coverage, just in case. They didn't plan to cover the event in which Johnny Chan won his tenth bracelet last year, but they found a way to record that memorable heads-up battle against Phil "Unabomber" Laak. They did the same thing for the Ladies Event, once it became clear that actress Jennifer Tilly had an excellent chance of winning.
Suggestion: If ESPN isn't taping this final table, then Harrah's should allow fans to bring camcorders to the final table. Of course, the odds of Harrah's actually changing this policy are approximately 3,720 to 1, so leave those camcorders at home.
The final table for Event #9 is scheduled to begin today at 2:00 pm.
EVENT #10 ($1,500 SEVEN CARD STUD) - DAY ONE
Event #10 attracted 478 entrants, creating a total prizepool over $650,000. This would be the first of four seven card stud events (counting hi-low and razz, but not the $50,000 H.O.R.S.E. event) at this year's World Series.
Seven card stud is much slower than the frenetic action of no-limit hold'em that's shown on television. So even with a small starting field (by current WSOP standards), it took over 15 hours to reach the money.
About 1:00 am, the tournament staff planned to stop the action at the end of that level, well outside of the money. But the players complained, and after some negotiations, it was decided to continue playing into the money, so all the players who returned for Day Two would be guaranteed a payout.
The money bubble finally burst about 3:15 am, with 40 players surviving into the money to continue playing on Day Two.
David Williams is the biggest name at the top of the leaderboard, and he was among the chip leaders most of the evening. Most of Williams' top finishes are in hold'em events, but he recently won a $5,000 H.O.S.E. event at the WSOP Circuit stop at Caesars Las Vegas. Williams is best known for his second-place finish to Greg Raymer in the 2004 World Series Main Event, where he won $3.5 million. But he has proven himself by adding $1.5 million in tournament winnings the past two years.
Here are the top five chip leaders, along with some notables who are above the average stack of 17,925:
1. John Hoang - 79,000
2. David Williams - 55,500
3. Victor Shkura - 53,000
4. Jack Duncan - 38,500
5. Eugene Borbas - 33,500
7. John Hennigan - 30,300
8. Miami John Cernuto - 24,900
12. Jim McManus - 20,300
Prediction: If Phil Hellmuth wins his record-tying 10th bracelet in Event #9, don't be surprised if Johnny Chan picks up his 11th in Event #10. Chan will start Day Two in 20th place with 12,600 in chips.
Day Two of Event #10 is scheduled to begin today at 3:00 pm, one hour later than usual. (Because of the late finish.)
Ed Note: Do you want to chat in your own language at the poker table? Everest Poker's software allows you to see chat in many different languages.