WSOP Results – Daniel Alaei Outdraws the Competition in Deuce to Seven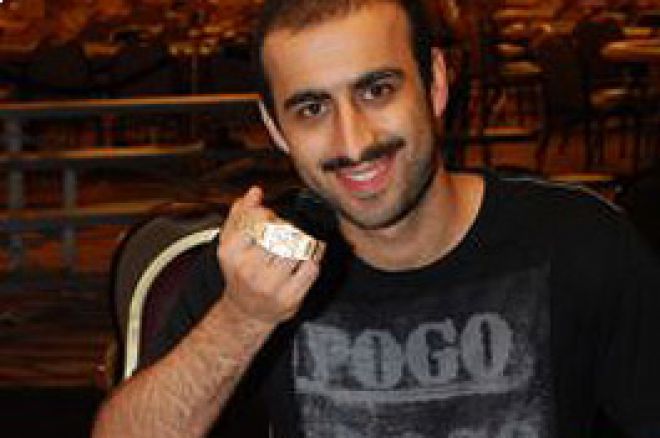 Wednesday's $5000 No Limit 2-7 Draw Lowball with rebuys final day featured one of the most impressive lineups ever in WSOP history, with only 81 of the most skilled players entering the event. Among the final 18 competitors were a combined 39 bracelets, including last year's event-winner in David Grey. Going into the final table, the players were arranged as:
Seat 1: Men 'The Master' Nguyen, 27,000
Seat 2: Allen Cunningham, 204,000
Seat 3: Eliyahu Levy, 88,000
Seat 4: David Williams, 395,000
Seat 5: Greg Raymer, 134,000
Seat 6: Daniel Alaei, 105,000
Seat 7: Layne Flack, 84,000
Seat 8: Phillipe Rouas, 170,000
The first player to be eliminated was Layne "Back to Back" Flack, who was going for bracelet #6. Flack pushed all-in preflop and was called immediately by Phillipe Rouas. Both players stood pat and Rouas showed the 9-8-7-5-2, while Flack mucked his hand. Flack finished on the payout bubble, while Rouas overtook the chip lead from David Williams.
Williams quickly regained the chip lead, however, when he eliminated Allen Cunningham and Eliyahu Levy in the same hand. After Levy pushed all-in preflop, Cunningham and Williams both called. Cunningham then pushed all-in after drawing one, and Williams called immediately. Williams showed an 8-6-5-4-2, while Cunningham held 8-7-6-5-2 and Levy showed an 8-6-4-4-3. Cunningham finished in 6th place, earning $58,202, and fell short of getting his 2nd bracelet of this year and 5th in his career, while Levy earned $34,921 for 7th.
David Williams continued his tear and exacted some revenge over his Main Event runner-up finish when he eliminated 2004 WSOP champion Greg Raymer next in 5th place. After a Williams raise of 20,000, Raymer pushed all-in for 85,000 more, with Williams calling. Williams showed a 10-9-8-5 and drew one, catching a 3 to make his 10 low, while Raymer showed a 9-7-6-4 and drew a 9, counterfeiting his low. Raymer earned $93,124 for 5th and took home his second cash of this year's WSOP.
Men "The Master" Nguyen was the next player eliminated. The six-time bracelet winner added another WSOP cash to his illustrious career after he was knocked out by Daniel Alaei. Nguyen, the short-stack coming into the final table, went all-in preflop and was called by Alaei. Both players stood pat, and Alaei showed the 7-6-5-4-2. Nguyen mucked his cards and playfully grabbed the deck, laughing and searching for the cards he needed before exiting with $128,048 for 4th.
Down to three players, the battle was fierce, with four hours passing before another player bit the dust. Finally, after going back and forth, Daniel Alaei eliminated Phillipe Rouas in 3rd place. Rouas moved all-in for 80,000 and Williams called from the small blind. Alaei then moved over the top all-in from the big blind, and Williams folded. Alaei stood pat, while Rouas drew one card. Alaei showed a 10-9-7-3-2 for a 10-low, while Rouas showed a 7-5-4-3 and a draw card of a 7, for a pair of 7's. Upon seeing the final hands, Williams lamented that he would have won the tournament if he had called Alaei's all-in. Amazingly, Rouas admitted that he had learned how to play 2-7 only an hour before the tournament started after listening to a tournament director describe the rules. Rouas took $162,967 for 3rd.
Heads up, David Williams maintained his chip lead of 740,000 over Daniel Alaei's 420,000. Throughout the entire day, Williams and Alaei seemed to be in confrontations as the two chip leaders, and it was only fitting that the two of them determine the winner heads-up at the end of the day. Like Rouas, Williams and Alaei also had amazingly never played 2-7 before the beginning of the event.
Evelyn Ng, who was announcing the final table while sweating fellow Bodog representative Williams, handicapped the heads-up players thustly:
"Obviously, David's got natural poker ability. He won a bracelet in 7-stud [this year] and it looks like he might be on his way to another one here as well. He's gone the gaming strategy down in multiple different games – not just poker but other games as well.
"Both are very good players, though. Daniel Alai is a very respected player and a big winner in some of the biggest cash games in the country."
With final table play underway, the two exchanged big pots and the chip lead numerous times. A number of pros were also there to sweat the final table, making up most of the small audience. Among others, Jean Robert Bellande, Eskimo Clark, Michael Mizrachi, Noah Boehkin, and Evelyn Ng were present, with Bellande revealing that large sums of money were riding on Williams' finish for a number of pros riding prop bets.
As the two players battled back and forth, with both players all-in several times, both seemed shocked that a winner had not been determined sooner. After completing a late level, David Williams remarked, "I can't believe we finished this level!" Finally, 136 hands into the heads-up marathon and almost 14 hours into day 2, Daniel Alaei took down the tournament after he called David Williams' all-in bet preflop. Alaei showed 8-6-5-3-2, and Williams was drawing dead. Alaei took down his first WSOP bracelet and $430,698 while Williams earned his fourth cash of this year's WSOP and a second-place finish of $256,091 for his efforts.