WSOP Results – Eric Froelich Wins his Second Bracelet in 'Added' Event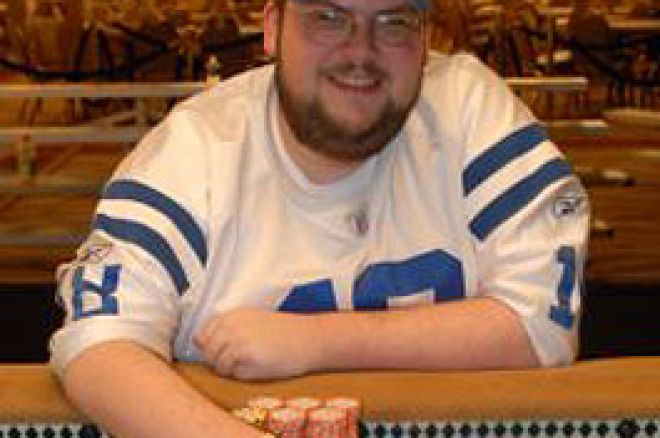 Controversy surrounded Event 300, the $1500 Pot Limit Omaha Hi tournament with Rebuys from the moment the tournament kicked off. The event was created by Harrah's as a last-minute addition after they decided that they wanted to add rebuys to the originally-scheduled event 27. When some players complained that they didn't want an event with rebuys, which would have required much more money to play in, Harrah's simply decided to split the event in two, a decision that the players seemed to be equally split on.
With a last-minute event that required a pretty substantial bankroll, pros dominated the field. Peter Costa, who missed half of the first day in the two day event because he was playing at a final table, made an impressive showing by finishing in 14th. Jeffery Lisandro in 15th and Tony G in 13th were also notable pros finishing deep. Going into the final table, though, all eyes were on Chau Giang to see if he could earn bracelet #4. The final table looked like:
1. Richard "Knucklehead" Freire – 273,000 chips
2. Sherkhan Farnood – 148,500 chips
3. Kevin O'Donnell – 116,000 chips
4. Eric Froehlich – 115,000 chips
5. Chau Giang – 102,500 chips
6. Rafi Amit – 88,000 chips
7. Ayaz Mahmood – 56,000 chips
8. Matt Overstreet – 56,000 chips
9. Bruno Fitoussi – 46,000 chips
Ayaz Mahmood was the first player eliminated, taking $18,162 for his efforts. He put his money in on the flop as a favorite with two pair, but Kevin O'Donnell's open-ended straight draw hit on the river to knock out Mahmoud. Before exiting, Mahmoud, who rebought four times, said, "I wish I would have won the tournament but I got a cold deck. It was a very aggressive table. I played one hand, got unlucky and that was it."
Rafi Amit was next on O'Donnell's hit list. Amit pushed all-in on the turn with two pair while O'Donnell called with two pair. O'Donnell got a bit of luck on the river again, though, when he filled up to knock out Amit. He earned $27,243 for 8th.
Richard "Knucklehead" Freire was the next player to go. By far the most colorful player at the table, Freire repeatedly had been betting the pot in the dark on the flop and going over to high-five spectators in the crowd during hands. However, the dark move came back to haunt him when, against Chau Giang, Freire bet the pot dark and Giang raised. Freire then put himself all in and showed a straight draw while Chau had an overpair and a flush draw. Freire failed to improve his hand on the turn and river and exited in 7th for $36,324.
Matt Overstreet followed less than 10 minutes later when he pushed all of his chips in against Chau Giang preflop. Giang again was ahead with K-K-J-5 while Overstreet held Q-Q-9-3. The board of A-J-2-A-J failed to help Overstreet and he was gone in 6th, taking home $45,405 for his play.
Kevin O'Donnell took out his third player of the day in Bruno Fitoussi, the Parisian EPT star who had been playing as a short-stack for most of the final table. Fitoussi pushed all of his money in on the flop with the nut straight, while O'Donnell had a draw to the nut flush. The river once again gave O'Donnell his card to complete the flush, and Fitoussi was out in 5th for $54,486.
Going into four-handed play, Kevin O'Donnell looked like he might have a shot at the bracelet, which would be a remarkable accomplishment considering he entered having never played a single hand of Pot Limit Omaha in his life. Before the tournament started, he got a 10-minute tutorial from Joe Hachem and down to four, he found himself in the chip lead. However, O'Donnell's luck finally turned sour after he lost two big pots and was busted out in 4th. It was his second final table of this year's World Series and his second-biggest WSOP cash at $72,648.
Fan-favorite Chau Giang was the next to go after he lost two huge pots to Eric Froehlich. On Chau's final hand, the flop came down Ah-5s-4d. Chau bet out and Froehlich put him all in. Giang called showing two pair with the A-8-4-2, while Froehlich simply had a straight draw with the 10-7-6-4. Froehlich got his straight on the turn though, and Chau failed to fill up on the river. Chau finished 3rd for a payday of $90,810.
Chau, who looked visibly disappointed and shocked upon busting, noted, "I was playing well for the last couple of days, but I was running really bad today. The last couple hands, I had the best hand and the guy drew out on me, but that's poker. I came in to try to win the tournament; 2nd and 3rd don't mean anything to me. I'm not happy at all that I came in third."
Chau also had an interesting comment to say about the table demeanor at the final table. Throughout the day, players were constantly showing their cards after an opponent folded and discussing their strategy behind playing hands. Chau responded to the practice by saying, "The worst thing when you're playing poker is to show people your hand because people can tell how you're playing. That's the dumbest thing in the world." Unfortunately, though, Chau was not able to capitalize on his opponents' mistakes.
Heads up, it was the Afghanistan Sherkhan Farnood, who had played extremely tight during the entire day, versus 2005 bracelet winner Eric Froehlich. Froehlich made headlines last year by becoming the youngest player to win a bracelet, however he recently had the record taken away by Jeff Madsen at this year's series. Would he win the event, he would claim a new record as the youngest two-time bracelet winner in series history at the ripe age of 22.
Farnood started with a very narrow chip lead of 497,000 to Froehlich's 453,000, however Froehlich soon took command of the chip lead after forcing Farnood to fold a series of pots by betting big. Less than half an hour into heads up play, the winner was determined. Farnood raised to 36,000 preflop, and after a Froehlich call, the board came 10-7-5. A series of bets and raises got all of the money in the middle, and Froehlich showed Q-7-7-6 for a set of 7's while Farnood held the K-K-6-3 for an overpair and a gutshot straight draw. The turn and river came J-J, and Froehlich won the hand and the WSOP record with a full house. Froehlich earned $299,675 for his win while Farnood pocketed $165,274 for second.
Ed Note: Noble Poker have really soft Omaha action. Sign up today.