WSOP Updates - Chip Reese Gets by Andy Bloch in Epic HORSE Duel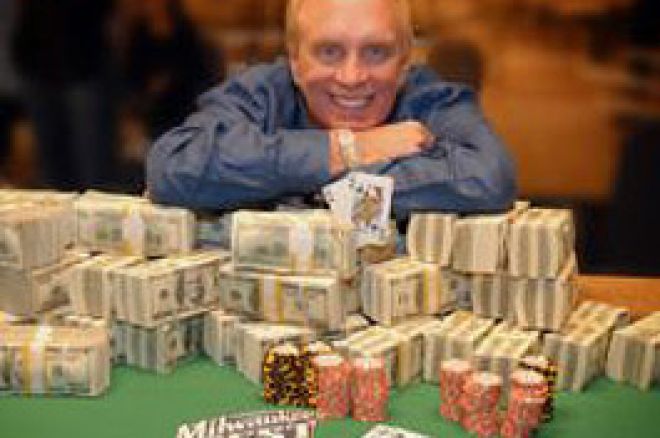 The much-hyped $50,000 H.O.R.S.E event at the WSOP attracted 143 of the top players in the world, and it was no surprise when the final table was revealed to be one of the toughest in the history of tournament poker.
Nine professional players with a combined 37 bracelets between them composed the final table. Three of the players, Doyle Brunson, Chip Reese, and Phil Ivey, were regulars at Bellagio's "Big Game", the biggest-stakes public game in the world. Entering the beginning of play, seating and chip counts for the final table were:
1- Jim Bechtel $841,000
2- Doyle Brunson $1,227,000
3- Chip Reese $1,756,000
4- Dewey Tomko $438,000
5- Andy Bloch $934,000
6- T.J. Cloutier $351,000
7- David Singer $745,000
8- Patrik Antonius $13,000
9- Phil Ivey $885,000
Barry Greenstein, who finished in the money at 12th place, was not surprised at the strong showing by the Big Game regulars. He explained, "In the last 20 players [of the H.O.R.S.E event], we had 5 of the 8 or 9 players who had been playing regularly the last 6 months in our game. Ming Ly went out 20th, I went out 12th, and we have 3 representatives at the final table (Brunson, Reese, and Ivey). The biggest advantage that we have is that we play all these games in a regular rotation. The public only knows the good no limit tournament players but they were weak fundamentally in these limit games. It turned out exactly the way we would have expected. Our game can take on the rest of the world and we're going to make it to the final table is what it comes down to."
Greenstein seemed to express supreme confidence in the Big Game's ability to represent and take home the bracelet, however the battle would not be nearly as easy as the Robin Hood of Poker might have thought.
Patrik Antonius, who started the day with less than ½ a big blind, was the first player to go after he was pot committed all-in on his big blind and his A-4 lost to Chip Reese's pocket 8's. The European Poker Tour superstar who was chip leader for most of the early stages of the tournament took down $205,920 for 9th place.
Fan Favorite Doyle Brunson, who was going for his record 11th WSOP bracelet, was the next to go in 8th place. Brunson started the day 2nd in chips but lost a huge pot to Reese to start the day (Reese later admitted in post-tournament interviews that he had pocket Kings, but the hand was not revealed during play), then lost a coinflip holding K-J to T.J. Cloutier's pocket 9's. Crippled, Brunson threw in his last few chips two hands later with J-6 offsuit and was busted by Jim Bechtel's A-Q on a Q-high flop.
Dewey Tomko was the next to go after he open-raised preflop, was re-raised by Andy Bloch, and pushed all in. Tomko showed pocket 8's, but was dominated by Bloch's two red queens. No help came on the board, and Tomko was out in 7th with $343,200 in his pocket.
After playing for 19 hours yesterday and receiving less than a half-day break before play started up again, fatigue may have played a factor in Brunson and Tomko's early bustouts. Before the tournament started, Tomko admitted, "I'm exhausted. I'm tired, I didn't get no sleep at all. I drank so much tea yesterday and what happened was, when I tried to go to bed I just stared at the ceiling, too much caffeine. I'm not used to [marathon sessions] any more, I used to do it all the time but I don't do it much any more so I'm pretty tired."
Mike Sexton, an interested spectator at the final table, added, "You would think that fatigue would be a big factor. Chip has played many long sessions of poker and I think he can handle it but I don't think it's fair, especially to older people. I think you should limit it max to 10 hours and let them come in the next day. You can't have these kind of marathon sessions where old people just dump their chips off. I heard Dewey Tomko and Jim Bechtel both tell me that last night when they were ending it, that they misread hands because they were so tired at 8 in the morning."
David Singer was the next player to go in 6th place. Singer seemed to suffer from a string of bad luck, holding a lot of chips early but seeing them disintegrate after losing a big all-in preflop holding A-K suited against 8-9 suited, running into a full house, and finally bowing out after his A-10 of spades fell to Chip Reese's pocket jacks. Singer took away $411,840 for his efforts.
T.J. Cloutier was the 5th place finisher, good for $480,480. Cloutier was bounced out of the tournament when he pushed all-in with pocket 7's, but was dominated by Andy Bloch's pocket 10's. Cloutier's hand failed to improve and he was left thinking what could have been.
Just four hands later, Jim Bechtel was eliminated in almost the same fashion as Cloutier. This time, Bechtel made a big raise on the button and Andy Bloch, in the big blind, re-raised to $280,000. Bechtel moved all-in for a little more than $770,000 and after thinking for a while, Bloch made the call. Bloch once again showed 10's while this time it was Bechtel who had pocket 7's. Different opponent, but same result as the 1993 Main Event bracelet-winner's 7's failed to improve and Bechtel went out with $549,120.
In explaining his decision to call Bechtel's all-in bet, Bloch revealed the level of thought and analysis that goes into his decisions. He explained, "When I made the raise [with pocket 10's], I pretty much knew I had to call him if he moved in. I played with him in the 1000 with rebuys, and a little before the money I made an under-the-gun raise and he made a big reraise. I had jacks and he had two sixes. I know then, especially in this situation, since I had been reraising a lot and they can't see my cards that they don't know if I'm doing it with a hand or nothing, that he's thinking maybe I don't have a hand. I have to call with two tens because I know he's capable of doing it with a small pair and I know he thinks it's a situation where he thinks he can just pick up the pot."
Down to three, it looked fairly certain that one of the Big Game representatives would be taking the bracelet. However, the chances got slimmer after Phil Ivey was knocked out in 3rd. On a flop of Q-7-3 with two diamonds, Ivey bet out and Bloch raised. Ivey moved all-in and Bloch called immediately, showing the 5d-4d for a straight flush draw and 12 outs, while Ivey held a pair of sevens with his A-7. The Ace of diamonds made it interesting on the turn, giving Bloch the flush and Ivey two pair with a redraw for a full house, but the river blanked out and Bloch took the pot down.
Surprisingly, it took only a little more than 2 ½ hours to get from 9 to heads up, with Bloch and Reese almost even in chips. However, it took over seven hours of heads-up play between the two before a winner was finally crowned, setting a new record for the longest heads-up battle in the World Series' 37 year history.
Part of the reason why the battle took so long was because both players were doing an outstanding job of mixing it up and switching gears during the game. For instance, when Reese became aggressive, Bloch would repeatedly check-call on medium strength hands such as middle pair in order to temper Reese's aggressiveness.
After simply grinding away much of Reese's stack by going over the top of his raises and winning small pots when Reese did not look to defend them, Bloch soon took a large chip lead of over 3:1. The bracelet seemed like it was Bloch's for the taking, however a big double-up gave Reese second life and the chance to fight back.
Short-stacked, Reese called Bloch's raise preflop, then check-raised all-in on a flop of 7h-4c-3h for over a million chips. Bloch stood up and thought for a few minutes, smiling to himself before finally calling and showing his monster 7-2. Reese was drawing thin when he exposed his 10c-5c, good for a backdoor flush draw, an overcard, and a gutshot-straight draw. Reese, however, hit his miracle straight on the turn when the 6d fell.
Reese's lucky break seemed to give him the energy he needed to stage a comeback and make a match out of the heads up event. Although Bloch still sported a sizeable chip lead, Reese began selectively picking his spots and found a good opportunity to double up again after Bloch pushed all-in preflop with K-J of spades and Reese called with an offsuit A-10. The river brought an ace, and Reese came closer to evening up with Bloch.
Reese took down another huge pot a few hands later when, after pushing all-in with pocket Kings preflop, he was called by the 99 of Bloch. The board failed to bring any help, and the two were suddenly dead even for the first time since heads up play began.
The two would stay pretty much even for hours, with both playing excellent poker. They traded the chip lead back and forth numerous times by playing small pots and stealing frequently from each other preflop. Finally, into the seventh hour of headsup play, a huge pot was raked in by Reese when, on a flop of 9s-8d-3d, Reese check-raised Bloch all-in with the Kd-6d while Bloch made a big call with 9-7 for top pair. After both players played so well the entire day and seemed to be so evenly matched, it was both fitting and sad that the end had to come down to a coinflip situation. Reese made his flush on the turn when the 5d hit, leaving Bloch drawing dead and crippled to just a few hundred thousand chips left.
After seeing both players take turns moving in preflop every hand, the end finally came 11 hands later when Reese pushed with A-Q and Bloch called with the 9-8. Bloch's hand failed to improve and Reese's ace-high took the pot along with his first WSOP bracelet since 1982.
Upon winning, Chip Reese exclaimed, "[Andy]'s a tough man. I'll tell you that. He had me beat 4 or 5 different times. I feel bad for him because he deserved it just as much as I did." In his ESPN interview, he added, "In the past, I got to the last two tables and had a lot of chips and had two kings against an A4 or A2 and lost monster pots, and I did have some bad luck in the past in these tournaments, but I had some good luck today so what goes around comes around." Reese took home a first place prize of $1,784,640.
Bloch, who played fantastically but just didn't have the luck to win the bracelet, noted, "I'm extremely exhausted and a little disappointed but [Chip] put up a tough fight. It was a great battle - I figured I'd win one of [the races], but it didn't work out." Bloch earned $1,029,600 for 2nd.
Bloch admitted that the 7-hour battle was the longest heads-up final table he'd ever played in while Reese jokingly said, "We played so long, I forgot we played limit the last two days." It was certainly an epic battle, and a fitting but sad end to one of the most classic tournaments in poker history.
Ed Note: You gotta feel for Andy Bloch. If you see him, at Full Tilt, tell him 'well played'.