WSOP Updates - Event #3 Final Report - Furst Is First In Pot Limit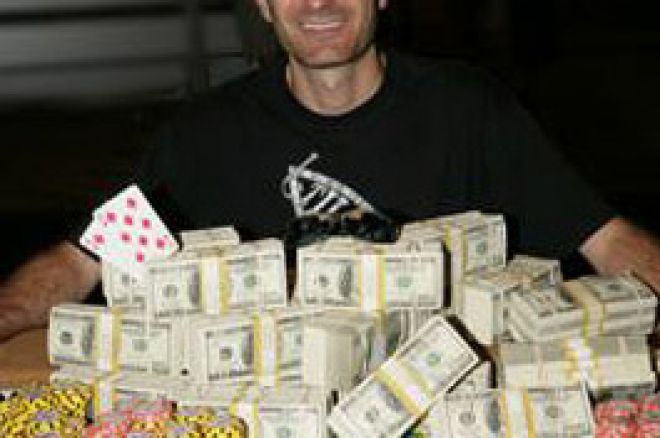 In the game of poker, nothing sends a chill up the spines of players more than the words "bad beat". For the first time at the final table at this year's World Series of Poker, those words would be heard loudly and often as the final nine men came to the felt for Event #3, the $1,500 Pot Limit Hold 'Em tournament.
Pot limit poker is truly one of the more special poker games that can be played. Because betting is limited to the size of the pot, there aren't the pre-flop "all in" moves that are prevalent in the No Limit game. It also forces much more ability on being able to play hands post flop and is considered a worthy challenge of a poker player's skill.
1102 skillful players entered the event on Wednesday, generating a prize pool of $1,504,230 for the remaining nine to take the greatest share of. On this first Friday of the WSOP, there was once again a nice mixture of veteran poker talent and newcomers that were attempting to capture the bracelet and the $345,984 that went along with it. The runners came to the felt in this order:
Seat 1: Cash game player Rocky Enciso, 247K in chips
Seat 2: Chip leader Eric Lynch, 455K
Seat 3: Full Tilt poker professional and "Tiltboy" Rafe Furst, 222K
Seat 4: Malibu, CA's Rick Chase, 95K
Seat 5: Veteran tournament player George Bronstein, 157K
Seat 6: Noted professional player Can Kim Hua, 122K
Seat 7: WSOP Bracelet holder Burt Boutin, 140K
Seat 8: Georgia's Alan Gilbert, 88K and the short stack
Seat 9: Full Tilt's John Juanda, 147K
The play began with fifty minutes of play with the blinds at 8K/16K and one player barely had time to get his seat warm. After C. K. Hua made a pot bet of 56K, Alan Gilbert found a hand to make a stand with and moved all in over the top. Gilbert didn't feel so great about his pocket tens once he saw Hua's pocket Queens, however. Once the flop came with blanks, Alan Gilbert made a rapid exit from the final table in ninth place in the event.
Hua continued to be a force at the table as he was responsible for the elimination of one of the stars of today's poker world. Just before a break, C. K. reraised John Juanda's 48K bet, forcing Juanda to put all his chips at risk. The two entered into a race situation as John's pocket Queens held the lead over C. K.'s Big Slick. All drama was removed from the race, however, once Hua flopped a King to take a lead on the hand he never relinquished. As Juanda left the table in eighth place, Can Kim Hua's early actions had propelled him to the chip lead in the tournament.
The early eliminations and the action indicated that this could be a very quick tournament. The players were more than willing to gamble it up and, with the blinds at 10K/20K, this meant that many of the players barely had ten times the blinds, a key indicator that action would be fast and furious. While there were pauses in the action at points, it was a rapidly paced tournament as the short stacks tried to get in the game, with unfortunate results.
Rick Chase was the next gentleman to leave the Amazon Room at the Rio. He was being intensely watched by his wife, Marilyn, who attempted to cheer her husband on to the bracelet. While it worked for a bit, when he and fellow short stack George Bronstein entered into battle, it was Chase who came out on the short end of the stick. With only 4,000 in chips left after that fight, it was quite easy for Eric Lynch to eject Rick from the tournament with a powerful A-3 over Chase's 7-3. It was a nice payday for the Chase household, however, as he left in seventh place worth slightly over $45,000.
The first of what would be several stunning draw outs would occur only moments after Chase's elimination. Can Kim Hua was being highly aggressive with his chip lead and found himself facing off with Rafe Furst. After calling him on the flop and seeing 7-7-Q hit the board, Rafe called another bet from Hua and, with a three on the turn, decided to seize the action by betting 53K. When Hua responded with a reraise that would put him all in, Furst called with glee.
When the hands were turned up, it was evident that both players had been trapping each other. The problem was that Hua's trap was better than Furst's. Rafe held pocket Aces, but C. K. had aggressively played 7-2 into a set. With only the two Aces remaining in the deck to save him, Rafe drew out one of them to make a boat on the river and take over the chip lead. Hua's play had taken him from the proverbial penthouse to the outhouse, from which he never recovered. He was eliminated after the blinds were raised to 15K/30K by Burt Boutin and went home in sixth place in Event #3.
Furst continued to hold down the lead, but there were challengers that would make it interesting. Eric Lynch is one of the Internet age of poker players who decided to take a shot at being a professional poker player. While many dream of it and take bad approaches, Lynch, who is married with a daughter, did it the right way; he has a college degree in information technologies and was working as an IT professional when he decided to take the chance. It has paid off for him well as he has played on PokerStars for about six months and has even captured one of their Million Dollar Guaranteed events on the site.
Joining in the chase of Furst was Rocky Enciso, who plays high limit cash games in California and has taken the more traditional route. Enciso was responsible for crippling Burt Boutin after the two got all their chips in the center. Down to only 50,000 in chips, Boutin joined a three way battle with Lynch and Enciso and the hand delivered another startling bad beat for the crowd to talk about. With a board of 4-7-K, Lynch and Enciso battled with their raises until Lynch was all in. Both players had two pair; Lynch's, though, was bottom two (sevens and fours) while Enciso held the lead with Kings and sevens. Boutin's A-3 had a glimmer of hope when a three hit the turn, then the board hit the players and the crowd with a stunner…a four, giving the hand to Lynch with a miraculous full house and another two outer delivery. Boutin was eliminated in fifth place and Enciso was understandably shell shocked.
Lynch now became highly aggressive with his newfound chip lead but he would not hold it for long. He doubled up George Bronstein to keep him in the game and Rafe Furst did the same for Rocky Enciso when Rocky rivered a Queen to match his Q-10 and deliver yet another bad beat on Rafe's pocket Jacks. After Rafe was able to recover from that and double up through Eric, the chip counts looked like this:
Furst 580K
Bronstein 460K
Lynch 416K
Enciso 250K
George Bronstein was one of the men who stayed out of the bad beat parade for the most part. He played an excellent game and was unfortunate to run into Eric Lynch at the wrong time. When Lynch took down Bronstein's pocket tens with Big Slick, it left the Floridian with only 18,000 in chips. He was able to double up twice but was unable to do it for a third time and left in fourth place, worth $75,252.
The players broke for dinner after Bronstein's elimination and it was felt by many around the final table that action would not last long after the meal. All three players were highly aggressive and weren't afraid to enter battle with less than the best, with often shocking results as we saw in the pre-dinner action. Lynch held a commanding lead, but with a dangerous Furst lurking and a short stacked Enciso looking to mix it up, it was thought that it would end quick and we would have another newcomer to the bracelet winner list of the World Series.
The young PokerStars player only made a couple of mistakes, but it proved to be what would lead to his elimination. He first doubled up Enciso and then did the same to Furst after Rafe flopped a straight. As the threesome continued the battle, Rafe slowly was able to move past Eric and Rocky was rapidly coming back as well. Lynch would be eliminated on a hand that could potentially be one of the most exciting hands seen in some time at the World Series.
After Enciso raised the pot with the blinds at 20K/40K, Lynch moved all in over the top of him. Furst looked to his hole cards and decided to join in the fun by going over the top of Lynch. A disgusted Enciso called as well, getting an excellent price on the call and the chance to triple up. Furst showed A-K, Enciso K-Q and Lynch a surprising A-7. When Furst caught a King on the flop, there was the potential for a double elimination leading to the end of a World Series tournament (potentially a first in that department). The crowd roared in shock when a Queen came on the turn, giving the lead now to Enciso and, once the river came, Enciso had tripled up and Furst had eliminated Eric Lynch in third place.
"I had to call," Enciso said after the hand. "I could have folded and moved up to second, but I want to win that bracelet. The only way I would have a chance is if I got in there with them and was able to hit something and I did." With the triple up, Enciso did indeed have a shot at Furst with the chip counts standing as such:
Furst 1.060M
Enciso 630K
Heads up play lasted exactly ONE hand as the two gentlemen, after a flop of 10-8-4 and a pairing ten on the turn, raised and reraised the pot to the level that Enciso was all in. He turned up a J-4 for two pair but Furst clipped him with an 8-4 for a better two pair. "I was trying to represent a set of tens on the turn, but he (Furst) made a good read and went with it," Rocky commented after the finish. With only five outs to save him, there would be no river rescue; a deuce on the river eliminated Rocky Enciso in second place and gave Furst his first World Series of Poker bracelet.
FINAL STANDING
1. Rafe Furst, $345,984
2. Rocky Enciso, $180,508
3. Eric Lynch, $104,544
4. George Bronstein, $75,252
5. Burt Boutin, $60,169
6. Can Kim Hua, $52,648
7. Rick Chase, $45,127
8. John Juanda, $37,606
9. Alan Gilbert, $33,854
With Full Tilt Poker's Furst capturing Event #3, that puts the bracelet count at pros 1, newcomers 1 with Event #4, the $1,500 Limit Hold 'Em event, set to take the center stage in the Amazon Room on Saturday at 2PM. After looking over the final two tables of the event in play on Friday, there were several fresh faces there looking to win at the World Series of Poker, so the next pro's bracelet might have to wait for another day. Either way, it will be another exciting final table at the 2006 World Series of Poker.
Ed Note: Why do the players of Full Tilt keep winning bracelets? Sign up today, and find out.