WSOP Updates – Mary Jones Dodges Bullets to win the Ladies Title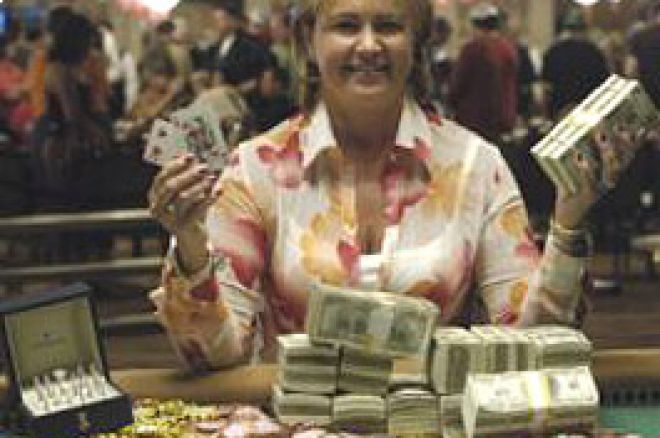 With 1128 entrants into the $1000 Ladies' No Limit Hold'em event, players had to put in very long hours to squeeze the event into the scheduled two days. The ladies proved their toughness by playing a remarkable 17 hours during day 1, going until 4am to get down to the final 26. Surprisingly though, it took less than two hours to get from 26 down to the final 9.
The Ladies' event provided a much different atmosphere than the other events in the World Series. Debbie Pechac, the 14th place finisher, summed up the differences nicely in saying, "Women are a lot different to play against than men. The tables were very friendly. We talked about things that men don't talk about and the tables were in general much chattier."
Although the interaction between the women seemed to be much more relaxed and friendly, things started to get serious once the table was down to the final nine.
The final table shaped up as the following:
1. Julie Allen - 264,000
2. Laurie Scott - 259,000
3. Sue Luckenbaugh - 240,000
4. Devi Ortega - 223,000
5. Shawnee Barton - 169,000
6. Mary Jones- 134,000
7. Beatrice Stranzinger - 119,000
8. Ellie Ahlgren - 79,000
9. Reka Hellgato - 67,000
Play at the final table was incredibly aggressive, to say the least. Throughout the entirety of the final table, over a quarter of the hands saw at least one player declaring herself all-in preflop.
Ellie Ahlgren, a dealer at Monte Carlo who also cashed in the casino employees' event, was the first to go out when she fell victim to a very strangely played hand. Under the gun, Mary Jones looked at her cards and made a huge opening raise of 10 times the big blind. The action folded around to Ahlgren, who peeked down at two fours and after some thought, declared herself all-in. Jones hesitated for a few seconds before calling and showing two black aces. The flop bricked out, and a disappointed Ahlgren left in 9th place for a payday of $23,096.
Jones doubled up her stack shortly soon after and also crippled chip leader Laurie Scott when she called a huge all-in bet on a flop of 10s-8s-3s holding the As-10h for top pair with the nut flush draw while Scott held the lead with two black kings. The turn came a blank, but the 5s came on the river to give Jones her flush and begin a string of incredibly fortuitous river cards. Jones eliminated Scott a few hands later when she once again called Scott's all-in preflop holding an Ac7c to Scott's 3c3h and watched an ace come on the flop. Scott, who admitted that yesterday was the first time she had ever played in a casino, took home $25,662 for her efforts.
Devi Ortega was the next victim to fall to Jones. Ortega, a professional pool player, entered final table play with the following prediction: "I am probably going to make a move pretty soon - Mary Jones is playing very aggressive, and a little bit reckless. For example, she has put in an all-in under the gun raise with 8-2." Ortega, who had been playing extremely tight all day and looking for a spot to double up, moved all-in preflop over the top of Jones' opening raise and was called quickly by Jones. Ortega showed pocket tens while Jones held the Ah8h. The flop came with two hearts, while the turn completed Jones' flush, and Ortega was knocked out in 7th, earning $30,794.
At this point, Jones had amassed a massive chip stack and seemed a favorite to take the bracelet. However, she soon gave back a huge chunk of her chips on the following hand: Julie Allen moved all-in preflop, continuing the dominating theme of final table play, and was called by Shawnee Barton and Jones. The flop came 8-8-5 and Barton checked to Jones. Jones fired a bet of 50,000 into the dry side pot, while Barton check-raised the minimum to 100,000. Jones re-raised to 200,000 and Barton moved all-in for 330,000. Jones immediately called, showing K-8 for trip 8's. Barton, however, flipped over 5-5 for a flopped full house and blanks on the turn and river gave Barton well over half the chips in play while Allen was knocked out in 6th.
Barton, who was sweated by poker writer and player Jim McManus, seemed to gain momentum after scooping the pot, which was by far the biggest of the tournament at that point. McManus told the crowd that Barton actually worked as a teacher's assistant for his class on poker art and writing at the Art Institute of Chicago. Although McManus talked to Barton between several hands, he claimed their relationship was more academic than poker-related and he was there strictly for emotional support. "Shawnee is a very competent player," McManus noted, "and she doesn't need any advice from me. In no way am I her poker coach."
Barton proved McManus' words right and continued her rush by knocking out Sue Luckenbaugh in 5th when her 8-5 made another full house, fives full of eights, to beat Luckenbaugh's two pair, sevens and fives. Only a few hands later, she knocked out her second player of the final table when she called Reka Hellgato's all-in preflop, holding K-10 to Hellgato's pocket fours. The flop came A-Q-J and Barton's flopped straight took down the pot.
Barton eliminated her third player of the final table when she called Beatrice Strazinger's all-in with Qc-Jc to Strazinger's Ah-5s. The board came K-6-3-Q-7 and Strazinger, an Austrian poker player who won the Venetian's opening-day tournament, was knocked out in 3rd for a payday of $71,340.
With every single player at the final table being knocked out by either Shawnee Barton or Mary Jones, it was only fitting that the two played each other heads-up for the bracelet.
Barton began heads-up play with a huge chip lead of 1,267,000 chips to Jones' 338,000, but quickly doubled up Jones when she pushed all-in preflop with pocket 8's and was called by Jones, who held J-10. On a flop of A-K-8, Barton flopped a set of 8's and looked poised to take down the bracelet but a river Q filled Jones' gutshot straight draw and gave her second life.
Jones continued her luck a few hands later when she bet 200,000 chips on a flop of 9s-7h-2h, then called all-in after Barton raised her for 560,000 more. Jones held the Ac-10d for A-10 high while Barton held top pair with the Kd-9d for a pair of nines. Drawing to six outs, an unlikely 10 fell on the river and Jones crippled Barton, denying her of her bracelet for the second time on the river. Fittingly, the end came a few hands later when Jones called another large all-in reraise holding Qh-6h to Barton's As-4c. The board came J-9-3-3-6 and following the theme of the night, the river won the pot for Jones. Jones took down her first World Series bracelet and a first place payout of $236,094 while Barton earned $123,178 for second.
Ed note: Hollywood Poker loves the ladies. Sign up Today.