Humble, Centered, and Drawing Respect: Jeff Madsen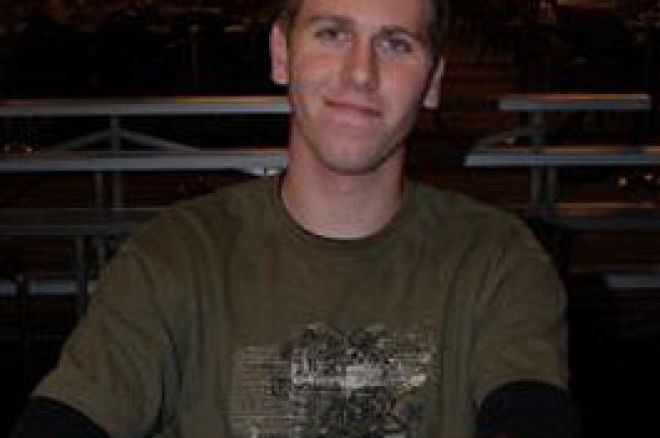 It is a little less than a month since Jeff Madsen burst onto the tournament poker scene with four final tables, two bracelets, and over $1.4 million in winnings at this year's WSOP, and already emerging are the diehard Madsen haters and fans, most of whom know absolutely nothing about him. They address him as a variety of things; the 21 year old online stud, the degenerate gambler who spent his entire life savings for the event, the partyer, the luckbox, and the greatest tournament player in the world. None of these are true, and Madsen will be the first to tell you so.
Madsen learned how to play primarily through live play at the Chumash casino in Southern California. He borrowed money out of a surplus in his college fund to enter his events because he budgeted his education well and was fortunate enough to know he would have money left over once he was done with school. He knows that he will be overrated or hated and realizes he still has a lot to learn about poker. As for the claims that he is simply lucky, they are ludicrous; a player simply cannot make four final tables with only luck.
None of Madsen's final tables were televised, so it will be difficult to ascertain the style of play or his skill level in general for those casual fans. All the better for Madsen. "I'm glad that my hands aren't being broadcast," he told me. "They'll probably pick a few, and ESPN is going to portray me in a certain way. I did get lucky on some hands, like when I spiked a queen with QQ against AA, but I hope they show more than that." Whatever ESPN decides to show, though, one thing is clear; Jeff Madsen knows how to play.
I first met Madsen when he was the chip-leader in the Omaha event, which he later went on to finish 3rd. Interviewing him that day, he came off as an extremely collected individual. At 21 years old and $66,000 richer, I asked him if he was disappointed in not taking down the bracelet and what he was going to do with the money. "Not at all," he told me that day. "Jack Zwerner has been playing forever and he really deserved the bracelet. He played awesome."
"What about the money," I asked him. "How hard are you going to party now?"
"I'll probably go out for a drink with my buddies," he told me, "but nothing too much. I have more tournaments coming up. I don't have a car, so I might buy one."
"What, like a Mercedes or something," I pried, trying to get some glimpse of a crazy kid that I could portray in my article. "No," he said laughing, "something cheaper than that. I'm not going to waste this money."
"So you're going to buy a Kia or something," I said jokingly. "Yeah, you can put that. Jeff Madsen is happy he won and he's going to buy a brand-new Kia!" he joked back. This is the essence of Madsen – Happy-go-lucky, modest, and most importantly of all, a good head on his shoulders. It is the reason that his peers regard him so highly and why he has not only risen as one of the top threats on the circuit, but also as one of the most universally well-liked.
I see Madsen 11 days later at the final table of the No Limit Hold'em event, and I am shocked. Two final tables in two weeks is a truly amazing feat. I spot Jack Zwerner in the room and walk over to him. "That kid you beat, Madsen, is at another final table," I tell him. Zwerner is an intimidating force – a huge elderly man who does not like media or talking to the public in general, I tried to interview him after the event and he left me waiting for over 45 minutes in the hallway promising to be right back before I left. However, when I bring up Madsen, his eyes light up and I see him smile for the first time in my 15 hours of watching him. "Yeah, he really knows how to play," Zwerner tells me. "He's a good kid, too, very composed."
Madsen goes on to win the bracelet and add $660,000 to his WSOP total, and I go over to congratulate him. He sees me and gives me a hug. I tell him, "Two Kias now, eh?" He laughs and nods his head. I ask him, "Are you going to go pro now?" He suddenly becomes serious and says, "I am going to try really hard to finish school." I look at the $660,000 in cash spread out in front of him at the final table and gold-and-diamond bracelet on his wrist and am impressed at his discipline. "Well, good luck with the rest of your series," I tell him. Little do I know he won't need it.
It is only six days later when I see Madsen next. "This is beginning to get ridiculous," I think. He goes on to beat E-dog, Erick Lindgren, and add another $643,000 to his bank account. He spots me in the audience and comes over to say hello. "Have you been partying like a rock star?" I ask him. "No, I haven't had time. I've just been resting and getting ready for these tournaments." I ask him about college again. Even with over a million dollars, he still remains firm – he is going back.
As for Lindgren, he looks crushed. He was fighting for his first bracelet, but it wasn't meant to be tonight. 20 minutes after the event, he composes himself and walks up to Madsen to congratulate him, telling him he played great and inviting him for sushi later in the week.
The very next event that Madsen enters, 7-card stud, he is inexplicably at the final table again. The pros begin to take notice, and ask me throughout the day how he is doing. David Williams, at his own final table in the other side of the room, occasionally asks for chip updates and gets up to yell "Good luck, Jeff," when he sees he is all-in. Williams is in a hand competing for his own bracelet, but he seems legitimately concerned about the fate of Madsen. Gavin Smith comes up to Madsen as well and tells him, "If you keep on winning like this, there won't be anyone left to play with in 10 years!" On his final hand, Noah Boeken and Jean-Robert Bellande look on anxiously, while Williams waits in anticipation for a report on what happened. Madsen eventually finishes third, and earns another $66,000. Madsen definitely has the least experience in stud among his opponents – he plays a little online, but that's about it. However, his opponents are flabbergasted by his play and poise.
The eventual winner, Pat Poels, says about Madsen, ""I'm extremely impressed with how Jeff plays. He's very good at picking up the little pots out there, and releasing his hand when he's beat. He plays very well."
Bill Edler, a circuit regular who finished fifth in the event, sums up the feelings of pretty much everyone who plays with Madsen by telling me, "I want to hate the guy because he's been so successful, but it's impossible because he's an extremely likeable guy."
The last time I see Madsen is at the Main Event. He is a recognizable name now and is decked out from head to toe in Full Tilt gear. He's the same friendly kid as before, though. A lady sits down next to him from a broken table and asks, "Are you…JEFF MADSEN?" He laughs and shakes her hand. He chats it up with his table throughout the day and players later tell me of what a pleasure it is to play with him. Aaron Bartley jokes with him and calls him "Rain Man" for his incredible mental acumen. He and chip-leader Rob Lederer chat throughout the day as well. Jeff busts late into day 2A, and his table-mates are sad to see him leave.
I ask him for the last time, "So you're really going to go back to school? How are you going to focus in class when you've been playing for millions with guys like E-dog in the past month?" He smiles and tells me, "I'm definitely going to be daydreaming about poker during class some times, but I'm still going back to school. I'll probably play a few $10,000 tournaments during the year while I finish up classes." "You still don't have a car?" I ask him. "Yeah, but I don't need one now. I'm probably getting a Toyota."
The Toyota is a prize for winning the WSOP Player of the Year award, and it is a fittingly-modest prize for one of the most grounded people I have had the pleasure of following, two-time bracelet winner and regular college student Jeff Madsen.