WSOP Chip Counts – We're In The Money, But Still a Long Way to go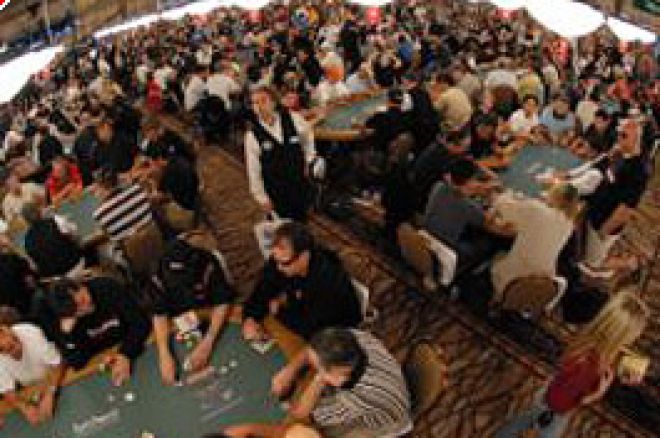 At the beginning of day three, we had 1,159 players, most of which were just thinking about cashing, and a good number that were also thinking about winning this thing.
A grueling day three saw 481 players still standing at its end, and a whopping 400 players eliminated after we got into the money at about 5:30pm. The average chip stack is about 183,000, and names such as Allen Cunningham, Daniel Negreanu, and defending champ Joe Hachem are still alive.
With the notable exception of David Chiu, the top of the leaderboard is pretty bare when it comes to name players. Below we present the top 50 chip counts, with some notable names added in at the bottom. Also, below that you will find some of the more known names that met their fate on Friday, but did get into the money.
Team PokerNews Players are in bold
Jon Lace $654,000
Dmitri Nobles $650,000
Albert Padilla $640,000
David Chiu $632,000
William Thorson $628,000
Alex Balandin $621,000
Lars Bonding $586,000
Thomas Wahlroos $558,500
Eric Molina $558,500
Debra Lalor $555,000
Eric 'Rizen' Lynch $541,000
Andras Karuks $532,500
Mark Garner $521,500
Dan Nassit $514,000
Vipul Kothari $510,000
Hossein Khodabande $483,500
Jason Strasser $483,000
Rick Mombourcovette $467,500
Bucky McMilan $452,000
Johan Wemmenhag $450,000
Mitch Schock $449,500
John Magill $446,500
Kyle Bowler $445,500
Aaron Bartley $441,000
Richard Gryko $438,500
Theodore Park $428,500
Matt Woodward $426,000
Daniel Pelletior $410,000
Terris Preston $403,500
Walt Schafer $401,500
Noah Siegel $399,500
Greg Giannokostas $395,500
Elie Said $387,000
Gary Jones $387,000
Jamie Gold $387,000
Cheng Yu $387,000
Mike Landers $385,000
Scott Malone $384,500
Paul Wasicka $383,500
Paul Vida $375,000
Mike Hwang $372,500
Jimmy Dambrosio $372,500
Douglas Kim $372,000
Rob Acton $364,000
Bill Gustafik $362,500
Jose Brenes $362,000
Richard Digiorgio $360,000
Christopher Budak $359,500
Andres Korn $359,000
Davis Huynh $357,500
John Hoang $290,500
Allen Cunningham $278,000
Per Erik Loeff $277,000
Prahlad Friedman $272,000
Martin Feijo $267,000
Jeffrey Lisandro $236,000
Annie Duke $180,000
Hoyt Corkins $163,000
Joe Hachem $139,000
Ted Lawson $135,000
Tom McEvoy $130,000
Kathy Liebert $126,000
Pete 'the beat' Giordano $111,000
Hans "Tuna" Lund $105,500
Mark Vos $96,500
Casey Kastle $95,500
Daniel Negreanu $93,500
Ted Forrest $78,000
Surinder Sunar $71,500
Cecilia Mortensen $48,500
Robert Osborne $45,000
Cyndy Violette $42,000
Susie Isaacs $23,500
Melissa Hayden $16,000
Selected cashes with order of finish and money won
498 David Pham $26,389
512 Tony Bloom $22,266
522 John Gale $22,266
587 Noah Jefferson $20,617
589 Hieu 'Tony' Ma $20,617
590 Bob Feduniak $20,617
621 Stan Goldstein $20,617
643 Jonathan Diamond $19,050
672 Darrell 'Gigabet' Dicken $17,730
715 Paul Wolfe $17,730
737 Peter Feldman $16,493
746 Gareth Edwards $16,493
782 Yun-Hsiang Fan $15,504
851 Nam Le $14,597
854 Barny Boatman $14,597