WSOP Updates – Down to Ten, But Only Nine Make the Final Table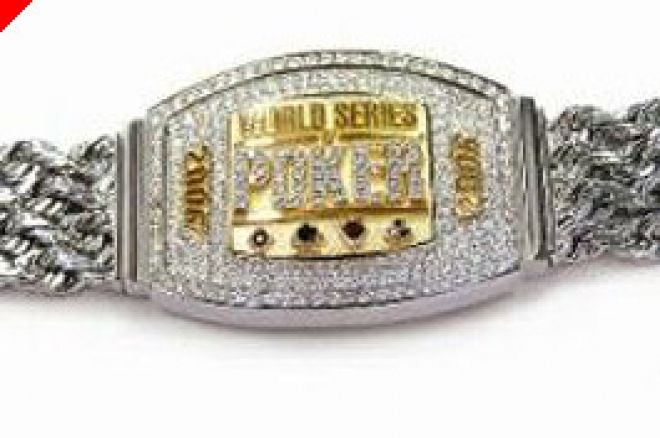 Entering into the eleventh hour of play, ten players remained out of the original 27 that started the day. Prominent professionals Prahlad Friedman and Jeffrey Lisandro bit the dust in 20th and 17th place respectively, while amateur Jamie Gold continued to impress.
Gold was the story of the day, playing fearless and sometimes borderline reckless poker. He entered the day as the chip leader with $13 million in chips. However, through a series of lucky flops, good hands, and extremely aggressive play, he was able to more than double his stack, fluttering near the 30 million mark throughout the end of the day. He eliminated a slew of players, including Friedman when Gold called Friedman's all-in bet preflop with 8-7 offsuit to Friedman's A-3 offsuit. Gold also eliminated David Einhorn when, after calling another large raise preflop, he outflopped Einhorn's K-Q with his Q-6 on a board of Q-J-6. Gold definitely had his foot on the pedal throughout the day, raising a ton of pots and putting players to the test early and often.
Gold was sweated throughout much of the day by none other than two-time World Champion Johnny Chan, whom Gold credits with teaching him many of the finer points of the game. The Hollywood agent has given himself a great shot at taking down the $12 million first-place prize and the bracelet in the final day of play on Thursday.
Although Gold more than doubled his stack, the biggest relative chip-mover by far was Allen Cunningham. Cunningham began the day in 13th position in chips with $2,650,000. He seemed to win every big pot he played in the day, though, and reached the $18 million mark, good for 2nd in chips. Cunningham was seated to the left of Gold for most of the day and was in a good position to deal with Gold's untempered aggression.
Paul Wasicka was the other big story of the day. Entering play in 24th chip position at $700,000, Wasicka managed to nurse his short stack and make it into the final 10 players in 6th position in chips. Wasicka played fairly tight throughout the day, doubling up a few times and managing to avoid losing big pots.
The players were broken down to a single table of ten when Leif Force was eliminated in 11th place. Force was short-stacked for much of the day and was one of the loudest to applaud when the million-dollar payday bubble was broken at 12 players. Going into the last table, the chip counts looked like:
Seat 1: Richard Lee, $8,465,000
Seat 2: Erik Friberg, $5,905,000
Seat 3: Paul Wasicka, $4,750,000
Seat 4: Dan Nassif, $5,865,000
Seat 5: Allen Cunningham, $18,000,000
Seat 6: Michael Binger, $3,640,000
Seat 7: Doug Kim, $6,190,000
Seat 8: Fred Goldberg, $4,265,000
Seat 9: Jamie Gold, $27,330,000
Seat 10: Rhett Butler, $5,165,000