WSOP Updates - The Flying Dutchman and the Splendid Start: Marcel Luske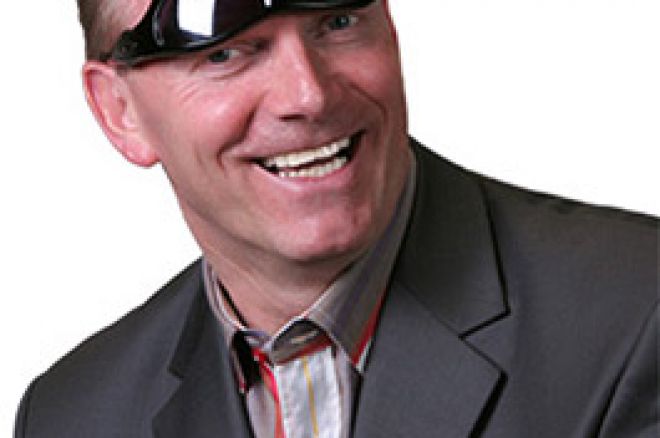 It's 9:00 on the last of four opening days at the WSOP Main Event, and The Flying Dutchman, Marcel Luske, is on a roll. He's perhaps not quite as resplendent as he was at the start of play, when he cut a figure of elegant panache in his ever-present PokerSpecs shades and a clean-lined, tan Wilvorst suit, but Luske's suave appeal amid a sea of Bluff "Bubble Insurance" t-shirts and the required regalia of the online-site qualifiers creates a contrast that can't be captured in the scope of a single TV lens. He's added a classy white Brookstone iPod to the mix, too. The Wilvorst suit looks even better in person than it's likely to on TV, though his elegance and willingness to play to the camera makes him an easy media target regardless of who wields the lens... or pen.
And he's got 40,000 in chips, too, with several hours still to play.
Down early, Luske reports that he caught a nice run of flopped sets and made flushes and straights, and was paid off well on virtually every occasion. Hence his less-than-10K stack has now become 40K. Too busy to talk? Not Marcel.
But I don't start by asking the expected stuff about his play, about how 10 became 40, about how satisfied he must be with his start in the Main Event. I'll get to it in a bit, because regardless of how the chips became his, he's got them now. And that part won't change for the moment.
I'm interested in Marcel the classy salesman, selling... Marcel. Doing it well, too. Early in the day, when the camera crush was never ending and the media reps rush to get their pictures before the name players bust or (more likely) are moved to different seats, Luske still found time to smile and toss in a wink after the photos. It's hours later, now, and Luske has been fortunate; he's still near his original Table 176, Seat 1 chair. I catch his eye and he waves me over; I crouch down to take a few notes and he throws an arm around my shoulder, pulling me into his personal space, even as he plays his cards casually with his other hand.
By WSOP Main Event standards, that's panache.
The suit? Luske tells me the tailor, and flips open the lapel to the label so I can get the spelling correct. He's got a deal for wearing it, of course; Luske is a walking billboard but he does the job well. "It's about time," he says, in his well-articulated, Dutch-accented English, "that the clothing companies jump into the poker market." He also reports that he's been asked by Bernini of Las Vegas to check out its styles, though he hasn't had the chance to do so yet. Still, he's glad that they've asked.
Another hand is dealt. Luske seems to care only casually.
He's told me about his necktie, too, a silken-gold-with-black-details number that's also part of his presentation, but I'm a doof and mishear the make, and don't want to take up his time making him repeat himself. Luske makes sure I note the Pokerspecs shades --- yes, another endorsement deal --- and when I glance at the white Brookstone iPod, he mentions it's his second one of the day. Luske's first one broke, and a friend brought him another, this white Brookstone. It can hold 15,000 songs.
"When are you going to listen to 15,000 songs?" he asks, rhetorically.
The previous hand ends; more cards are dealt. Luske casually glances at his cards, tosses them in. And about the poker?
Luske isn't one of the players just looking to survive. "Certainly the first day," he reports, "with so many people, you need to get a big chip stack. I've been the table boss now," and he glances out at the other seats and chip stacks, leaving the rest unsaid. The other players see the attention, look a little bit jealous, a little bit afraid.
It might change soon. But for now, Marcel Luske is on a roll.
*********************************************
Note: Marcel lasted well into the night, but was eliminated by Robert Varkonyi, and will have to wait until next year for his shot at a WSOP Main Event.