Ladies Lounge: JJ Liu Scores at WPT Ladies Night IV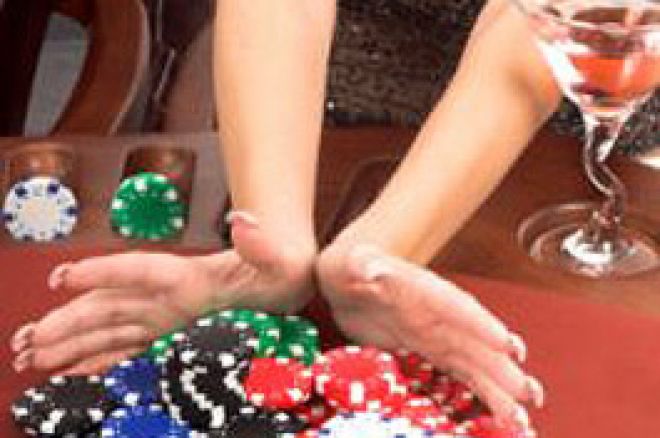 In a decidedly fast paced final table, Joanne "JJ" Liu triumphed at last night's WPT Ladies Night IV held at the Bicycle Casino in Bell Gardens, CA. For her victory, Liu won a $25,000 seat into the WPT's Championship Event and a WPT ring. But the real spoils may be yet to come. Past winners of Ladies Night have been able to parlay their televised win into lucrative endorsement and sponsorship deals. JJ Liu not only has a stellar poker track record, but as a Chinese woman with the Asian poker market set to explode, JJ has positioned herself squarely in a sellers' market.
Defending Ladies Night champion, actress/player Jennifer Tilly was the first player out, eliminated by amateur Kelli Griggs. Griggs won her first pot of the night on a stone cold bluff, which she proudly showed to her tablemates. Perhaps Tilly thought Griggs lacked the goods again when Tilly pushed all in with KQ on a king high flop, but Griggs had her out-kicked with the big slick and held on to unseat the former champ. We shouldn't feel too bad for Tilly though. Jennifer Tilly has already secured her seat into the WPT's Championship Event by winning the Paul Hannum Charity Tournament held at the Bike on August 29th.
Vanessa Rousso was Kelli Griggs' next victim. Rousso pushed all-in from the big blind on a flop of T-T-6, thinking her K6 was good. Unfortunately, she ran right into Griggs' flopped trip tens.
It was now JJ's turn to be the terminator. Liu flopped the nut flush and induced an all-in bet from Erica Schoenberg who had the misfortune to flop top pair. When Anahit Galajian felt it was time to make a move and pushed in from the button with rags, Liu was waiting for her with pocket kings. Now only Kelli Griggs stood between Liu and victory.
Unlike the other Ladies Night participants who were selected for the event on the basis of their past WPT performances, Kelli Griggs won her seat into the WPT event by winning the Ladies "Poker Party" Event held at the Bike earlier this month. Both the WPT Ladies Night and the qualifying Ladies Poker Party were held in conjunction with the Susan G Komen Breast Cancer Foundation. One of the reasons Griggs played the qualifying event was because her grandmother died of breast cancer and her aunt currently is struggling with the disease. Griggs herself is a four year survivor of non-Hodgkin's lymphoma. After her victory in the Ladies Poker Party, Griggs turned over a significant portion of her prize money to the Komen Foundation. Griggs has spent her past few weeks in poker's limelight as an articulate and responsible spokeswoman for cancer awareness.
It was a fast tournament from the start, taking a mere three hours to reach heads-up play. The heads-up match between JJ Liu and Kelli Griggs continued the trend and lasted less than twenty minutes. The final hand was a battle of kickers when both players made middle pair on the flop. JJ Liu's king kicker kept its edge over Kelli Griggs' queen.
Kelli Griggs has had quite an adventure in the last month; an adventure that she hopes is just beginning in her relatively young poker career.
In the past ten years, JJ Liu has amassed forty-five money finishes in major tournaments, grossing more than three quarters of a million dollars. I suspect that at this stage in her career JJ Liu didn't think that poker held that many adventures or surprises. But I think even this savvy, enigmatic veteran will be impressed with the opportunities that now await her.
Ed Note: Many types of opportunities can await you if you play naked at Naked Poker