Poker Room Review: Green Valley Ranch in Henderson, Nevada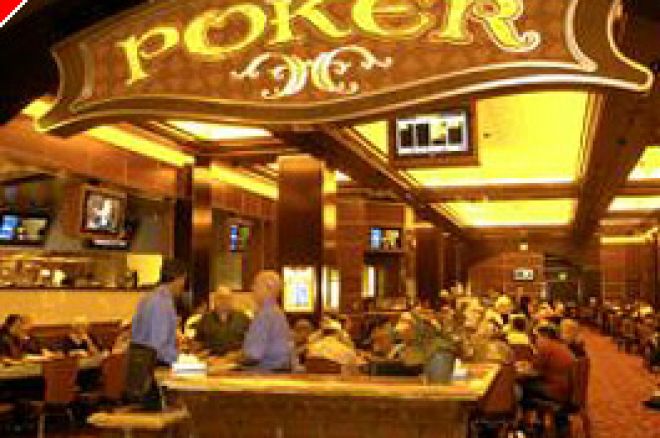 The new room at Green Valley Ranch opened August 5th. The new poker room manager, Frank Meoni, took over just three weeks ago. GVR is one of the Station/Fiesta Casinos (Palace Station, Boulder Station, Texas Station, Sunset Station, Santa Fe Station, Green Valley Ranch, Red Rock Casino & both Fiesta properties). These properties combine for a progressive bad beat jackpot which was hovering at $285,000 when I played yesterday.
I was a bit surprised when I paid my first visit to GVR and found the dealers greeting nearly every player by name; this is after all a new room. Frank cleared up my confusion; the management knew that their nearby property (Sunset Station) would lose some business to the new room at GVR, just as other properties, on the other side of town, saw a decrease in players when Red Rock opened. To cushion that blow to the poker room employees, at least half a dozen dealers from other Station poker rooms moved over to GVR; several others had previously moved to Red Rock. It appears that Station management knows how to treat both players and staff.
"Management understands that poker is a viable gaming option" Frank told me "we are a separate division and are recognized for the added income our players bring to slots, table games, bingo and the restaurants of each property."
The Green Valley Ranch poker room is very comfortable with 22 well spaced tables, wood paneled walls, an electronic check-in system at the door via a kiosk and at the tables with a card reader. Fifteen amazingly clear flat screens dot the walls and table side food service is very good. Like most rooms, it is tough to get anything but a Hold'em game during the week. GVR spreads $2/$4 and $4/$8 as well as $1/$2 NL and $2/$5 NL. The weekend offerings include higher limits and Omaha. The players are a mix of older retired Henderson residents and young local players. The No Limit games have a lot more youth and the $2/$4 has a lot more….wisdom.
Unlike some "local" card rooms, I never felt that the regulars got special treatment that was not being offered to me. The dealers and staff were attentive and friendly; there were always adequate floor and brush staff available. Bad player behavior tends show up a lot less away from the Strip; in five visits to GVR, I have yet to witness an incident of any kind.
Besides the big progressive bad beat jackpot all the "Stations" share, there is also a freeroll tournament that is being played this weekend. Over a three month period, players who accumulate at least 75 hours of play at the various Station card rooms earn a seat in this freeroll. This weekend approximately 3,000 qualifiers will compete in 4 first round Saturday flights for the main event on Sunday. But here is the kicker, if you show up and take your seat for your opening day flight, you win $100. The total prizepool is over $500,000. And yes they will be running this event again and again.
My overall impression of the Green Valley Ranch poker room – a very nice room, mostly for low limit and no limit players. Very attractive incentives with the freeroll and the bad beat progressive. My only complaint and this was actually the complaint of several of my table mates; the restaurant open to the cardroom often disgorges some cooking odors that are less than conducive to the Clean Air Act.
Strawberry Julius: B- (over-blended)
Debonair: B- (pineapple juice was tinny)
Ed note: The doors of the Mansion are open to U.S. players. Sign up at Mansion Poker today.