Online Gaming Has Uphill Battle with New Senate Majority Leader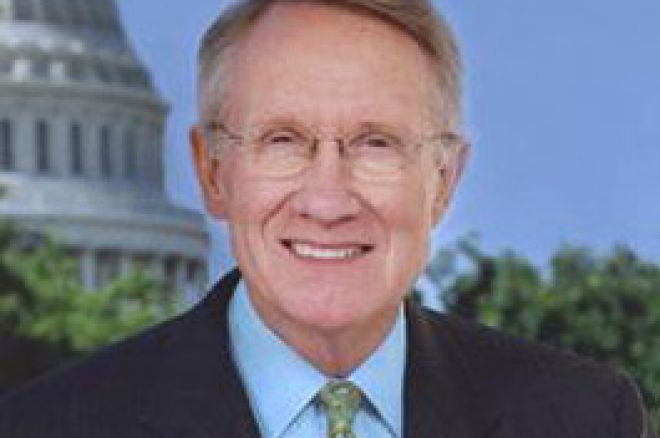 Online gaming advocates were high fiving after the mid-term elections as many of their mostly Republican foes were unseated. But this was an admittedly small battle in the war to undo the UIGEA. If online gaming is to win the war, they have an uphill struggle relative to the issue of regulation with the new Democratic Senate Majority Leader Harry Reid.
On the surface, Nevada Senator Harry Reid looks like the perfect focal point for the issue of internet gaming. In 2001, Reid was awarded an Industry Leadership Award from the American Gaming Association. Accepting the award Reid said, "I've been proud to help educate America about the contributions gaming entertainment makes to Nevada and across the country."
Reid was not happy with Frist's tactic of sneaking the UIGEA into the Safe Ports Act saying, "I can assure you that I was disappointed with the Majority Leader's inclusion of an Internet gambling ban in an unrelated bill that plays an important role in protecting our nation from the threat of terrorism. I was also dismayed that the Minority Party was denied the ability to participate in the political process and be involved in the negotiations of the conference report. Consequently, those who opposed the online-gaming ban had no realistic opportunity to object."
Reid has called the President a "loser," Supreme Court Associate Justice Clarence Thomas an "embarrassment," former Federal Reserve Chairman Alan Greenspan "a partisan hack," and said the "nation's capital had been overrun by organized crime Tom Delay-style." But when it comes to online gaming, perhaps the most important thing he's said is "Internet gambling cannot be controlled and, therefore, it should be illegal."
What does Harry Reid know about gaming regulation? Plenty. Reid was the Chairman of the Nevada Gaming Commission from 1977-1981. It was a particularly challenging period in Nevada gaming history as mob influence was prevalent and public opinion was low. As Chairman, Reid ushered in a new era of responsibility, paving the way for Nevada's almost epic economic development. But it wasn't easy. His life was threatened on numerous occasions; once when a car bomb was placed in his family's station wagon. When Reid denied a gaming license to Stardust Casino executive and convicted sports fixer Frank "Lefty" Rosenthal, the showdown was so dramatic it was eventually portrayed in the movie Casino.
But even with his public anti-online gaming position, maybe Reid is the right person at the right time for online poker. He obviously understands the economic benefits of the gaming industry and he has been open to legislation that would study the potential to legalize and regulate online gaming in the US. But to do this and do this right, it means that online companies can't just hide behind the cloak of offshore locations and hope that a skill vs. chance argument eventually filters through the court system. To turn Reid into an ally, online poker needs to come forward and articulate its ability to be regulated and demonstrate its willingness to contribute to the US economy via taxation and jobs. Those are the issues that resonate with Harry Reid and, to every extent, have defined his career.