'Raymer Robber' Turns Informant, Wins Release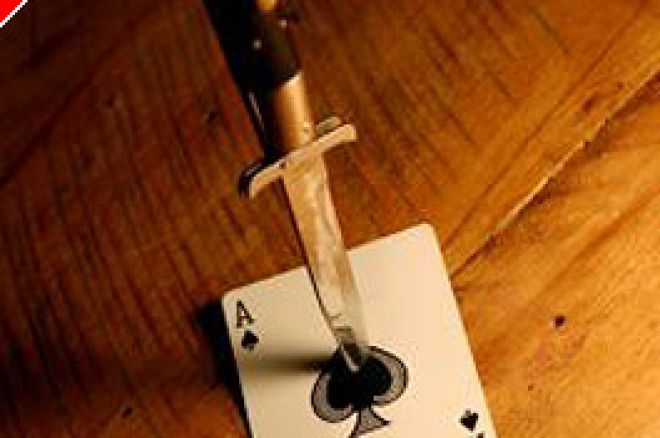 Any list of the strangest 'non-poker' poker stories in recent memory certainly includes the attempted December, 2004 robbery of 2004 WSOP Main Event champ Greg 'Fossilman' Raymer, who successfully fought off two assailants outside his Bellagio hotel room. Now comes word, through a story in yesterday's Las Vegas Review-Journal, that one of the two would-be robbers has now been released, the end result of a complex re-sentencing deal involving a recent high-profile Vegas murder case.
Poker fans certainly had an entertaining read in learning how Raymer fended off the efforts of Cassim and Kevin R. Joy, who despite pulling a gun on Raymer were unable to rob him of the approximately $150,000 that Raymer carried. The two were later identified through casino security-camera tapes, but remained on the lam until an anonymous tip led to their arrest at a San Diego-area gun show in May, 2005, where the two were selling toy helicopters.
Cassim, identified by Raymer as the one who pulled the gun, was eventually sentenced this past March to three to 12 years in prison for his role in the attempted robbery. Hard time, though, had little appeal for Cassim; within weeks, authorities received word that Cassim had information to offer in the murder case of celebrated husband-and-wife bodybuilders Craig Titus and Kelly Ryan. Titus and Ryan stood accused of the brutal murder of their personal assistant, Melissa James, whose bound body was found in the trunk of Ryan's burned-out Jaguar in the Nevada desert last December, the remnants of a cloth or wire still visible around her neck.
The murder itself has been the topic of at least one major book, and the case has yet to conclude. Cassim's connection came when he reported to authorities that, while in prison, he had been contacted by one of Titus's associates about participating in or assisting with a murder-for-hire plot, designed to eliminate three potential witnesses against Titus and Ryan, former friends and associates Anthony Gross, Megan Pierson Foley and Jeremy Foley. The plot turned out to be very real, and Cassim wore a wire and allowed the authorities to record coded conversation between Cassim and Titus associate Nelson Brady Jr., who has now been charged with three counts of solicitation for murder.
Cassim's release is only the latest development in a twisted case that seems to destined to rival the poker world's own bizarre murder affair, that of Ted Binion in 1998. As the Titus case continues to unfold in ever stranger ways, we're glad that it remains only peripherally tied to the world of poker.
Ed Note: Try to steal Greg Raymer's blinds at Poker Stars