Tony G Wins First Major Poker Tournament in Asia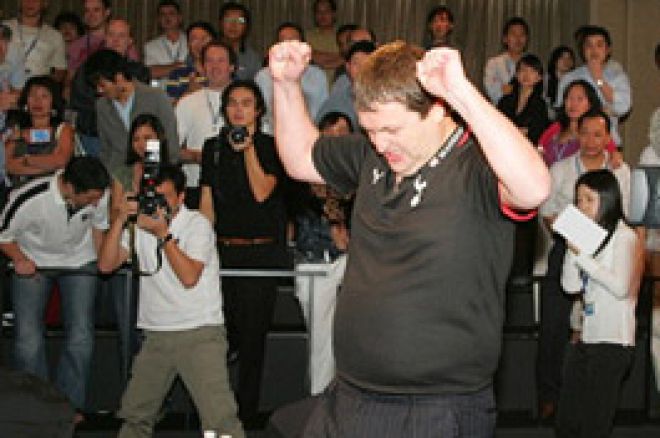 Betfair and their Singapore partners got almost their dream result yesterday when two local Singaporean players made the Final Table of the $5000 Main Event. Only 11 out of the 313 players were local Singaporeans, and organizers were over the moon when Neil Yong and Josh Ang courageously fought their way through the first two days of play to join big name professional players Tony G and Lee Nelson at the 10-handed Final Table.
The chip leader going into the 3rd and final day was Samuel Lehtonen from Sweden and he started with flair and skill, calmly re-raising Aussie Millions Main Event champion Lee Nelson a number of times in the first hour, forcing Lee to lay down his hands preflop.
The Final Table tournament area was packed to the rafters with spectators, many of them locals, pleased to be able to watch a major televised tournament live in Singapore for the first time. Much to the crowd's disappointment however, local player Neil Yong was the first player eliminated when he got his short stack in with AT in late position, but found himself up against JJ in the blinds. The crowd erupted when an Ace peeled the flop, but it was all over for Yong when the dealer flipped a Jack on the turn.
Due to a wonderfully long tournament structure overseen by tournament director Thomas Kremser, players were given the opportunity to use real poker skills rather than relying on lucky cards and all-in play. The excellent structure was always going to advantage seasoned professionals like Tony G and Lee Nelson, but young Singaporean player Josh Ang was not about to roll over and give up his chance at making history in the first major tournament held in his home country, taking the fight to Nelson and Tony G in numerous hands with solid, skilled play.
Prior to the commencement of Final Table play, Tony G was well placed to comment on who he thought would provide the main obstacles to his hopes of winning the largest tournament in Asian history so far. His predictions proved somewhat prophetic: "I am mainly worried about Lee Nelson. He is a really strong player, he is a friend, I know him well. But these Singaporean players are really good too."
With a few short stacks on the table, and some of the medium stacked players appearing content to stay out of pots, it always looked like the tournament was going to be won by either Tony G, Lee Nelson, Samuel Lehtonen or Josh Ang. Despite starting brilliantly well and building his stack to almost 1.2 million, Samuel appeared to feel the pressure somewhat as play went shorthanded, and he was eliminated in 4th place, leaving Lee, Tony and Josh to fight it out 3-way for the title.
Lee Nelson, clearly one of the best players in the world at the moment, and wearing his world-famous lucky shirt (he won over $1 million on the Final Table of the Aussie Millions Main Event wearing the shirt), was always going to be a strong chance, but was unlucky to be eliminated by Josh Ang in 3rd place.
This left a dream result for organizers – local hope Josh Ang battling headsup with the very popular Tony G for the title. In the end, Tony was too strong for Josh, with Tony's T6 hitting a pair on the flop to beat Josh's AJ (players were all-in on the flop).
Tony G paid credit to the local player immediately after the tournament, saying "he played exceptionally well". Tony then surprised the crowd with two amazing gestures. First, he handed the Merlion winner's trophy to Josh, so that the trophy would "stay in Singapore". He then promptly handed over 50% of his winnings to Asian and Australian charities (to be nominated by Betfair), impressing everyone with a wonderful display of philanthropy.
The complete Final Table placings were as follows:
$451,700 – Tony Guoga
$233,200 – Joshua Ang (Pang Leng)
$116,600 – Lee Nelson
$102,000 – Samuel Lehtonen
$87,400 – Jeff Kimber
$72,900 – Mark Whent
$58,306 – Hans Vogl
$43,700 – Hendrik Dahlgaard
$29,200 – Brendan Walls
$17,500 – Neil Yong
Overall, Betfair ran a marvelous tournament. 313 players anted up for a $5000 entry televised tournament, the first ever in Singapore, and there were whispers that up to 700 are expected for next year!
Congratulations once again to all the Final Table players and especially to Tony G – he told PokerNews he was going to win it the day before and he went out and did just that, entertaining the crowd along the way.
Jonny Vincent (reporting from Singapore)