Where in the World is Vinnie Vinh?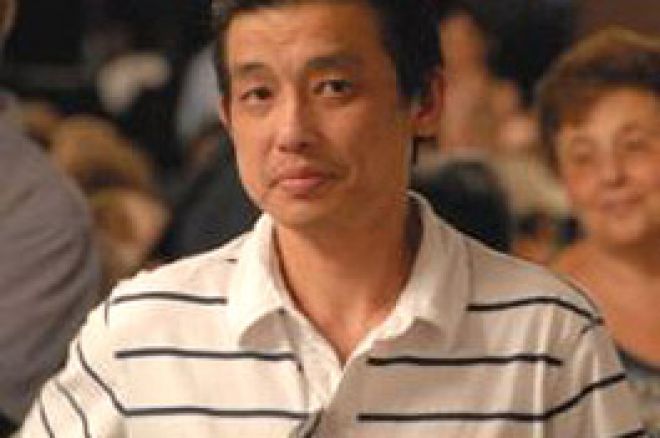 My cell phone rang at around three o'clock in the morning about a week before the 2007 World Series of Poker began. It was Vinnie Vinh.
"Hi Baby."
"Hey you," I answered.
By his tone, and an uncomfortable silence, I knew this wasn't a social call. The voice of the usually feisty and often gregarious man I had come to know sounded timid and almost fearful.
"Everything alright?" I asked.
"I need some help. Can you get me home?"
"Where's home?"
"Texas," he said.
"Do you need a ticket or cash?
"Cash."
"I'll see what I can do."
He mentioned his phone had been disconnected, providing me with a local number through which I could reach him. My suspicions were correct when ten minutes later I called to hear a stranger's voice on the line announce, "Emerald Suites."
"I'd like to speak with Vinnie Vinh," I said, suddenly glad I'd used a landline. Maybe I'd watched too many episodes of CSI, but calls to people holed up in seedy venues aren't something I make often. Those who live in Las Vegas, or have ever experienced Sin City's off the strip extended stay accommodations, understand why.
"What room should I connect you with?" asked the operator who sounded unaffected by her switchboard ringing at such an unsociable hour.
"I don't know. Do you have a listing for Vinnie Vinh?"
"There is no one registered by that name," came a disinterested reply.
The conversation, or lack thereof, left me feeling uneasy. It's not unusual for a poker player to be up all night. It is unusual for a player of Vinnie's caliber to be anywhere near what locals call "crack alley."
Fodder for Gossip
Archives are overflowing with the news of Phil Hellmuth securing an 11th World Series of Poker bracelet. While Katja Thater final tabled the Ladies event and then went on to beat the pants off contestants of the Razz event. It is, after all, this season's 48 maniacal days of the game's "richest" spectacle – the 2007 World Series of Poker.
Mainstream media can't even turn the other cheek, especially since ESPN officially dubbed poker a "sport" and ESPN.com now provides viewers with a "poker" drop-down link located on the front page of their website. Dot-coms are compelled to include reports on poker, if only to share the benefits of utilizing the number one Google keyword in 2006 for search engine optimization - "poker."
But art often reflects life, and though today's most popular pastime portraits are painted with strokes of thrills and victories, the canvas is often layered with a landscape of unpleasantness. There are those who illustrate a regard for poker, and those that strive to invalidate it. Cynics fuel forums and gossip columns, with mainstream media discovering what industry veterans have long attempted to keep under wraps. Poker possesses some raunchy elements, enough to fill a number of unscrupulous tabloids, with dysfunctional players like "Uncle Paul" and "Cousin Vinnie" generating sensational headlines.
This season's bad boys are in rare form, with "Eskimo" and "Quoc" setting unusual records. "Eskimo" is another story. Enter Vinnie Vinh.
A Little Vinh History
The Vinnie we've come to love and sometimes abhor experienced his own waves of success and failure long before the boom. Though he was a regular at the Bellagio and Mirage poker rooms in Las Vegas, Vinnie has always been a tournament specialist, cashing in over 50 major events since the spring of 2001, and reaching over 30 final tables in every possible game variation.
The hyper-aggressive multi-gamer might flash you his boyish grin at one moment, and then lash out in anger the next. Vinnie can be hot-tempered, but he rarely holds a grudge. Maybe it's because players, floor people, and even dealers don't attempt to cross his impetuous boundaries. Maybe it's simply because Vinnie lives in the moment.
Lucky for Omaha, the historically unpopular variation of poker is experiencing a resurrection, with more young players willing to grind away and perfect their "flop" variation strategies. But Omaha was a different game when Vinnie joined, played by cantankerous people, forced to sit at tables in far corners of respectable poker rooms, away from earshot and usually void of any authority, probably because floor supervisors couldn't stomach the resistance. Poker staff hoping to break such a game would often ignore the cries of "seat open," or "players' checks." But Vinnie Vinh is like a lot of Omaha players, impossible to ignore.
Years ago, Vinnie blended with the rest of the querulous grinders. And let's face it, the atmospheric pressure that frazzled nerves when poker experienced its decline in 2002 has dissipated considerably since the boom. Despite the occasional Matusow outburst and comical "Brat" tantrum, clear-cut rules and their enforcement have made it easier for tournament directors to manage today's games. This has allowed poker to evolve into a gentler competition for players, their fans, and floor staff.
But exceptions are inevitable – such as the famous incident that occurred during the 2005 WSOP $10,000 pot-limit Omaha event.
Flashback to 2005
"There is nothing more boring than watching an Omaha tournament at one o'clock in the morning. But I rushed over after reading the update about the decision to hit Amit with a 10-minute penalty." – Professional poker player Greg Mueller from the rail of the 2005 WSOP.
Vinnie had been getting it on with a slew of rivals who gathered for the old school, knock-down-drag-out hate-fest, also remembered as the 2005 WSOP $10,000 pot-limit Omaha event. Vinnie bantered shamelessly with other high profile players throughout the day, and picked more than one fight with a young up-and-comer out of Israel named Rafi Amit. Apparently, Rafi and Vinnie were fired up long before they were issued starting stacks, but things really heated up going into the final table. It was hard to tell if Vinnie was acting up for the ESPN film crew, or if he was just being Vinnie. But by midnight, the cameras were packed up and most of the fans had gone home. The room was virtually empty except for an occasional satellite game and a few bloggers. No one suspected that the Vinh vs. Amit saga was about to come to a head.
Third place finisher Jeff Rine remembers the turmoil. "I might have hung in there and made a little more cash by placing higher, but I thought to myself, 'What the hell?' I pushed during three-way action with no regrets. Had I endured more of their (Vinh and Amit's) constant bantering, I would have had to spend my winnings on therapy."
I was there, working for another outlet. A poker reporter working for Cardplayer related the action as follows.
"After a flop of
, Rafi Amit bets, Vinnie Vinh raises $344,000 more, Amit pushes all in, and Vinh calls. Vinh shows
(trip eights), but Amit has
(full house, nines full of eights). Vinh is drawing very thin, needing to catch the fourth eight or running aces to win the hand. The action is paused during a dispute. Finally, the turn card is the
, and the river card is the
. Rafi Amit wins the hand."
Long story short – Amit sounded off during an earlier hand and allegedly dropped the "F" bomb. When the flop that crippled Vinnie was about to see the turn, he called tournament director Jack Effel to the table to report the infraction. Though the expletive wasn't directed at Vinnie, it was, after all, a rule-breaker. Effel instructed them to play out the hand and then cited Amit with a ten-minute penalty.
The chips were counted down. Vinnie was left with $95,000, compared to Rafi's $1,570,000.
Rafi exited his chair and watched helplessly from behind the rail while Vinnie pressed the dealer to pitch the cards even faster. The button was shuffled across the table like a puck at a hockey game, and with much of the same fervor.
"Do you know who I am?" Vinnie asked Rafi as he collected the blinds and antes.
"Yea. I know who you are," replied Rafi disdainfully. "You're the guy who can beat an empty chair."
The ten minutes had finally passed, putting Vinnie back in action. He'd nearly tripled up through the penalty. So did the Amazon room. Several hundred fans and fellow players had heard or read the news, packing the arena to experience the drama live. It was nearly 2 a.m.
As fate would have it, Rafi came back to win. Had the match ended differently, stories of the outcome might have cast a shadow on the 2005 WSOP. * (See below reference.)
The 2007 WSOP - Exit Vinnie Vinh
Vinnie showed up for this year's WSOP $2,500 no-limit hold'em event #8, on June 5, in rare form. The usually petulant vagabond out of Houston ended Day 1 with 81 players remaining and a whopping $200,000 in chips. He went into Day 2 second in chips - and that's where it ended. The next day he commissioned his chair to do the rest, finishing in 20th place with $16,232. Kudos to the chair, for the final two tables celebrated the most peaceful Vinnie Vinh exit in history, as players, fans and tournament staff bid his last chip (and the chair) adieu.
Many people expressed their concern at his sudden disappearance, as friends called his cell phone to hear a generic recorded message announcing that his voicemail box was full. Those who knew of his whereabouts paid him a visit. But others, aware of his little secret, suspected he'd fallen off another wagon. For Vinnie, a discrete disappearing act wouldn't do. Always yearning to be the center of attention, he might as well have driven his own float off the road of poker's equivalent to the Macy's Day Parade.
Poker forums were aflutter over the next several days. The question? "Where in the world was Vinnie Vinh?"
June 13, 2007, 4:43 a.m. – Another Call
"Hey Baby," came the familiar yet disconcertingly fragile voice over the line.
"Hey you. You okay?" I asked.
"Not really. What are you doing?"
"I'm on my way to bed. That's probably where you should be right now," I said, trying not to sound too maternal.
"I really care about you, you know." The comment made me shudder.
"I care about you too. " I said, hoping not to sound too concerned. I casually asked him. "What's going on?"
"I'm busted. Things are really bad."
"What are you going to do?"
"I don't know." And then came another uncomfortable moment of silence. "I just called to tell you I really care."
The phone went hauntingly dead.
I quickly dialed the number he'd given me after running into him at the Mirage Poker Showdown, but instead of hearing his voice, a generic message came over the line, "At the subscribers request, this phone is not accepting incoming calls."
Those were the last words I would hear from Vinnie Vinh or his cell phone.
Five days passed, and there was still no word of Vinnie. Then, on June 18, he returned to the WSOP in true form for event #30, the short-handed limit-hold'em competition. I was relieved to discover his name in the updates.
Facing a nearly $4,000 all-in bet by an opponent in early action, Vinnie called from the button. The flop gave Vinnie a set, but also gave his opponent a straight draw. The turn gave Vinnie a full house. After eliminating another opponent with pocket aces that wouldn't crack, Vinnie zeroed in on chip leader Yakov Hirsch. "You have one-hundred-twenty-thousand. You think you're good now." Up to his usual antics, Vinnie playfully needled his newfound rival.
Vinnie ended the night with nearly $74,000 in chips. But the next day he was MIA. The tournament director cut open the plastic bag and dutifully stacked the chips in front of another empty chair. It was a sobering moment for everyone but Vinnie Vinh.
The chair outlasted 20 other players. There was little said as the last of Vinnie's chips went into the eerie pot. The dealer who'd collected the dead hand announced, "seat open." Bloggers noted the score, while the tournament director collected the card that would determine the next draw for the player who would fill the ominous seat. The tournament director notified the payout director that Vinnie Vinh had finished in what would otherwise be considered as a respectable 22nd place.
Bill Wilson Reminds Us
"It is a mystery. Defined as a physical allergy and a mental obsession." – Wikipedia's definition of addiction.
The other day I spoke briefly with Jimmy Tran and Tommy Vu, friends of Vinnie. They insist that he is okay, but wished to relate a clear message to those who want to help. Vinnie, and people like him, often ask for financial assistance. Those who might not understand this illness are encouraged to support him with means of sustenance, such as food and shelter. Those afflicted by any disease can always benefit from moral and emotional support, but cash contributions would clearly exacerbate his issue and possibly cause a disastrous affect. It would also prevent the necessary process of healing to begin.
While poker touts all the glamour of Hollywood, it also possesses the grit of a rodeo, with a touch of Chess Masters mixed in. No one is exempt, and anyone can play. Poker is an equalizer, and the only "dish" that allows so many opposing ingredients, yet comes out tasting sweet in the end.
How else could millions of people become obsessed with 52 cards? And how else could we relate, sympathize, or even judge someone like Vinnie - displaying the very human nature we all seem to possess – though more often at moderate levels? Until science discovers a way to put a lid on extreme behavior and the very force that drives us to reach greater heights of achievement, bits of that behavior are likely to leak into other areas of our lives. Poker players and gamblers are natural risk takers. They climb and jump off of mental mountains every time they face a hand. The greatest players experience personal, financial, and emotional swings that mere mortals can only sit back, witness, and possibly imagine.
This story isn't just about Vinnie Vinh the poker player. It applies to many. But if the WSOP is poker's version of a family reunion, then Vinnie is one of it's most endearing, though sometimes annoying, clansman. And no matter where he is, or what he may be doing, his self-destructive tendencies come with the territory and are a common gene among all of us.
*It's believed that the episode that occurred during the 2005 WSOP $10,000 pot-limit Omaha event is responsible for a rule recently adopted by the TDA, stating a player may be penalized for an offense by sitting out a round or more depending on the degree of the infraction. The ten-minute rule no longer applies.