WSOP Stories: When to Take Your Shot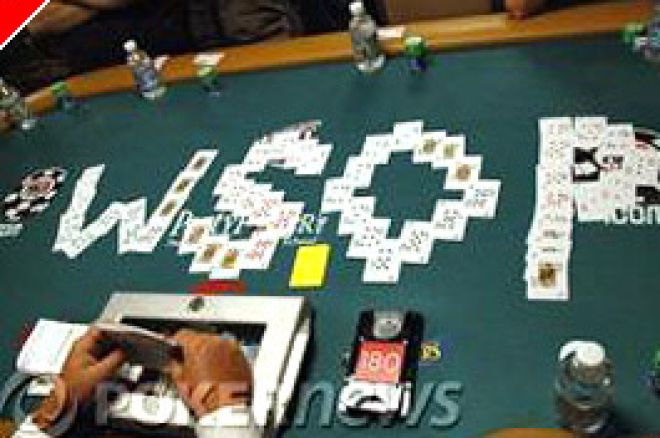 Part of the appeal of the World Series of Poker is that it allows players who have a smaller bankroll to explode onto the poker scene with a huge score. Many people see the WSOP as their opportunity to take a shot at the tournament poker scene, especially with the smaller buy-in events that start at a very reasonable $1,000.
Although the series is halfway over, there are still many events that would make excellent choices to experience the thrill of playing in a WSOP event and to offer a great potential payout, both in fame and money. If you are thinking of taking a shot, here is a schedule and some ideas to consider for the remaining events with buy-ins ranging from $1,000-$2,000.
Smaller Buy-in No Limit Holdem Events:
Friday, June 29th – No Limit Holdem $2,000 (Event #47)
Saturday, June 30th – No Limit Holdem $1,500 (Event #49)
Why they are a good idea:
If no-limit hold'em is your game, these low buy-in events offer an amazing chance to turn a relatively small buy-in into a huge score. Nowhere else are the rewards as great for such little risk to your bankroll.
Many players take a shot for their first time in events like these, and the level of play is usually far lower than any other tournament on the circuit. If you are a patient player, it is easier than usual to get your money in as a favorite in the early going.
Also, event #47 will be televised. While this has the fun bonus of potentially being able to see yourself on ESPN, it also has a very tangible financial bonus that you should take into account. Final tabling one of these events can lead to potential sponsorship opportunities for tens of thousands of dollars, whether it is in wearing gear during the televised final table or getting sponsored for circuit events afterwards.
Why they are a bad idea:
The fields are enormous and the starting chip stacks are small. It's going to take a good deal of luck to survive, even if you are the most skilled player in the world and you get your money in repeatedly as a favorite. You have enough starting chips to last only a couple of hands, and if you get unlucky or make a few errors, you will likely be out.
The days are incredibly long and grueling. You could play until 2am on the first day and still not cash. Many players find this disheartening, especially if they are not used to it.
With the amount of new live players, the etiquette at these events can be atrocious. While this does not bother some, it may have a negative impact on your perception of tournaments. Some tables can also be very friendly, however, since many tables are filled with new players and everyone is excited to be playing.
Other Hold'em Events:
Sunday, June 24th – Mixed Limit/No Limit Hold'em (Event #40) $1,500
Why it's a good idea:
If the opening $5,000 event was any indication, many players like the challenge of this type of event, but few actually are good enough at both types of games to have a chance of winning. If you are strong at both limit and no-limit, then this will be the perfect event for you. You will be able to take advantage of players that can only play one style of game. There will be a lot of dead money in this event.
Why it's a bad idea:
It's not televised. It will also potentially be a huge field that will be difficult to get through. If you're not used to switching styles, you will be at a disadvantage – each level takes a different mindset and the professionals will be more adept at adjusting to these changes than you unless you have practice in this type of event.
Tuesday, June 26th – Limit Hold'em (Event #43) $2,000
Why it's a good idea:
Limit hold'em is a dying game. There are many players who have no idea how to play. It is also the last chance at a small buy-in limit event if that is your game, not counting the limit shootout.
Why it's a bad idea:
The field will be smaller, so the payouts will not be as huge. Also, since this is a slightly larger buy-in event, there will be fewer amateurs than at a $1,500 event. Lastly, the event is not televised.
Monday, July 2nd – No-Limit Hold'em w/ Re-buys and Add-ons $1,000 (Event #52)
Why it's a good idea:
It's cheap and you will be able to get your money in good far easier than in any other tournament this series. Pros will be re-buying like crazy and making terrible plays in the beginning, counting on the fact that they will be able to outplay you later and take chips from a juiced-up table.
You have the potential to take down a ridiculous score. People will be re-buying like crazy. There will be many double-digit re-buyers, so for the price of $1,000, you're getting into an event where the average price people donate towards the prize pool is between $3,000-$7,000.
Why it's a bad idea:
You have relatively no shot if you are only planning on buying in for the $1,000. You will be forced to put your money all-in in the opening rounds or face being the massive short stack after the first few levels.
There is very little poker being played in the first few levels – it's either push or fold. You will be faced with tough decisions for your entire tournament life, and oftentimes if you make the correct call you will only be a marginal favorite, meaning that luck will have a huge impact on how long you last on your initial buy-in.
It will be very difficult to compete without doing a 2,000-chip add-on for $1,000 or a 4,000-chip add-on for $2,000 after the end of the second level. The buy-in price is deceiving – few players can last on just one $1,000 buy-in.
Tuesday, July 3rd – Limit Hold'em Shootout $1,500 (Event #53)
Why it's a good idea:
If you're good at satellites, shootout events are fun and perfect for you. Rather than facing a huge ,intimidating field numbering in the thousands, you simply have to win three or four sit-'n'-goes.
The payouts are an interesting structure. For winning your first table and outlasting just nine players, you will be guaranteed to cash. Every table afterwards will offer an even bigger payday.
Why it's a bad idea:
Once you get to the final table, it's probably going to be stacked. Endgame play is important and professionals usually hold the advantage, rising to the cream of the crop in these events.
Small Buy-in Non-Hold'em Events:
Monday, June 25th – Pot Limit Omaha Hi/Low (Event #42) $1,500
Wednesday, June 27th – Omaha Hi/Low (Event #44) $2,000
Thursday, June 28th – Stud Hi/Low $1,000 (Event #46)
Friday, June 29th – 2-7 Triple Draw Lowball (Limit) w/ Re-buys (Event #48)
Sunday, July 1st – S.H.O.E $1,500 (Event #51)
Why they are a good idea:
If you are good at a variety of games, these events are probably your best chance to win a bracelet. The fields are much smaller and the professionals who enter sometimes have a difficult time focusing at the start with the slow beginning levels and the small amount of chips.
Why they are a bad idea:
The field will be tougher. There will be more professionals trying to pick up what they see as an easy bracelet. You have to be an incredibly strong or lucky player to have a chance in the later levels when the field is weeded down to the top players.
Many of these events are not televised. Even if you win, not many people will take recognition of your victory. The prize pool will also be smaller.