Event #15 $1500 NLHE - Phil Hellmuth Wins Record Eleventh Bracelet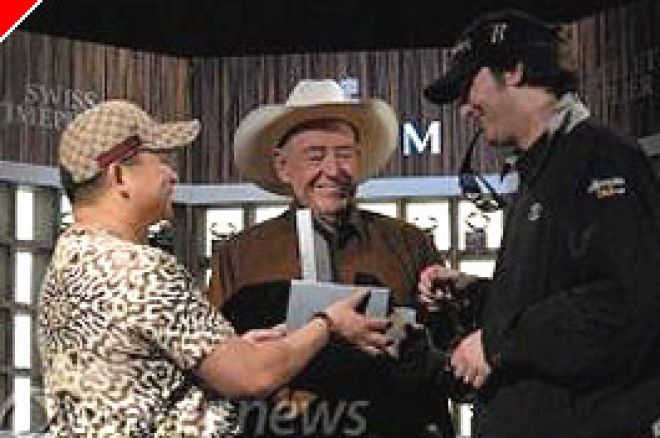 Nine men came to the felt for the $1500 No Limit Hold 'Em final table (Event # 15) on Monday afternoon, but the focus was on one man in particular. Phil Hellmuth came to the final table in second place in chips with his best opportunity yet of capturing Bracelet #11 to put him ahead of both Johnny Chan and Doyle Brunson. There would be some work to do with the other eight players facing him at the final table though:
Seat 1: Rick Fuller - 1,779,000
Seat 2: Scott Clements - 1,232,000
Seat 3: Morgan Machina - 834,000
Seat 4: Fabrice Soulier - 344,000
Seat 5: Ut Nguyen - 624,000
Seat 6: David Simon - 880,000
Seat 7: Andy Philacheck - 446,000
Seat 8: Phil Hellmuth - 1,482,000
Seat 9: Taylor Douglas - 259,000
The table was held in the Bluff Tent, sequestering the players away from the prying eyes of anyone other than the live players and selected personal observers, but the tournament was broadcast over the Internet on a hour delay. The players seemed to be in good spirits for the event and, when asked about the surroundings, Hellmuth uttered a single word, "Lovely," and smiled broadly, feeling that it was his day.
Taylor Douglas was dumped from the final table in ninth place ($38,025) after he made a move with Q-10 against Scott Clements, who held A-Q. When the board blanked off, Douglas was done for the night. Ut Nguyen was next to go in eighth place ($48,427) when he was the victim of a bad beat at the hands of Clements. Nguyen's K-Q fell victim to Clements' Q-10 when, after a triple deuce flop, the river gave a ten to Clements.
Fabrice Soulier was the next to go after not catching any cards at the final table. He ran into the two big stacks at the table, Phil Hellmuth and Rick Fuller, moving in with only a Q-3. Hellmuth tabled 7-5 and Fuller put up pocket sixes for battle and, after Hellmuth caught the straight and Fuller a set, Soulier was sent packing with the seventh place prize of $64,570.
It took very little time to get to a four handed situation. Rick Fuller took care of David Simon in sixth place, then Hellmuth stepped up and sent Scott Clements away in fifth. Down to four handed play, Hellmuth had worked his way into the lead and could smell his eleventh bracelet on the horizon:
Phil Hellmuth 4,450,000
Andy Philacheck 1,550,000
Rick Fuller 1,500,000
Morgan Machina 430,000
After a quick dinner break, Morgan Machina decided to make a stand by moving all in and the entire table came along for the family pot. The hands were as follows:
Machina –
Philacheck –
Hellmuth –
Fuller –
With Machina all in, the remaining players checked the 3-8-A flop. On the Jack of clubs turn, Philacheck fired a bet and pushed both Hellmuth and Fuller from the pot. The deuce on the river finished the winning hand for Philacheck, but Hellmuth would have made a set and potentially busted Philacheck along with Machina. As it was, Morgan Machina was ushered out of the Bluff Tent in fourth place, worth $161,425.
Hellmuth eliminated Fuller a few moments later when he flopped top pair of Kings against Fuller's second pair of sevens and it was pretty much all over. Hellmuth held a 6-1 lead over Philacheck and it didn't take very long for the twosome to get the chips in the center. Philacheck moved in with A-10 and Hellmuth made the call with his A-3. The 9-3-4 flop brought all the help that Hellmuth would need and, after the turn and river blanked for Philacheck, Phil Hellmuth made World Series history by becoming the first man to win eleven WSOP gold bracelets.
PLAYERS — EARNINGS
1. Phil Hellmuth - $637,254
2. Andy Philacheck - $394,594
3. Rick Fuller - $247,518
4. Morgan Machina - $161,425
5. Scott Clements - $112,997
6. David Simon - $82,506
7. Fabrice Soulier - $64,570
8. Ut Nguyen - $48,427
9. Taylor Douglas - $38,025
As the record crowning bracelet was brought to Hellmuth, the two men he had been battling for so many years were there to share the victory with him. Both Johnny Chan and Doyle Brunson personally awarded Phil the bracelet, bringing a momentary humbleness to the normally quite vocal Hellmuth. It was a magic moment as Phil Hellmuth captured his eleventh bracelet and, with Chan and Brunson there for the awards ceremony, gives them a goal to shoot at for the remainder of the 2007 World Series of Poker.