WSOP Updates – Event #24, $3,000 7CS Hi-Lo — Eli Elezra Tops Nguyen for First Bracelet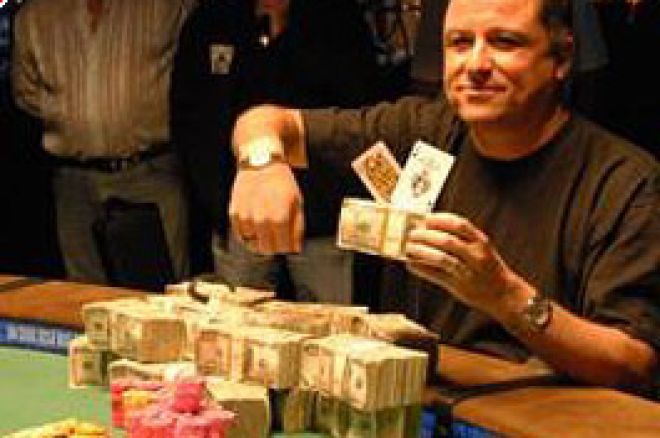 Saturday provided one of the 2007 World Series of Poker's most interesting days of play yet, as a star-studded final table in Event #24, $3,000 Seven Card Stud High/Low, got underway at 3pm PDT. Starting the day with the chip lead was 'Big Game' regular and high-stakes cash-game player Eli Elezra. Elezra, one of the few remaining players in the Big Game previously without a WSOP bracelet, would ultimately change that here, taking home the title after an entertaining heads-up battle against Scotty Nguyen. The loaded final table looked like this at the start of play:
Seat 1: Russell 'Dutch' Boyd 170,000
Seat 2: George Hardie 182,000
Seat 3: Eli Elezra 303,000
Seat 4: David Sklansky 171,000
Seat 5: Scotty Nguyen 255,000
Seat 6: John Harkness 141,000
Seat 7: Thor Hansen 167,000
Seat 8: Marshall Ragir 28,000
The fireworks began early. Marshall Ragir busted on the eighth hand of the day, after he check-raised George Hardie for the remainder of his chips. Unfortunately for Ragir, his pair of deuces lost to Hardie's pair of eights. Ragir earned $14,981 for finishing in eighth.
The chip lead would switch hands several times as both Scotty Nguyen and David Sklansky made runs at the number one spot throughout the day. Despite busting Ragir, Hardie couldn't withstand the unrelenting assault of the rest of the table and busted in seventh place. In a five-way hand going into fourth street, Hardie thought his hand was good and called Elezra's 40,000-chip raise. Hardie, though, trailed Elezra's kings and failed to improve, finishing in seventh for $20,844.
Two hands later, 2007 WSOP fixture Thor Hansen busted after he moved all-in on fifth street against Sklansky and Nguyen. Unfortunately for Hansen, he missed both his high and low draws and busted in sixth place, worth $27,357.
Next to fall was the noted poker author, David Sklansky. Known for his controversial comments and mathematical approach to the game, Sklansky's push toward the waiting bracelet fell short. All-in on fourth street against Elezra and Nguyen, Sklansky failed to improve and busted in fifth place, worth $35,835.
As blinds continued to increase, the remaining players moved all-in with very little hesitation. After a tough battle, John Harkness finally fell victim to table captain Elezra. Failing to improve against Elezra's two pair, Harkness bid farewell with a fourth-place exit, collecting $47,224 for the work.
Play continued for quite some time once the table got down to its final three players. Elezra kept the pressure on Dutch Boyd and Nguyen, both prior bracelet-winners t themselves. Although Boyd made a valiant effort to make it to heads-up play, it wasn't meant to be for the former 'Crew' member when he busted against Elezra's kings. Boyd won $71,650 for his efforts.
Elezra and Nguyen battled for the bracelet at length, with an away-from-the-table deal to split much of the prize money perhaps also made. After a momentous battle that saw Elezra pull ahead, Nguyen finally fell when he ran into Elezra's ace-high straight during Hand #177.
As the smoke cleared, the newly crowned Elezra offered a broad smile. Although Elezra was elated with his win, he was also thrilled that he won a $25,000 prop bet with Barry Greenstein over whether or not he would win a bracelet at this year's WSOP. Elezra won $198,984 for finishing first, while Nguyen earned $110,731 for second.
Eli gave a great interview, where he specifically said how much he liked our coverage. You can check that interview out here.