WSOP Updates – Event #27, $1,500 NLHE — Seth Weinger Leads Final-Table Charge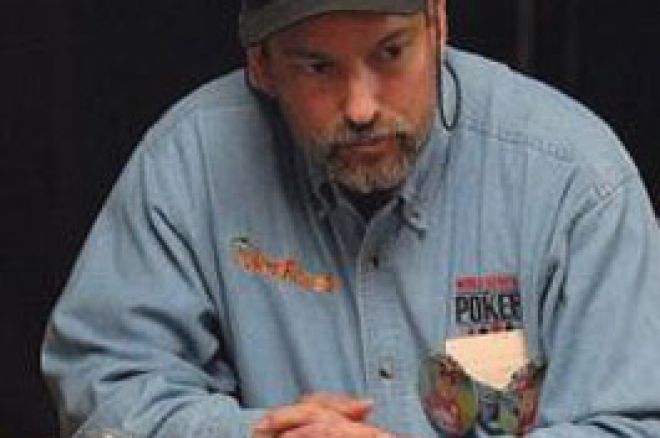 From an original field of 2,315 entrants that started Event 27, $1500 No Limit Hold 'Em, 135 returned Sunday to vie for the final nine seats, all already guaranteed to cash. The eliminations went quickly; five players went out in the first eight minutes of play, which set the pace for the rest of the day. By the time action concluded, Seth Weinger had built a substantial lead entering today's final-table action.
It took more of those eliminations to reach that point, however. Michael Hewitt began play as the chip leader with 160,000, followed by Jean Gaspard with 145,000, but neither could maintain the advantage. Hewitt exited in 29th when Luis Sanchez's paired ace topped Hewitt's jacks. Gaspard departed even earlier, finishing in 51st place.
While David Williams kept a visible presence in Saturday's play, Sunday saw him eliminated at #50 when he pushed the last of his chips in on
. David Sullivan called with
, and the board missed Williams, sending him to the rail.
Burt Boutin, winner of two WSOP bracelets, also made an early exit when he went all in pre-flop with pocket tens. Randy Lowery called him with
, and even though the flop turned up a 10 for Boutin's set, it helped complete a straight for Lowery that sent Boutin out in 82nd place.
Sabyl Cohen was among the first players to break 200,000 and stayed at the front of the pack for most of the day. She very nearly made the final table, being bounced in 11th when a river king gave Young Cho a pair that topped Cohen's two queens.
Cho was one of the day's big movers. On one key hand, he went all in on A-K against Jeremy Little's pair of eights. The flop brought an ace and the river a king, sending . Little out in 23rd. Cho then eliminated Joseph Leho when Leho raised 32,000 under the gun and Cho pushed over the top for 238,000, forcing Leho all in. Leho's
couldn't connect against Cho's
and Leho exited in 20th.
Cho also challenged leader David Stucke. Stucke spent most of his day at the front of the pack, following Cohen's charge — he was the first player to surpass the million mark and was sitting on 1.15 million when he and Cho collided. Cho raised 40,000 pre-flop with
, which Stucke called. The flop came
. Cho threw in 60,000 and Stucke again called. Cho checked the turn
, but Stucke bet 150,000. Cho called and the river brought the
. Both checked, then Cho turned up his two pair and Stucke mucked his cards. The pot upped Cho's count to 850,000 and dented Stucke's pile.
Cho's run wasn't all one way. Soon after, Michael Ium shoved all in pre-flop on pocket kings for 210,000, which Cho called, holding A-Q. Ium's kings held, increasing his count to 470,000 and dropping Cho to 610,000.
David Woo was also aggressive later in the day, running up his count from 765,000 to 1.17 million in the last hours of play, frequently taking down pots with aggressive post-flop raises. Woo goes into the final table with the second-highest chip count — trailing only Seth Weinger into the finals.
Weinger topped off his stack by eliminating Benjamin Kang in the evening's last hand. Kang moved all in for 280K on
, which Seth Weinger called with
. The flop brought
, the turn the
, and the river another jack, making the full house for Weinger and putting Kang out in tenth with $28,124. This set the final table for today's action, with Weinger in the lead and sizable disparities in chip stacks likely to produce early action. The lineup:
Seat 1: Tom Dobrilovic - 260,000
Seat 2: Noam Freedman - 847,000
Seat 3: Dave Stucke - 975,000
Seat 4: Luis Sanchez - 116,000
Seat 5: David Woo - 1,114,000
Seat 6: Young Cho - 933,000
Seat 7: Thai Ton - 224,000
Seat 8: Seth Weinger - 1,715,000
Seat 9: Michael Ium - 382,000
Play will resume at 2pm PDT. Keep up on the action by following today's Final Table 'Live Reporting' of Event #27, $1,500 No Limit Hold 'Em, at PokerNews.com.