WSOP Updates – Event #39, $50,000 H.O.R.S.E. — Freddy Deeb Holds Off Fitoussi For Win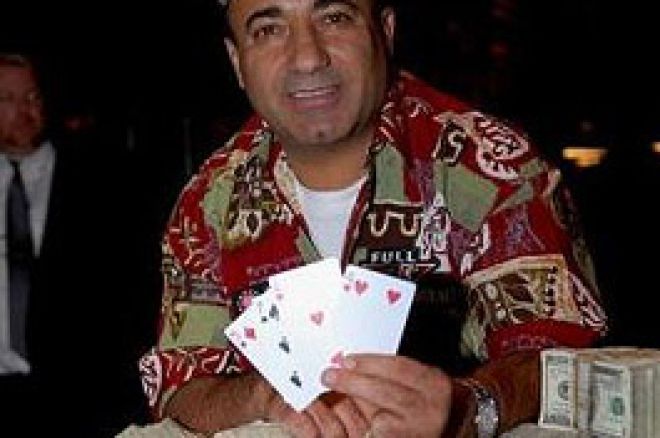 Almost $2.3 million and a custom WSOP winner's bracelet with 91 black diamonds awaited the victor in Thursday's finale to Event #39, $50,000 H.O.R.S.E. The preceding four days of action wound down to this day's final table, where Freddy Deeb finally eliminated Bruno Fitoussi after 17 hours of final-table play. Deeb took down his second WSP bracelet and the $2,276,832 first-place prize after surviving the toughest field in poker.
The final table started off with several solid pros looking for their first bracelet, a couple of up-and-comers looking for their biggest tournament cash ever, three seasoned veterans looking to add to their jewelry collection, and an unknown stock trader from New York looking to prove that his stunning play so far in this event was no fluke. Here are the seating assignments and chip counts as play began:
Seat 1: Kenny Tran — 2,445,000
Seat 2: David Singer — 1,330,000
Seat 3: Bruno Fitoussi — 895,000
Seat 4: John Hanson — 1,995,000
Seat 5: Freddy Deeb — 3,500,000
Seat 6: Thor Hansen — 40,000
Seat 7: Amnon Filippi — 4,015,000
Seat 8: Barry Greenstein — 750,000
Thor Hansen was crippled on the last hand of Day Four play when his full house was beaten by Deeb's quad sixes, the same hand that saw Gabe Kaplan's ninth-place departure. Hansen pushed all-in on the first hand of the final table here, playing Stud Hi/Lo, and ended up in a multi-way pot with Amnon Fillipi, Bruno Fitoussi and John Hanson. Hanson took the side pot down when Filippi folded on seventh street, and his two pair, queens and jacks, were good enough to beat Thor Hansen's two pair, fives and sevens. Thor Hansen exited in eighth place with $188,256.
Play slowed after Hansen's first-hand exit, as the remaining players had some chips with which to maneuver. Barry Greenstein was eliminated next, during the day's first round of Omaha Hi/Lo, when there was no low on a board of
. Amnon Filippi showed
for trip nines with A-Q kickers to beat out Greenstein's
for a busted flush draw (trip nines, with A-10 kickers). Greenstein collected $259,296 for his seventh-place finish.
David Singer followed Greenstein to the rail in the next level, 80,000/160,000 Razz. Singer, the last player remaining from the 2006 final table of this event, moved all-in on fifth street against Bruno Fitoussi. Singer was drawing to an 8-low, but bricks on fifth and sixth street gave him a 10-low, not good enough to beat Fitoussi's 8-7 low. Singer finished in sixth place for $337,440. Singer's was the only player to make the final table in both of the first two years for this event, and he coincidentally finished in sixth both times.
Play would continue six-handed for the next several hours, until Kenny Tran was eliminated in fifth place ($444,000) just after the dinner break. After being crippled in the last hand before dinner, Tran came back all-in for the 30,000 ante. Amnon Filippi eliminated Tran when he made a 7-6 low on fifth and Tran was drawing dead.
Filippi started the final table as the chip leader, but was unlucky in the face of the growing blinds and tough competition. The New Yorker was eliminated in fourth as the evening's play wore on. In Stud Hi/Lo, Filippi went to seventh street with plenty of outs to survive against Bruno Fitoussi, but he couldn't catch a queen, a six or a spade to beat Fitoussi's 9-high flush. Filippi held
, and the
on seventh street missed both Filippi's flush and full-house draws. Filippi finished in fourth, good for a $586,080 payday.
Bruno Fitoussi took a massive chip lead shortly after Filippi's elimination, though he, Hanson and Deeb battled for almost five hours before Hanson was eliminated in third ($852,480). The unknown Hanson had one prior WSOP cash, in this year's $5,000 Heads-Up event, but before that the New York stock trader was a complete unknown in the poker world. Hanson was eliminated in the round of 250,000/500,000 Razz when Deeb made a 6-5 low. Still, Hanson stormed out of nowhere into the toughest field in poker, taking the chip lead at several points in the tournament.
It only took Deeb another hour to end the marathon of a final table against Fitoussi. This was Fitoussi's second lengthy final table at the WSOP; he finished as runner-up in the 2005 Razz event after playing into the wee hours of the morning. As heads-up play began, the chip counts were:
Freddy Deeb — 10,800,000
Bruno Fitoussi — 4,070,000
Deeb slowly increased his lead over Fitoussi in the Stud Hi round before putting him away when the action shifted to Stud Hi/Lo. On the last hand, Deeb made an 8-low on seventh to go with his pair of fives, good for both halves of the final pot. Fitoussi departed with second-place money of $1,278,720, while Deeb claimed the custom-designed bracelet, $2,276,832 in prize money, and of course, this year's unofficial title of world's best poker player.
Final Standings and Payouts:
Freddy Deeb $2,276,832
Bruno Fitoussi $1,278,720
John Hanson $852,480
Amnon Filippi $586,080
Kenny Tran $444,000
David Singer $337,440
Barry Greenstein $259,296
Thor Hansen $188,256