WSOP Updates – Event 46, $1,000 7CS Hi-Lo – Tom Schneider Seeks Second Bracelet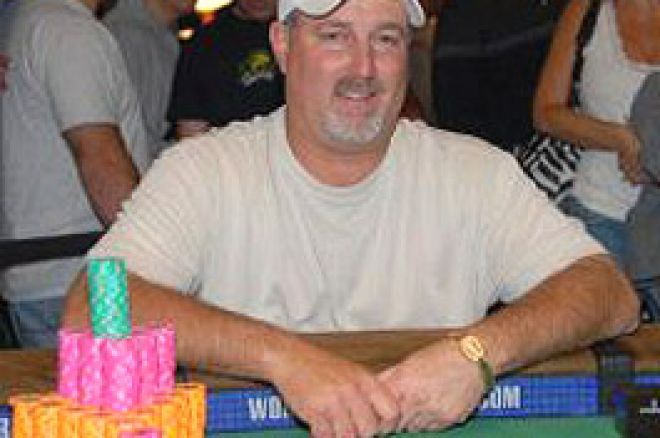 After a long second day, the final table is set in Event #46, $1,000 Seven Card Stud Hi/Lo. Tom Schneider, chip leader going into the finals, will be looking to score his second 2007 WSOP bracelet and the first prize of $ 147,713.
Friday's Day Two action saw 185 entrants begin play. Eliminations went quickly, as steep blinds ran down the shorter stacks. Veteran Doyle Brunson was one of the early eliminations, despite a quick start. Allan Kessler was another of the early casualties, seeing less than an hour of play in day two. Although the money bubble burst at 64, eliminations continued at a brisk pace until the field was reduced to less than 20, with the final eight in sight.
Tony Ma made the final eight, but had to endure a tough early table with former WSOP bracelet winners Jeffrey Lisandro and Chris Reslock. Lisandro jumped to an early advantage, boosting his stack from 6,000 to 25,000 in less than two hours, then eliminated Reslock a few hands later. Splitting a few pots with Lisandro kept Ma alive for a later showdown with Saundra Taylor. Ma was all in by sixth street with
, plus the
on seventh. Taylor had a shot at the straight and the knockout with
, but the
on the river wouldn't do it; Ma's trip threes held and he doubled up. In Taylor-vs.-Ma part two, Ma was once again all in on sixth street, and Taylor's missed low meant that Ma's aces scooped another pot. Still, Ma starts with a short stack on Saturday in a quest for his fourth WSOP bracelet.
Good fortune helped Scotty Nguyen, too. Nguyen scooped a four-way pot when his made ace-high flush also hit the wheel on seventh street, giving him the high and the low. Later in the evening, he caught an excellent hand against Song Webb. With Nguyen showing
, Webb folded on seventh street with
up, and Scotty flipped his hole cards to reveal he had
for an 8-7-5 low as well as the diamond flush. The hand pushed him over 80,000 in chips, and he continued to build throughout the evening.
Although Schneider starts the finals behind a sizeable stack, he didn't enjoy that luxury throughout Friday's play. In an early hand with Chad Brown, Schneider found himself all in by fifth street with a pair of kings up against Brown's set of nines. Schneider spiked the third king on seventh to pull ahead and take the pot. Brown returned the favor a few hands later, pulling out an eight-high straight on seventh, beating Schneider's aces. Schneider kept a solid stack for several hours, but was starting to scrape the felt around 2am. A king-high straight on an all-in situation turned his luck around, and it was all forward progress from there.
Play slowed as the final 15 worked down to the final eight. Ron 'Grumpy' Ware went all in against Miguel De La Cruz, looking to draw a straight, but Ware missed and De La Cruz's two pair held up, eliminating Ware in 15th place. Frank Henderson was the next to go. After leading the chip counts most of the night, Henderson was crippled on a hand with Ma and Schneider, where Schneider pulled out the full house for the high, and Ma beat Henderson's eight-low. Henderson went out a few hands later in 14th place.
De La Cruz was responsible for sending Doug Saab out in 13th place after he caught an ace-high flush that trumped Saab's two pair. Petros Theocharides went out next, with Andreas Krause right behind him. Krause's slow play caused a small controversy, and stalling complaints from other players led to the "15 second" rule being enforced. It sped along Krause's decision-making, and, ultimately, his departure in 11th place.
Mike Landers was the next to go, courtesy of Tommy Hang. Hang had the higher pair with kings to Landers' fives, and Landers missed a low draw to exit in tenth. Mark Smyrski doubled through twice from a short stack to stay several more hands. Schneider crippled Smyrski, only to see the all-in Smyrski quadruple up on antes. It was short-lived, though, as De La Cruz bounced him in the final hand, setting the final table for Saturday's play. Chip counts going into the finals are:
Tom Schneider — 275,000
Miguel De La Cruz — 253,000
Scotty Nguyen — 203,000
Saundra Taylor — 202,000
Hoyt Verner — 129,000
Tommy Hang — 110,000
Woody Deck — 110,000
Tony Ma — 60,000
Visit PokerNews.com's 'Live Reporting' of Event #46, $1,000 Seven Card Stud High/Low Split, for the latest reports. Play resumes at 3pm PDT.