WSOP Updates - Event #9, $1,500 Omaha Hi/Lo - Kravchenko Tops Devonshire for Bracelet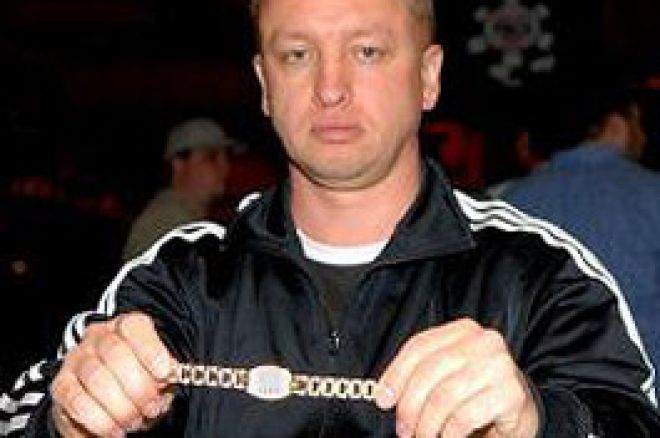 The opening of the final table for Event #9, the $1500 Omaha Hold 'Em Hi/Lo event seemed one seat short. Because of the double knockout of Ron Ware in tenth and Richard Ashby in ninth in the same hand on Thursday morning, only eight men remained to compete for the latest bracelet at the World Series and the $228,446 first-place payday. Those eight started the final table in this order:
John Varner - 589,000
Jordan Morgan - 325,000
J. R. Reiss - 260,000
Yueqi 'Rich' Zhu - 248,000
Alex Kravchenko - 197,000
Bryan Devonshire - 186,000
Jeffrey Calkins - 154,000
Bryan Andrews - 120,000
Omaha's focused pace and frequent chopped pots didn't prevent the short stacks from making moves in the early play. Rich Zhu, Jordan Morgan and Bryan Devonshire doubled through early as the blinds jumped to 10K/20K.
Bryan Andrews also made an early jump, but the 10K/20K level brought the first eliminations. Jeff Calkins went out for the evening in eighth place, worth an $18,837 payday, and on the very next hand first-day leader Morgan was bounced in seventh, earning $25,430 for his efforts. Zhu's early double-up went for naught when he moved in with a hand of 6-7-7-8 and Devonshire called him. Once Devonshire hit a set of jacks on the flop and the rest of the board blanked, Zhu was eliminated from the tournament in sixth place, taking home $33,907.
Devonshire continued his strong run, knocking out Andrews in fifth place ($43,798) by flopping a boat and the two bet it out to the river. With that hand, Devonshire was able to pass John Varner for the lead. Varner and Alex Kravchenko tag-teamed to split a pot, much to the dismay of J. R. Reiss, who showed both the second-nut high and the second-nut low as he left the final table in fourth place, with $60,749.
In contrast to most split-game tournaments, which can be long, drawn-out affairs, over half of the final table had been eliminated within the first three hours of action. Down to three-handed play, the chip stacks were:
Bryan Devonshire — 950,000
Alex Kravchenko — 655,000
John Varner — 485,000
Kravchenko went on the offensive, scooping a 180K pot against Devonshire and picking off several smaller pots to move into the lead. Varner and Devonshire battled for the second spot at the table, with Devonshire firmly moving into that position when he scooped a three-way pot with a flush on the river. Varner was down to 260K and, after losing a bet to the river hand against Kravchenko, was dismissed from the event when Devonshire flopped a flush against him after the blinds went up to 20K/40K. Varner's third-place finish was worth $92,301.
Heads up, Kravchenko (1,375,000) held a nearly 2:1 lead over Devonshire (695,000). The two pushed chips back and forth and skipped their scheduled dinner break, and soon afterwards, Kravchenko was able to take the tournament. Devonshire was all in with a board of 4-Q-Q-4-8 and tabled A-A-8-5 for aces up. Kravchenko, however, showed A-10-9-4 for a set of fours to take the championship bracelet in the $1,500 Omaha Hold 'Em Hi/Lo event.
PLAYERS — EARNINGS
1. Alex Kravchenko — $228,446
2. Bryan Devonshire — $140,336
3. John Varner — $92,301
4. J. R. Reiss — $60,749
5. Bryan Andrews — $43,796
6. Yueqi 'Rich' Zhu — $33,907
7. Jordan Morgan — $25,430
8. Jeffrey Calkins — $18,837
9. Richard Ashby — $13,657*
* not at final table