WSOP Updates, Event 53, $1,500 LHE – Ram Vaswani Triumphs in Limit Shootout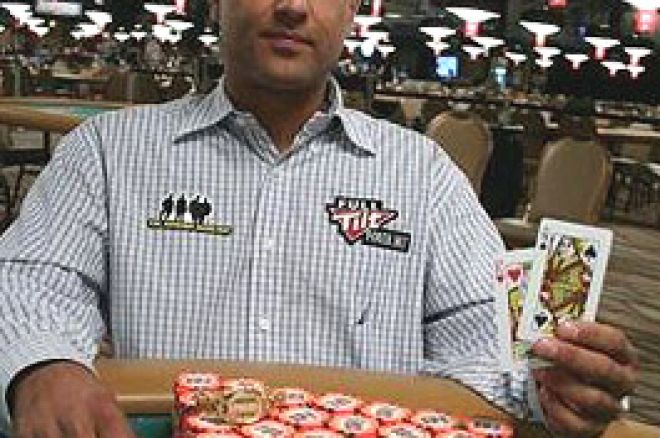 The $1,500 Limit Shootout started Day Two with 47 players remaining on eight tables, and ended with one man standing atop a field of 720 entrants to claim his first WSOP bracelet. Ram Vaswani of the Hendon Mob emerged victorious in an event which saw him play what amounted to three final tables to claim his bracelet, his new Corum watch and the $217,438 first-place money.
In a shootout tournament, players begin play at a standard table of nine or ten players. Instead of moving players to balance and break tables as players are eliminated, play continues until only one player remains on each table. These winners then consolidate to new eight- or nine-handed tables and go through the process again and again until a final table is set and play continues down to a champion. One of the differences between shootout tournaments and standard multi-table tournaments is that all players beginning Round Two and Three start off with the exact same chip counts, as they have accumulated all the chips from their previous tables. This means that all players are on a level field at the beginning of each round, and there is no "chip leader" when the round begins.
The field of 720 in this event meant that three rounds of play would be required to play down to a winner, with winners of all the Round One matches making the money. Payouts were even for the 72 winners of Round One, with the 64 players eliminated in Round Two receiving the same amount of money. The final table brought increased payouts with each bustout. Play resumed on Day Two with 47 players across eight tables, playing down to a final table of eight.
Among the notable players returning for Day Two were Joe Tehan, Terrence Chan, William Chen, Isabelle Mercier and Victor Ramdin. Ramdin was officially the final-table bubble boy, eliminated in ninth when Ishak Noyan eliminated him to win the final table of Round Two. Play had already been going for over six hours on Day Two when the final table started, with all players even at 300,000 chips and limits of 4,000-8,000. With plenty of play left in all the chip stacks, a long night shaped up for the eight survivors of Round Two.
The Final Table seating assignments looked like this –
Seat 1: Sondre Sagstuen
Seat 2: David Baker
Seat 3: Ishak Noyan
Seat 4: Anh Van Nguyen
Seat 5: Rayvenia Puckett
Seat 6: Andrew Ward
Seat 7: David Mosca
Seat 8: Ram Vaswani
It took over four hours of the limit action before the first player fell, when Rayvenia 'Raye' Puckett went to the rail in eighth place ($9,582). In a three-way pot with David Baker all-in preflop, Puckett and David Mosca both called. On a board of
, Puckett tossed her last chips in on the river. Mosca called with
, good enough for the side pot as Puckett mucked and went to the rail. Baker revealed
to nearly triple up and take the main pot.
David Baker doubled through Ram Vaswani and Mosca, but his luck ran out when he made his fourth all-in move of the final table, this time against Andrew Ward, who busted him in seventh ($12,776). Baker raised pre-flop, then check-raised Ward when the flop came
. The turn brought the
and Baker check-raised Ward again. Ward quickly called with
, for queens and deuces with anaAce kicker, and Baker showed
, for the same two pair with a jack kicker. The
on the river helped neither player and Baker departed.
Midnight passed before the next player, Sondre Sagstuen, was eliminated. Short-stacked, Sagstuen raised pre-flop and was called by Andrew Ward in the big blind. A raising war broke out on the
flop, with Ward check-raising Sagstuen, and Sagstuen re-raising all-in. Ward's open-ended straight draw with
was behind Sagstuen's 10-high, with
. The
made the turn interesting, but a non-heart six on the river made a pair of sixes for Ward and a trip to the rail for Sagstuen, who finished in sixth for $19,656.
After hours of few eliminations, the blinds caught up to the chip stacks around 2am and the knockout pace increased. Shortly after Sagstuen busted, Ishak Noyan went out in fifth when Ram Vaswani made top pair on a 10-high flop and Noyan's
didn't improve. Noyan received $31,450 for his fifth-place finish.
David Mosca headed to the rail in fourth as 3am neared. Raising from the button, Mosca faced a re-raise from Ram Vaswani; Mosca re-re-raised and Vaswani popped it again. Mosca was all-in with the call, and revealed
to Vaswani's
. The board brought no ace for Mosca, and he finished the morning with $58,968 for his fourth-place finish.
Ward took the chip lead into three-handed play, with a little over one million in chips to 845,000 for Vaswani and 200,000 for Anh Van Nguyen. Van Nguyen doubled through Vaswani once, but failed on his second attempt, as Vaswani eliminated him in third place ($83,538). Van Nguyen raised from the button, and Vaswani called from the big blind. Vaswani check-raised Van Nguyen on a flop of
, and Van Nguyen called. The turn was the
and Vaswani bet out. Van Nguyen raised all-in, and Vaswani called, showing
for a flush draw. He needed to improve to beat Van Nguyen, who flopped two pair with
. Vaswani caught his needed
on the river to complete his flush and send Van Nguyen out in third.
Once the match moved to heads-up play, Vaswani poured on the aggression, quickly moving from a slight chip deficit to a commanding lead, while showing down very few hands. Ward seemed content to wait for big hands while Vaswani pummeled him with raises, and eventually Vaswani accumulated a 10:1 chip lead. Shortly thereafter, Vaswani delivered the knockout punch to bust Ward in second ($124,816). Ward three-bet pre-flop and Vaswani called to see a flop of
. Ward bet out and Vaswani called, and the turn brought the
. Vaswani raised Ward on the turn, putting Ward all-in drawing dead as Vaswani revealed
for the nut flush. Ward showed
for a pair of aces, and was eliminated.
Ram Vaswani captured $217,438, a Corum watch and his first WSOP gold bracelet for his victory in the marathon conclusion to Event #53, $1,500 Limit Hold 'Em Shootout.
Final Standings and Payouts:
1. Ram Vaswani — $217,438
2. Andrew Ward — $124,816
3. Anh Van Nguyen — $83,538
4. David Mosca — $58,968
5. Ishak Noyan — $31,450
6. Sondre Sagstuen — $19,656
7. David Baker — $12,776
8. Rayvenia Puckett — $9,582