WSOP Updates, Event 54, $5,000 NL 2-7 Single Draw (w/ Rebuys) – Sheikhan Leads; Lisandro, Schneider Vie for POY Honors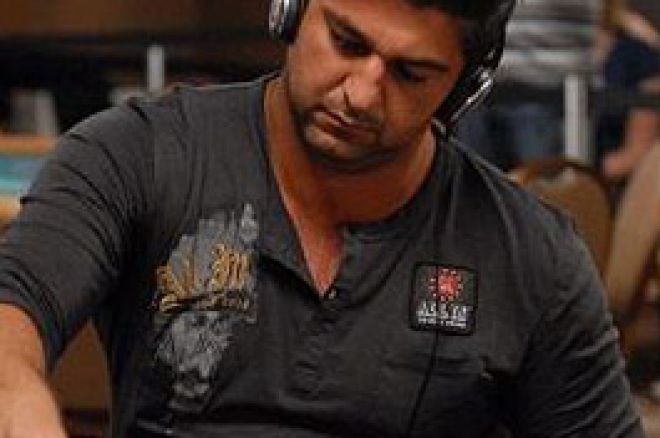 The last preliminary WSOP tourney before the Main Event was one guaranteed to draw big bucks and big names. Event #54, $5,000 No Limit 2-7 Single Draw Lowball (w/ Rebuys), gathered players such as Tony G, Doyle and Todd Brunson, Ted Forrest, Chip Reese, Freddy Deeb and Billy Baxter.
No-limit 2-7 Single Draw is an even bigger action game than 2-7 Triple Draw, thanks to two differences in the betting structure. Obviously, the no-limit format heightens the betting risk, but the more important element is that in this tournament, limping into a pot is not allowed. Players must open a pot for a raise, adding another element of action to the game. The best possible hand is a 7-5-4-3-2, aces always play high, and straights (and flushes) hurt a hand. Throw in the possibility of rebuys, and the action meter was pegged to the red all day.
Many players arrived late to start the day's play and found their stacks seriously depleted, as the six-handed seating made blinds and antes go by much faster. Phil Hellmuth arrived late to find his stack almost completely gone and re-bought almost immediately. If a player does not arrive before his stack is blinded off, he is eliminated without the chance for a rebuy, so Hellmuth showed up just in time.
As in many rebuy tournaments, play tightened up considerably after the rebuy period ended, as players were no longer able to toss a $5,000 Rio chip in for a rebuy after losing a hand. Doyle Brunson was one of the first to fall after the end of the rebuy period, eliminated shortly after being crippled in a big hand with Hellmuth. Hellmuth moved all-in before the draw, and Brunson called. Brunson stood pat while Hellmuth drew one to make a 9-7-4-3-2. Brunson's 10-low was no good, and he went to the rail a few hands later.
One of the top stories going into this event was the entry of Tom Schneider and Jeffrey Lisandro, who started the tournament 1-2 in the WSOP Player of the Year race. Both men survived Day One, and with only a few points separating them in the race for the POY title, either man can clinch if only one cashes in the event. If they both make the money, it all comes down to who finishes where.
David Williams finished second in this event in 2006, but would not return to the final. Williams put in his last 500 chips from the small blind and drew one to make a J-9-7-5-4, but his lone opponent in the big blind drew three to make a T-8-7-3-2 and send Williams to the rail.
In a field this star-heavy, it's hard to make a determination on what is a "tough" table, though one surely qualified, holding Barry Greenstein, Chip Reese, Scotty Nguyen, Thor Hansen, Andy Black and Freddy Deeb. Any table with both winners of the $50,000 H.O.R.S.E. event and several other top tournament and cash-game players will automatically move to the top of the "tough" rankings.
Many notable players were eliminated shortly before the end of Day One. Gavin Smith, Daniel Negreanu, Erick Lindgren, John Juanda and Tony G all went to the rail before play ended for the night at 2am. Among those eturning for a run at the last bracelet before the Main Event starts are Greenstein, Chad Brown, Chris Ferguson, Reese and Deeb.
The 17 players remaining in Event #54, with chip counts, are as follows:
Shawn Sheikhan 437500
Chad Brown 318000
Todd Brunson 285500
Erik Seidel 250500
Andrew Black 220500
Jeff Lisandro 214500
Freddy Deeb 199000
Chip Reese 184000
Lamar Wilkinson 176500
Allen Cunningham 176000
Parris Holmes 163000
Chris Ferguson 120500
Farzad Bonyadi 112500
Thor Hansen 92000
Tom Schneider 59000
Barry Greenstein 50500
Philippe Rouas 29500
Tom Schneider will have some work to do in order to hold on to his lead in the Player of the Year standings, as he will start Day Two on a short stack, while POY second-place holder Jeffrey Lisandro held the lead before Shawn Sheikhan captured the last big pot to move into the lead. With a field of top pros including Todd Brunson, Erik Seidel, Andy Black and Sheikhan, the finish of this event is sure to be one to watch. Join PokerNews.com's 'Live Reporting' of Event #54, No Limit 2-7 Single Draw Lowball (w/ Rebuys), at 2pm PDT for all the live updates.