WSOP Updates, $10,000 Main Event, Day 2a – Jeff Banghart Atop Leader Board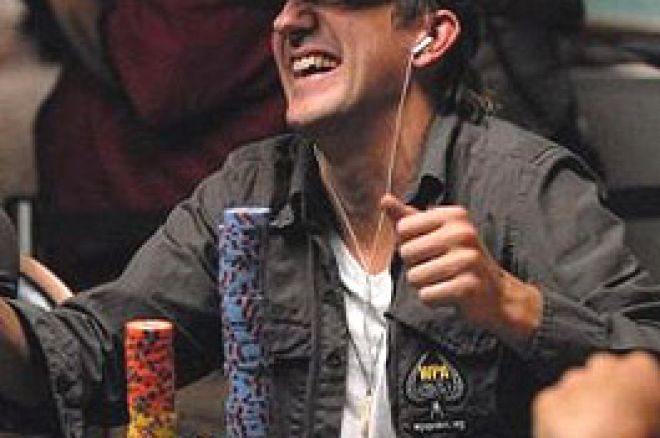 1,037 players from Day 1A and Day 1B returned to the Amazon Room at the Rio on Tuesday, trying to make it to Day 3 and the money in the 2007 World Series of Poker Main Event. Play was originally scheduled to last five levels on Day 2A, but the rapid pace of eliminations on the second day of play forced an early end to the day with 350 players remaining.
Plenty of notable pros, celebrities and former World Champions started the day, but like two thirds of the day's players, most of them didn't make it to the end. 200 players went to the rail in the first two-hour level alone. Among the big names eliminated were 2005 World Champion Joe Hachem, 1983 World Champion Tom McEvoy, talk show host Montel Williams and 2007 WSOP Player of the Year Tom Schneider. Of course, there were plenty of well-known players who made it through the minefield of the first two days as well, including WPT Europe creator John Duthie, 1996 World Champion Huck Seed, Cliff 'JohnnyBax' Josephy, 1986 World Champion Berry Johnston and Tobey 'Spiderman' Maguire.
As players went to the rail at a steady pace, tournament officials quickly developed a plan to end play at the end of five levels, or 350 players remaining, whichever came first. The reasoning was simple; with 621 players making the money, the money bubble couldn't burst until all players were playing on the same day. Otherwise there would be no way for tournament officials to determine who exactly went out in 621st place. So play ended for Day 2A with 350 players remaining, in mid-level. Play on Day 2B will end at the exact same point in the same level, regardless of how many players remain. This will allow play to resume at the same point for both Day 2 flights on Day 3.
As with any large field, there were a number of interesting floor calls and rules issues on Day 2A, including a notable enforcement of the new 'f-bomb' penalty. In previous years, any use of the f-word at the table resulted in a 10-minute penalty. This year, the rule was adjusted to penalize abusive language, not just the onerous word, and also to make the penalty more specific to language directed at other players. Actor/writer/director Todd Phillips, who created such movies as Old School and Starsky & Hutch, was given a one-round penalty under the new rule shortly before play ended for the day. After a hand, Phillips commented, "I only called him pre-flop because he's a f***king a**hole." Phillips was referring to Ray Didonato, who called the floor, saying "I may be a f***ing a**hole, but you can't call me one." Phillips explained to the floor that he was only joking, but they weren't amused, and handed down the penalty anyway. Even with the penalty, Phillips ended the day with a healthy chip stack, at over 300,000.
In what might be the strangest floor call yet at the WSOP Main Event, a player called the floor to ask that another player be forced to rearrange his chip stacks. The player didn't have dirty stacks, or have his higher-denomination chips hidden, his opponent just felt that his chip stacks were bringing him bad luck. No, we can't make this stuff up. The floor ruled that a player cannot be forced to rearrange his stacks to change another player's luck.
In a hand made for prime time (and internet discussion boards), Steve Seidman went all-in with pocket tens and was called by pocket sevens. When a seven fell on the flop, Seidman saw his tournament life flash before his eyes... until everyone realized that the dealer had put out a four-card flop in error. Seidman called the floor for a ruling on what to do about the flop. When the floor staff arrived, everyone at the table pointed out that it was quite obvious that the seven was part of the three-card flop, regardless of the dealer's mistake.
However, it was ruled for the cards to be reshuffled and a new flop dealt, much to the chagrin of the player holding pocket sevens. Of course, Seidman didn't feel any better than before when the new flop also brought a seven. His mood improved dramatically when he managed to go runner-runner for a four-flush to double through his opponent.
Among the players eliminated on Day 2A was 'Action' Dan Harrington, former World Champion and author of three wildly popular books on No-Limit tournament play. Harrington re-raised from the button and called the cutoff player's all-in move with A-Q. The cutoff showed A-K and the board helped neither player as Harrington was eliminated.
Joe Sebok and Jeff Madsen were both eliminated on Day 2A, leaving only one third of the prop-bet trio (Gavin Smith) alive in the Main Event. After Smith bought his way out of playing the Main Event in a jester's costume, Sebok allowed Madsen to play Day 2A in his street clothes. Playing in their civilian clothes didn't help, as neither man made it through Day 2A. Madsen ran his overcards into pocket fives late in the day and was eliminated when he missed the flop and his opponent hit a set. Sebok rode a rollercoaster chip stack until very late on Day 2A until he ran pocket tens into pocket queens and missed both his outs. Sebok took some consolation in outlasting his father, Barry Greenstein, who busted early on Day 2A. Sebok was further consoled by the $100,000 prop bet he won by outlasting Greensteain.
Sabyl Cohen and Paul Wasicka were the highest-finishing woman and the highest-finishing player not named Jamie Gold in 2006, but both went to the rail on Day 2A. Wasicka's pocket eights were crushed when the flop brought
to go with his opponent's
. In her last hand, Cohen moved all-in on the turn when the board read
and was called by James Van Alstyne. Cohen showed
for bottom pair and needed help when Van Alstyne showed Q-10. No help came for Cohen on the river and she was eliminated.
2007 Player of the Year Tom Schneider's great run at the 2007 World Series came to an end when he pushed his pocket nines into pocket kings and didn't improve. Schneider was the only player in the 2007 WSOP to win two bracelets.
Tony G went out in another internet-worthy hand. In a three-way pot with two all-ins, Tony G revealed pocket tens, only to watch his opponents turn over pocket kings and pocket aces. The aces held up and Tony's WSOP was over.
The Day 2A field was led by Jeff 'Mr. Rain' Banghart, with Kenny Tran, Alex Melnikow, Conor Tate and Cory Carroll all in the top ten, which is as follows:
Jeff Banghart — 570,100
Jeff Weiss — 550,000
Jon Monves — 549,800
Tuan Lam — 538,500
Bradley Ellis — 509,400
Yuan-I Hsieh — 489,900
Kenny Tran — 484,900
Alex Melnikow — 480,100
Conor Tate — 440,000
Cory Carroll — 419,900
Also high on the final Day 2A board are Josephy, Rep Porter, Jared Hamby, Minh Ly, Lamar Wilkinson and Johnston.
The field will be larger today for Day 2B, as the survivors from the bigger fields of Day 1C and Day 1D play down through four levels and change. Visit the 'Live Reporting' section here at PokerNews.com, with action beginning at noon Pacific Time.