WSOP Updates, $10,000 Main Event, Day 1d – Josh Evans Leads Fourth Opening Day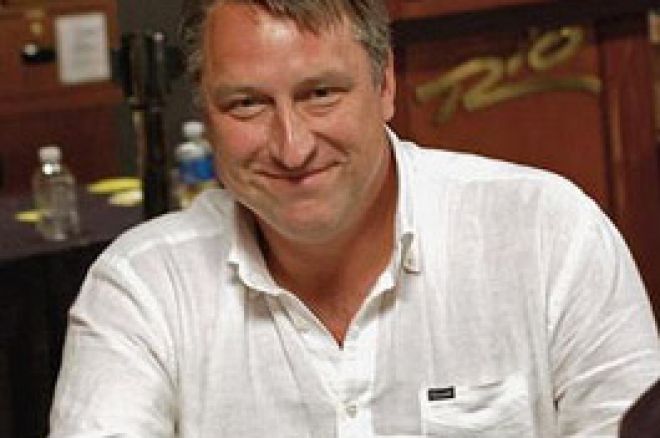 1,783 players started off Day 1d of the 2007 World Series of Poker Main Event, making a total of 6,358 entrants, the second-largest field in WSOP history. The fourth Day 1 saw the largest starting field of the event, forcing the Poker Pavilion into use for the second time.
As usual, several former World Champions started the day, including 2006 Main Event Champion Jamie Gold and 11-time bracelet winner Phil Hellmuth. Carlos Mortensen, the only man to win both the WSOP Main Event and the World Poker Tour Championship tournament, was also the only Main Event bracelet-winner to survive Day 1d, as both Hellmuth and Gold were eliminated.
Gold's quest for back-to-back titles came to an end late in the day, sending him to join David Williams as notable poker pros who have been outlasted in the 2007 Main Event by their mothers. A short-stacked Gold moved all-in pre-flop with
, and was called by an opponent with
. Gold started behind and didn't improve on the flop of
. When the turn brought the
, Gold needed a queen or a nine to stay alive. The river brought the
and washed away Gold's hopes for a second bracelet.
It's not unusual for celebrities to join the WSOP Main Event field, but it is unusual for them to do well year after year. Salvatore 'Sully' Erna, lead singer for Godsmack, made it to Day 2 for the second year in a row; Erna cashed in last year's Main Event in 731st. Erna finished Day 1d in the middle of the pack, joining Tobey Maguire and Jason Alexander as poker players with other notable day jobs who made it through Day 1. A.J. Maclean of the Backstreet Boys did not fare as well, busting well before play ended for the day, joining actor and 'Simpsons' voiceover star Hank Azaria on the rail.
Among the top pros waiting until the last day to join the Main Event fray were Brandon Schaefer, Shawn Sheikhan, Chip Reese, Daniel Negreanu, Brad Booth, Padraig Parkinson, and Vinny Vinh. Vinh, who cashed in two WSOP events despite not showing up for play on Day Two of either event, showed up at the last minute to register for the Main Event. Vinh had originally registered for Day 1a, but was refunded his buy-in when he didn't show up to play and friends informed the tournament staff that he was in the hospital. Vinh played until the dinner break and did not return to the Amazon room after dinner. He did survive Day 1d with an extremely short stack and will be able to play on Day 2b if he returns to the Rio.
Gavin Smith showed up for the Event wearing the jester costume as per the terms of his prop bet with Joe Sebok and Jeff Madsen, but reportedly bought his way out of the bet and didn't wear his costume all day. Smith joined his prop bet partners in surviving Day 1, as he finished up with 58,000 in chips.
In the host of pros playing on Day 1d, there were a number of high-profile casualties. Chip Reese, Michael Craig, Dutch Boyd, Freddy Deeb and Cyndy Violette all fell as the day went on. Notable survivors included Jon 'PearlJammer' Turner, Daniel Negreanu, Ted Forrest, Gus Hansen and both Chip and Karina Jett.
Phil Hellmuth arrived in his typical late fashion, but this time a little more late and battered than normal. Hellmuth's sponsor, Ultimatebet.com, had arranged for him to arrive in an Ultimatebet.com race car, complete with racing suit and helmet, accompanied by 11 Ultimatebet.com beauties, one for each of Hellmuth's 11 World Series bracelets. Those plans came screeching to a halt when Hellmuth crashed the race car in the Rio parking lot on Sunday. Hellmuth lost control of the race car and hit a concrete light fixture in the parking lot. According to a cameraman who witnessed the accident, "If it wasn't for luck, he probably would have hit them all." After the accident, a bruised and stiff Hellmuth showed up in a limo, met his escorts, and made his grand entrance to the Main Event two hours late. Hellmuth didn't survive Day One.
Technology continued to play a part in the Main Event, with the newest high-tech toy, the iPhone, getting its own ruling on Day 1d. WSOP staff announced on Day 1d that since the iPhone has capabilities as both a cell phone and a music player, they were not allowed at the table. They were reportedly allowed on earlier Day 1s, but with the final determination of the tournament staff, players could no longer show off their latest techie toy.
Penalties were assessed for various infractions as the day went on, but one odd penalty involved a player named David Ritter. After an opponent mucked his hand, Ritter reached into the muck and flipped over his cards. Ritter was given a one-round penalty for his actions, but he refused to take the penalty and the dealer incorrectly dealt him another hand. This hand was ruled dead, and several floor staff were called over to enforce the penalty. "This is a serious breach of etiquette, sir," one said, and Ritter was forced to serve his penalty.
As play wound down for the night (or morning, as play ended after 3:30am), Josh Evans sat atop the leader board with 237,300 in chips, with Gary Styczynski, Bill Edler and Matt Keikoan among those close behind. The complete top ten in chips for Day 1d is as follows:
Josh Evans — 237,300
Kevin Kim — 196,100
Jose Barbero — 172,600
Cyril Bensoussan — 172,200
Gary Styczynski — 169,200
Bill Edler — 168,000
Matt Keikoan — 164,100
Brent Sheirbon — 160,700
Hooman Nikzad — 160,200
Robby Rose — 160,100
Other players high on the board include Dan Heimiller, Ted Forrest, Chip Jett, Sorel 'Imper1um' Mizzi, Mike Laing, Mickey Mills, Andrew Webking, Sirous Jamshidi, Anthony Lellouche, Thor Hanson, Thanh Tran, Gus Hansen and Michael Binger. Everyone who made it through to Day 2b will return on Wednesday for continuing play.
Day 2a begins today at noon PDT, with Main Event updates available in PokerNews.com's 'Live Reporting' section.