Rattlesnake Murder Plot Tied to Poker Related Debt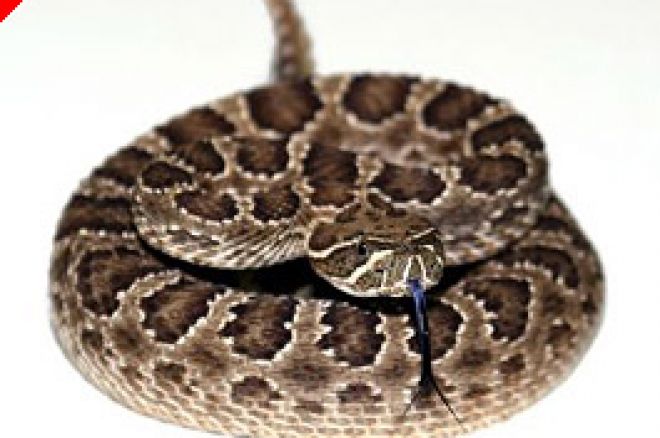 Two Lakewood Colorado men have been arrested for allegedly plotting to kill a man who owed them money using rattlesnakes as their weapon of choice. The men have been charged with conspiracy to commit murder, conspiracy to commit kidnapping, and extortion. Bail for both Herbert Paul Beck, 56 and Christopher Lee Steelman, 34, was set at $500,000. It was reported that both men have extensive arrest records.
The intended victim was Matthew Sowash, owner of the Amateur Poker Tour in Wheat Ridge Colorado, a company that runs poker tournaments in Denver area bars. Beck had allegedly invested $36,000 in the business and told investigators that, with interest, he was owed $60,000.
Beck and Steelman allegedly plotted to kill Sowash by building a rattlesnake filled box with a lid that would allow the victim's legs to be placed into it, but would not allow their extraction. Investigators also uncovered another plot whereby Beck and Steelman allegedly considered kidnapping Sowash's children to extort the money from him.
The investigation was initiated when Sowash contacted the Colorado Bureau of Investigation (CBI) after receiving threatening emails. This was not the first time the Amatuer Poker Tour made the news this year. In April 2007, the company was raided during a CBI investigation of their (since revamped) VIP program.